By: Theophilus Femi Alawonde
Contrary to what many believe, YouTube video optimization is easy to master, if you are willing to follow proven strategies and stay consistent.
There are lots of great videos that have extremely low viewer rates on YouTube. The big revelation is that these videos have low viewer rates because the content creator thinks creating valuable videos is all they need.
No! It does not work that way. Many people don't know that YouTube is a powerful search engine, just like Google. In fact, YouTube is the world's second most popular search engine.
You're not the only one who wishes to leverage YouTube's search volume. No matter the niche you pick, believe me, it's already saturated. And that's where learning how to optimize YouTube videos comes in.
Your knowledge of YouTube optimization is enough to make all the difference and get your video on Google's first SERP or among YouTube's top videos.
The good thing about YouTube video optimization is that you could start with less dense keywords, grow your channel, then compete for the bigger keywords, while leveraging YouTube's domain authority.
In essence, you don't need a strong domain authority to rank for some search terms, unlike blog writing. In the succeeding paragraphs, I'll discuss proven strategies that'll teach you how to make your videos top search on YouTube in the succeeding paragraphs:
Conduct a Detailed YouTube Keyword Research
Your YouTube video optimization journey starts from keyword research. It doesn't stop at having your niche and making related videos. You must go further by finding out what people often search for on YouTube. That's what will help you grow your channel.
The first step in YouTube SEO is to conduct a detailed keyword research, and there are two approaches to this:
Use YouTube Suggested Search Terms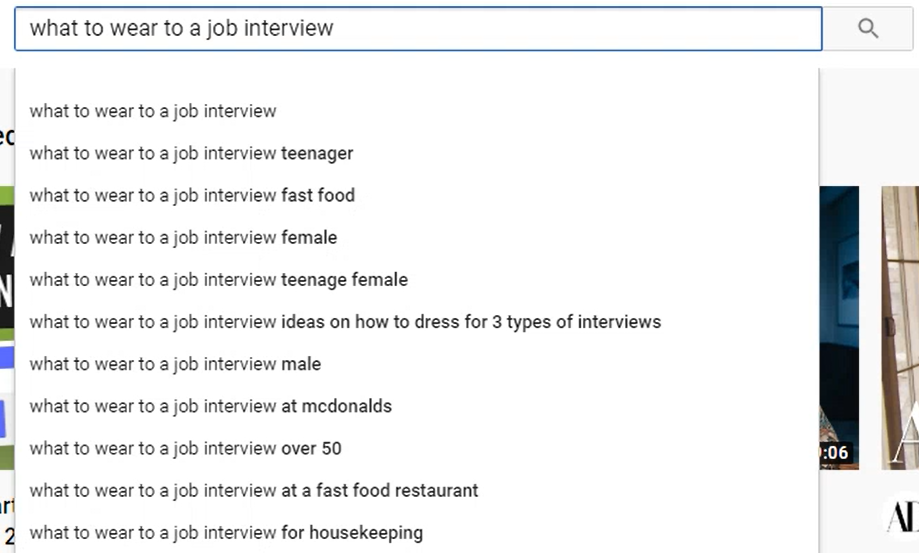 One powerful YouTube keyword research approach that many people fail to leverage are YouTube suggested terms. Have you noticed that anytime you need a quick, practical visual guide, YouTube is what comes to mind first?
Have you also noticed that the moment you start typing your search query in the YouTube search box, a dropdown list of possible search terms appears?
That dropdown list is not a mistake; it is simply what people often search for on YouTube. What this means is that YouTube automatically provides you with keywords and LSIs in your niche.
The best way to leverage YouTube's suggested search term features is to get a pen or open your PC's Notepad, then type all the related keywords that appear during a search query. This then leads us to the next approach.
The Power of YouTube Keyword Research Tools
Analyze Statistics from your YouTube Studio
YouTube Studio is a great way to get access to your channel's statistics and the keywords your videos are optimized for. YouTube Studio offers you data on your videos, and your rank for your keywords.
This helps you determine what videos you can better optimize to push them higher on the rank table. YouTube Studio is easy to navigate. First, login to your Youtube Studio Dashboard.
Then, on the taskbar to the left of the dashboard, click on Analytics. Once the Analytics page loads, click on Reach Viewers on the horizontal menu bar at the top of the page.
Finally, select YouTube Search as your traffic source. This will provide you with a list of the keywords you rank for in the past 28 days. Those are valuable insights. You could decide to check your videos to ensure that each one is optimized to the maximum (one of the steps in this strategy may push you from #20 to #4).
Consider YT CockPit for YouTube SEO Optimization Keyword Research
Using YT Cockpit is another sure way of conducting your keyword research. The first step is to type your main keyword into the YT Cockpit search bar.
And you'll be amazed by how powerful this YouTube keyword research tool is. YT Cockpit will provide you with a list of latent semantic indexing (LSI) keywords for your search term, and essential details like each keyword's Cost Per Click, monthly search volume on Google, the average number of views, likes, and duration on YouTube.
Insights like this will help you determine the best main keyword to go for and the keywords to include in your tags. They will also help you make informed decisions on how long your video should be, and how well you should push your outbound marketing.
TubeBuddy is Helpful
Another really helpful tool is the TubeBuddy, a browser extension that allows you to scrape the tags used by your competitors on YouTube. 
First off, install the TubeBuddy extension on your favorite browser. Then, create a TubeBuddy account and add your channel.
The next time you visit Google, input the search term for your preferred keyword and check out the tags for three or four of the top-ranking videos, just like below:
Create Sleek Videos to Aid YouTube Video Optimization
The quality of your YouTube videos is an important factor when it comes to optimizing your YouTube videos. YouTube's goal is to provide the most relevant and best quality videos for users. It's just the same way Google places primacy on how relevant, easy to digest and engaging blog posts are. Search engines consider their users first, and content that can prove to algorithms that they are relevant and valuable will rank. 
Asides making high-quality videos, what are the important things you should look out for? 
Your Session Watch Time is an Important Metric
Since 2012, YouTube algorithms consider your session watch time as an important metric when ranking your videos. This means that if your videos are so engaging that they spur viewers to watch other videos and spend more time on YouTube, you have the potential to get ranked higher than your competitors (if you keep to other strategies, of course!).
You cannot gain access to the analysis of your session watch time; only YouTube has access to that for now. However, keeping to the good old AIDA approach can help increase your watch session time. Create videos that grab one's attention from the get-go and sustain it till the end.
Increase your Total Watch Time too
Your total watch time is the amount of time viewers spend watching your videos. It is one of the clearest and biggest metrics for ranking your YouTube videos.
One great way of increasing your total watch time on YouTube is to make longer videos. There's a myth that making shorter videos does it. That's untrue; the length of your video should depend on how broad the topic is, and the average length of other videos with the same keyword (you can determine this using YT Cockpit).
Contrary to the myth, longer videos with engaging content mean a potentially higher total watch time. Consider creating longer videos and infusing attention-sustaining breaks.
Consider Boosting your Audience Retention Rate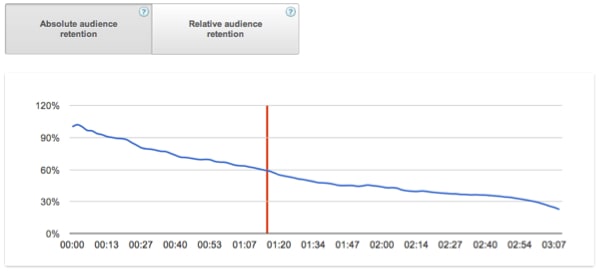 Your audience retention rate is a metric that's related to your total watch time. The more engaging your videos are, the higher their potential of sustaining viewers' interests. And a video that sustains viewers' interest is the video that will most likely rank during YouTube queries.
The best way to boost your audience retention rate is to study the insights on your YouTube Studio and notice areas where your views peak and decline. Once you have this information, the next thing is to determine areas where you need to double your efforts and bring in audience-stimulating strategies. It will also provide you with valuable insights on the presentation strategies that you should retain.
Your Engagements Matter
It's great to have useful videos, but you need to be intentional with what you want and how you want to grow your YouTube channel.
Don't hesitate to ask viewers to subscribe to your channel and share your videos. Don't forget to ask them to comment and add your videos to a playlist. These metrics tell YouTube that viewers love your videos, and the more you're able to prove that people love your video, the higher the videos will rank. 
Optimize your YouTube Video
YouTube Video Title Optimization
A fully optimized YouTube video on SEO. Title is optimized, video description is optimized, tags are optimized too.
YouTube video optimization extends to the optimization of your title. It's as simple as inserting your keyword in your title. Do not overstuff the title with keywords; a keyword will suffice.
Video Description
Another good way to optimize your YouTube videos is to insert your keyword in your video description. Beyond that, make your video description detailed; let it explain every important thing a viewer should know about your video. That makes it easier for YouTube algorithms to suggest your video for relevant search queries.
Video Tags
Do you remember TubeBuddy? Here's where you'll put the harvested tags to use. After collecting keywords from ranking videos, add these keywords as your video tags.
Know How to Use your Target Keyword for YouTube Video Optimization
You will be making a huge mistake if you have a target keyword and you don't know how to put it to use. Here are few strategies on how to use your target keyword:
Ensure your Target Keyword is in your Video Script
Ensure you mention your target keyword between one and five times for the duration of your video. Desist from overstuffing your script with keywords or using them in unnatural places.
Use Video Transcripts and Closed Captions
YouTube gives you the option of setting your closed captions on or uploading your video's transcript. USe well-typed and accurate transcripts, and ensure that your target keyword is in the transcript.
Optimize Your Video File Name
Optimizing your video file name is also a great factor in determining how optimized your YouTube video is. As seemingly inconsequential as it seems, renaming your uploaded video file after your video title or keyword boosts SEO ranking.
Insert your Keyword in your Meta Description
Another excellent strategy is to use your target keyword early in the meta description. However, be careful not to use your keyword unnaturally. Desist from writing lengthy meta descriptions too.
Create Playlists
Nothing beats taking control of how people interact with your videos. Instead of depending on viewers following through with your CTA and creating a playlist of your videos, you can create playlists of related videos yourself. What this does, if all videos are all optimized. What this does is that it makes it easier for YouTube to suggest a related video from you. This will in turn increase your total watch time and session watch time.
Design an Appealing Thumbnail
Your thumbnail is one of your viewers' first contact with your videos, and they could determine whether your viewers will watch further. Compelling video titles are good, but your thumbnails have a higher chance of grabbing people's attention. After all, what is it we say about an image being more powerful than a thousand words.
YouTube video optimization is one of the best ways to rank your videos on the world's most popular search engines; Google and YouTube.
Yes, the benefits of YouTube optimization go beyond ranking your videos on YouTube, your optimized YouTube video can also generate traffic from Google.
Remember, these strategies will work only if you're willing to be consistent with them. Do you have any questions? Drop them in the comments section, shoot me an email via alawondetheophilus17@gmail.com, or visit https://theophilusfemialawonde.disha.page