Photo Credit: The Nation Newspaper
By: Habeeb Abdul
"There's a never say die spirit that exudes from Aba" – Okezie Ikpeazu, Governor, Abia State
With 2.3 million people in 2006 and a famous artisanal market, Aba is the commercial nerve centre of Abia State. It is readily jabbed for its fake products, marred by noise, poor infrastructure, and longstanding dissatisfaction among residents on the state of things. But beyond figures and social media banter, what is the true nature of Aba City?
This article explores the informal industry in Aba, detailing the challenges and measures adopted for survival.
The Japan of Africa
In truth, there is no consensus on which Asian country Aba is to Africa. While some have called it 'Japan,' others have chosen titles like 'China' or 'Taiwan.' It is also not lacking in indigenous names and has been called 'Enyimba City' by many in the region. These monikers stem from an industry of artisans who produce garments, shoes, and machines for various markets.
Aba's creator industry is traced to a man who was charged with fixing Italian shoes but went on to demystify the product and launch his own line. The man is reputed for training apprentices who diffused knowledge and developed a hub.
In 1976, Aba's leather workers were forced to relocate from Ekeoha market after a fire outbreak. The new site was Ariaria International Market where the trade has now been running for decades. A less popular version of the relocation says they were moved due to noise and waste generated by the shoemaking industry.
Today, Aba is home to an estimated 110,000 shoemakers, spread across 14 clusters, with weekly production around 500,000 to 1 million shoes. The market is valued at 120 billion with an estimate pegging it at 144 billion. Unfortunately, it is largely fuelled by buyers from Ghana, Cote D'Ivoire, Gabon, Togo, and several other African countries who either purchase from Lagos or, in the case of the Cameroonians, buy directly from the source. Some artisans are also known to produce for outfits from Europe and America.
A Factory of Hands Not Machines
A perennial complaint amongst manufacturers in Aba is their inability to access proper equipment. Unlike their counterparts in Italy in China, production capacity in Aba markets is severely limited by the lack of tech. Having more shacks and converted living spaces than factories, artisans use what they have to produce what they can. Shoes and others are made by hand and circulated amongst apprentices till they reach a finished status.
But even as the job is done, the method is not without its consequences. Aba traders have been criticized for subpar quality, especially shoes which detach after a short spell. Their production capacity is also stunted, giving them little edge against better resourced competitors.
The situation is not difficult to understand. Machines are imported from abroad, and one, the lasting machine, which would have guaranteed durability, is priced at over 5 million naira on the Alibaba website.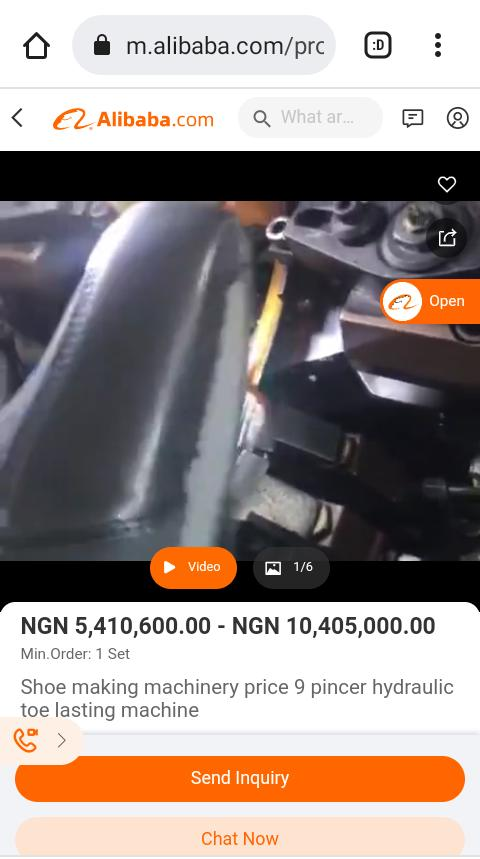 The same extends to other tools of the trade which are expensive to acquire for the traders. Also, many artisans start with little finance post-training and are further barred by the local currency's devaluation. Frustrated, traders abandon the clusters for the commercial transportation sector.
A Nearly Self-Sufficient Aba
Although the city is best known for its leatherworks, residents also have their hands in winemaking, boatbuilding, and engineering. In the absence of foreign-made implements, craftsmen develop home-grown solutions for their shoemakers. The sole pressing machine is one of such inventions that enable artisans to maintain quality.
Engineers in Aba are not without badges as technicians can sometimes be found sporting university certificates. And what they lack in finesse, they cover with lower costs. For instance, according to a technician interviewed by the Cable, he fabricates dredgers which would have been imported at 50 million naira for clients at 8 million.
Technicians also believe that locally made equipment make it easier to source parts and repair faulty implements.
Foreign, But Still Aba
Yet, a feeling that continues to perplex artisans is the local distaste for indigenous products. Following the flux of Chinese leather goods into the Nigerian market, selling fluidly has been an uphill battle. According to traders, Nigerians ignore goods with an Aba-made tag. To survive, traders resort to branding their goods with foreign origins. They say Nigerians buy these goods at far higher prices when they see the tag.
Aba traders believe they will receive better acclaim when packaging is aided by modern technology.
A City Wracked By Flaws
But even as Aba thrives, there are many factors that discourage investors. The city is known for its bad roads, polluted environment, and poor electricity. These factors prevent investors and buyers from streaming in to exploit the market. Past efforts by the state's governments to revitalize infrastructure have been poorly delivered, with facilities experiencing deterioration after a short while. In terms of power, slow project completions also deny traders their reprieve. The 141 MW Geometric Power Plant which had been flagged off for construction since 2017 is only just expected to supply electricity in June 2022.
In a similar vein, the Market Independent Power Plant, designed to serve the Ariaria International Market is said to function below its capacity. While the Federal Government claims that 4,000 shops are connected to the grid, users report only about 500.
The state government is also locked in a reconstruction tussle with traders at the Ariaria Market who view the administration's project with scepticism. Worsening the situation are touts believed to be backed by political leaders who extort taxes from people in the environs. Even more is the disaffection of the Ngwa clan, natives of Aba, towards non-indigenes perceived as taking credit for the business.
Little Support
The industry in Aba has received attention from the government in recent times. The Nigerian army ordered 60,000 pairs of shoes in 2016, the National Youth Service Corps procured uniforms, and politicians and other agencies have demonstrated their support. However, traders lament that investment is minimal. According to them, a 2011 initiative by the Bank of Industry to distribute 300,000 naira was unsuccessful and did not consider the financial realities of their business. But investments from the private sector may continue to be low if the informal models persist.
Recommendations
For Aba to truly become the commercial destination it aspires to be, a lot must come from official and artisanal ends. First, the state has to make a bold commitment to fixing infrastructure while traders must pander to formal means of developing their business. Most important to the latter are government policies aimed at encouraging traders to create proper business structures.