By: Aduwo Ayodele
Undergraduates from various institutions and some members of the Academic Staff Union of Universities from the University of Ibadan and Obafemi Awolowo University today, Wednesday 27th April 2022 converged to discuss way forward that would strengthen a relationship of trust between academic staff and students on the lingering strike action which commenced on February 14, 2022.
The symposium which took place at the SRC Chamber, Kunle Adepeju Building, University of Ibadan, had in attendance students and students' leaders from various varsities; University of Ibadan, Obafemi Awolowo University, Ladoke Akintola University of Technology, Olabisi Onabanjo University, Tai-Solarin University of Education and Adekunle Ajasin University, Akungba.
The gathering under the name 'Fund Education Coalition' gathered to discuss and recommend ways, making highlight as an initiative that would add pressure on the Nigerian Government to do the needful.
Speaking at the gathering, the University of Ibadan Students' Union President, Adewole Adeyinka pointed out that his leadership has regard for the demands of ASUU and other unions and will continue to work effectively until grey areas that have necessitated the strike action are addressed.
Adewole recognized the advantages of working in partnership with the academic staff Union which has continued to be firm in demanding rights of public universities workers and other core intending issues.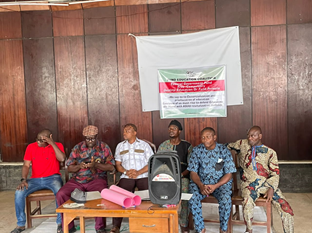 Chairman, Academic Staff Union of Universities, University of Ibadan, Professor Ayo Akinwole while explaining the factors that have led to the insistence of the protracted strike action, lamented the level of deterioration in the education sector.
Akinwole, in the interactive session noted that the Federal Government must be prevailed upon to do the needful in order not to throw the entire public university system into another crisis which they may not be able to manage eventually.
Discussing the way forward, students were tasked to organize themselves and remain undaunted using rational means to express what they believe in and stand for.
The Vice president, Obafemi Awolowo University Student Union Ile-Ife, Salvation Aworanti, in a chat with IndyPress, explained that the coalition was able to discuss constructive ways to end the strike.
"Earlier today, I was at the public meeting where lecturers and conscious students met to discuss the ongoing ASUU strike and ways to end it."
"We highlighted some of the problems with the education sector and how it is the main cause of the ongoing strike."
"In the course of the discussion, constructive ways to end the strike were suggested. These include; creating a relationship of trust between lecturers and students, making the demand for better education in Nigeria a collective effort and being ready to mount the necessary pressure on the government."