[L-R Second Runner Up, Omotoso Sodiq, and EFCC Chairman, Abdulrasheed Bawa]
By Aduwo, Ayodele
A 400-level student of the University of Ibadan and a resident of Independence Hall, Omotoso Abiola Sodiq has emerged the second prize winner in the 2021 EFCC Challenge Essay Competition, INDYPRESS reports.
Omotoso Sodiq, a Mechanical Engineering student won the feat over thousands of other entries received by a 5-member screening panel set up by the Commission.
Disclosing the three finalists in a statement shared on its official page on Wednesday, 10th August, 2022; the Commission announced Omotoso Abiola Sodiq as the second runner-up, among two others who preceded and succeeded him in the keenly contested essay competition.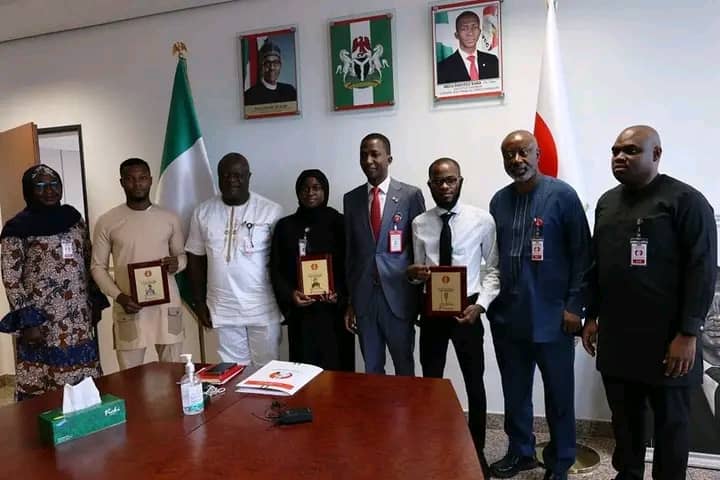 ‌[Members of the Economic Financial Crimes Commission and the three prize winners]
The EFCC Chairman, Abdulrasheed Bawa expressing admiration on the winners, announced in the same vein that the Commission will offer the prizewinners automatic employment.
"Coming second made me feel confident because I have failed severally before now" the second prize winner, Omotosho Sodiq said.
"Succinctly, I am very happy and optimistic about more wins. I have written some other essays in the past which did not win any award. So I saw the essay contest as an opportunity to try again".
 "The topic of the essay was on a very crucial issue affecting the country, I felt I should make my voice heard through my entry" he added.
The Economic Financial Crimes Commission howbeit gave words of honour to look into the persuasive suggestions contained in the winning essays.