On this week's Bold and Beautiful, our correspondent, Covenant Odedele, met with Deborah Oludimu, a 200 Level student of the legal apprentice, NGO Founder, and feminist. In this interview, she shares her experiences as a non-profit founder, and her opinions on issues ranging from feminism, inequality, and her prospects on campus. Enjoy!
Can we meet you?
My name is Deborah Oludimu. I'm a 200L Law student at the University of Ibadan. I'm a writer, a lover of African art and literature, and I run an NGO, A Pad For Her that advocates for menstrual health and hygiene. I consider myself as an activist for the girl child; advocating for SDGs 3, 4 & 5. 
Interesting. What inspired you to study Law?
I was a bright kid in Arts, and they say bright kids in Arts study Law. However, I believe Law as a profession aligns with a couple of things I believe in. As an 8-year-old, I watched Malala Yousafzai's story, and how she was shot by the Taliban for standing for girl-child education. And from there, I branded myself a feminist and human right advocate. So, that also must have spurred my interest to study Law. 
Awesome. You said earlier that you are the Team Lead, A Pad For Her, an organization that champions period dignity. What inspired that?
As I said, I'm a huge advocate of SDGs 3, 4, and 5. And growing up, I came across multiple scenarios where in real life children where hindered from schooling. I witnessed child marriage. A student in my primary school was taken out of school because her guardians didn't consider her worthy to be educated. Then, Malala's story with Afghanistan girls. All these influenced the way I saw things, and I wanted to make things better. So, sometime in 2020, the idea came, and I started gathering stories. I discovered a lot of girls use tissue and even some use nylon to manage their monthly flow. So, all these inspired me to begin advocacy for period poverty.
So, when and how did you start A Pad for Her?
I started in 2020, but it became more serious this year largely because I didn't have enough leadership and technical skills then, a functional team, and probably schoolwork last session. At some point, I had a conversation with one of the founding members, and she encouraged me, and we took it up over again. We restructured the team, and we began to do the advocacy online. We wanted to have outreaches, but we started with the advocacy because period poverty isn't something so pronounced yet. So, we did that, and we had our outreaches also. First, we reached 2500 girls in Lagos, Ibadan, and Osun states. The second outreach was easier. We got support from organizations and brands, and we did about 3200 girls in 5 states. We also set up pad banks in these schools, while also enquiring causes of period poverty among the girls. We got some media features too — BCOS, The Guardian, and, yeah, we made some noise with that.
So, as a law student, did you have cases of impostor syndrome, or intimidation from people because you are a law student doing stuff in healthcare, I mean period poverty?
Alright. So, when I started, I wasn't thinking along the medical line. I just wanted to solve the problem — period poverty and provide them with sanitary pads. But along the line, I've realized people have even serious medical conditions, and this can be puzzling as I'm not in the medical field. There are some instances where some girls have extreme dysmenorrhea, and this is an underlying symptom of a bigger issue, but they do not even know. So, I've had cases of impostor syndrome where people are impressed about what I do, then ask me a question about something like the uterus, and I can't even answer correctly. However, the team has grown to cater for that. We have nurses, and medical students and their knowledge covers up for that.
So, what have been your challenges so far?
Fundraising. Honestly, because doing anything pro-bono is one of the hardest things. And this is because to a large extent, there is no profit for donors. So, it's quite difficult. In fact,  we've had people act rudely when we fundraise, and it's so serious. Also, there are socio-cultural barriers. Women and young girls aren't always willing to talk about menstruation and their period flow. They prefer to be silent about this, probably to avoid some sort of stigma, and that makes our work more difficult. Also, there are language barriers. I have to consciously speak Yoruba, especially in very rural places to ensure we communicate well. 
So, you said you are an activist/advocate, what are your thoughts about feminism?
I am a feminist. I remember I was very young when I came across the word in the dictionary. I was 8, and it was defined as someone who ensures men and women have equal rights. I was thinking sometimes, and I actually concluded that there would be no need for feminism if men and women have equal rights. And if we deeply look at the world, we'll see that there is inequality. So, feminism is a solution to that problem.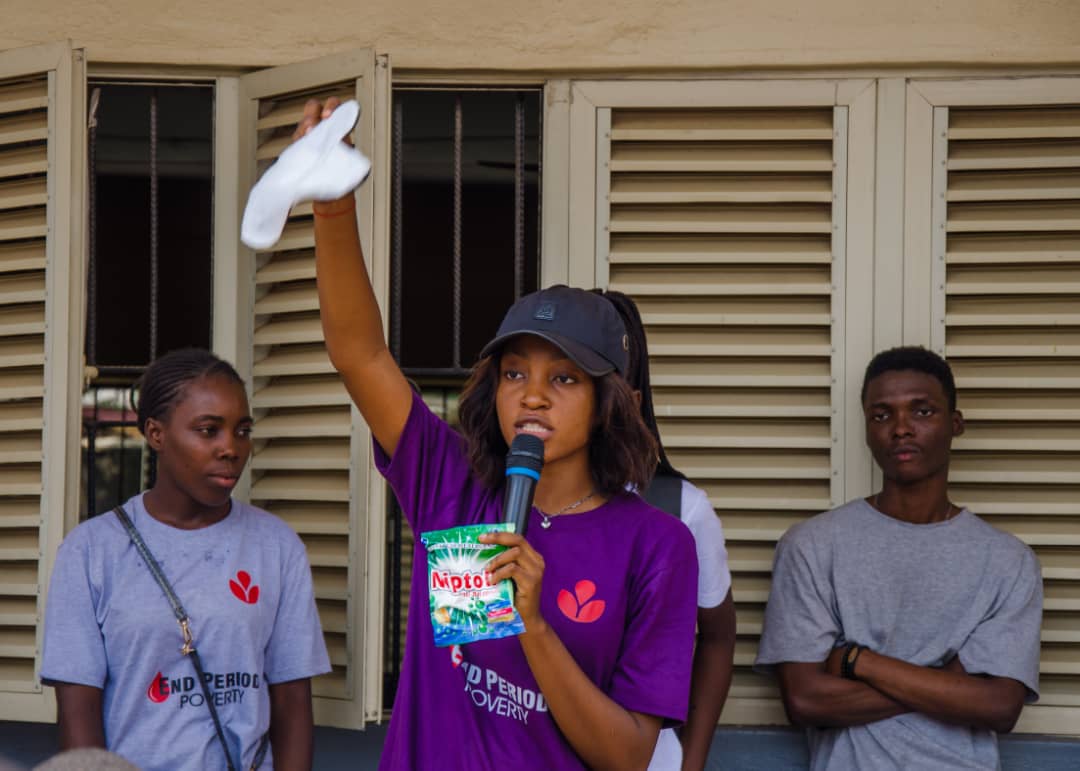 Do you think equality as a concept is ideal or real?
This question is a recurring one, and I think it's very partial. Nobody questions if racism, world peace, zero hunger, etc can be achieved. Just gender equality is where we always want to question the possibility. So, about men and women having equal rights, it's possible. I'll read my favourite quote from Eleanor Roosevelt. "Where, after all, do universal human rights begin? In small places, close to home – so close and so small that they cannot be seen on any maps of the world. Yet they are the world of the individual person; the neighbourhood he lives in; the school or college he attends; the factory, farm, or office where he works. Such are the places where every man, woman, and child seeks equal justice, equal opportunity, and equal dignity without discrimination. Unless these rights have meaning there, they have little meaning anywhere. Without concerned citizen action to uphold them close to home, we shall look in vain for progress in the larger world." In summary, I believed that we all should be human. Just treat everyone with dignity.
Moving forward, what are your prospects on campus?
Okay, things I'll love to do before I leave UI. So, before I leave UI, I'll love to see Aro come to an end even if it'll involve the school authorities. I've been on the receiving end, and I'll love to see it end. Secondly, for my NGO, I'll love to see it established with UI students more informed about period poverty. And probably, also win a FOPA award.
You talked about Aro, what was your experience with Aro?
I've heard a lot of people say the intention of the guys is to throw bants and just catcall female passers-by. I had an experience in Zik where someone said a very derogatory statement in Yoruba, and I wish I didn't understand what he said because it was a sexually indecent statement. I literally froze. I felt bad, and I wished I could just go back and say something or just protest in silence. And I know other people have had worse experiences. It's unwanted, and unnecessary, and can be very unhealthy for those who have social anxiety. Some ladies don't mind actually and some guys who engage in the Aro don't also use indecent words. However, the cons are more than the pros, as a result, it should be stopped. 
What has been your most memorable experience as a law student?
I don't think I have one. Probably because I move from classes back to the hostel and vice versa. Most of my best experiences have been outside Law. 
So, how do you balance being a student and also running your NGO?
Alright, it might be a bitter pill to swallow, but 24 hours is enough for everyone. For me, it has to be because I carefully plan my day/week and rigidly stay with the plan. I don't allow any interference as best as I can. Also, I'd say the two major outreaches I had was during the strike. So, there was no academic activity, and as a result, they were not too intense. However, I believe 24 hours is enough for anyone if you follow your plans with enough discipline. 
What would you like to be remembered for?
I'll love to be remembered as a founder of an organization that put an end to period poverty in Nigeria, and also ensured that there is a pad bank in every school. As a lawyer also, by ensuring that laws and policies are made to ensure menstrual hygiene and accessible sanitary materials. Also, I want to be remembered for a very stellar work of art. I mean, literature.
So, who inspires you?
I have a host of them. My parents: my Dad and my Mom. Late Eleanor Roosevelt who I quoted earlier. Sophia Kiani. Temilade Salami. Odun Eweniyi. Tunde Onakoya. For literature, Akwaeke Emezi, and Chimamanda Adichie among others.
If you were to be a fruit, what fruit would you be and why?
A coconut. Very hard to reach, difficult to break through. I mean, there is value, but you'll have to work hard to gain access.
We are in December. So, in retrospect, what do you think you've accomplished so far this year?
I've grown and developed myself better. Made more connections. Ran an NGO, and the growth was massive. I'm grateful to God for all these.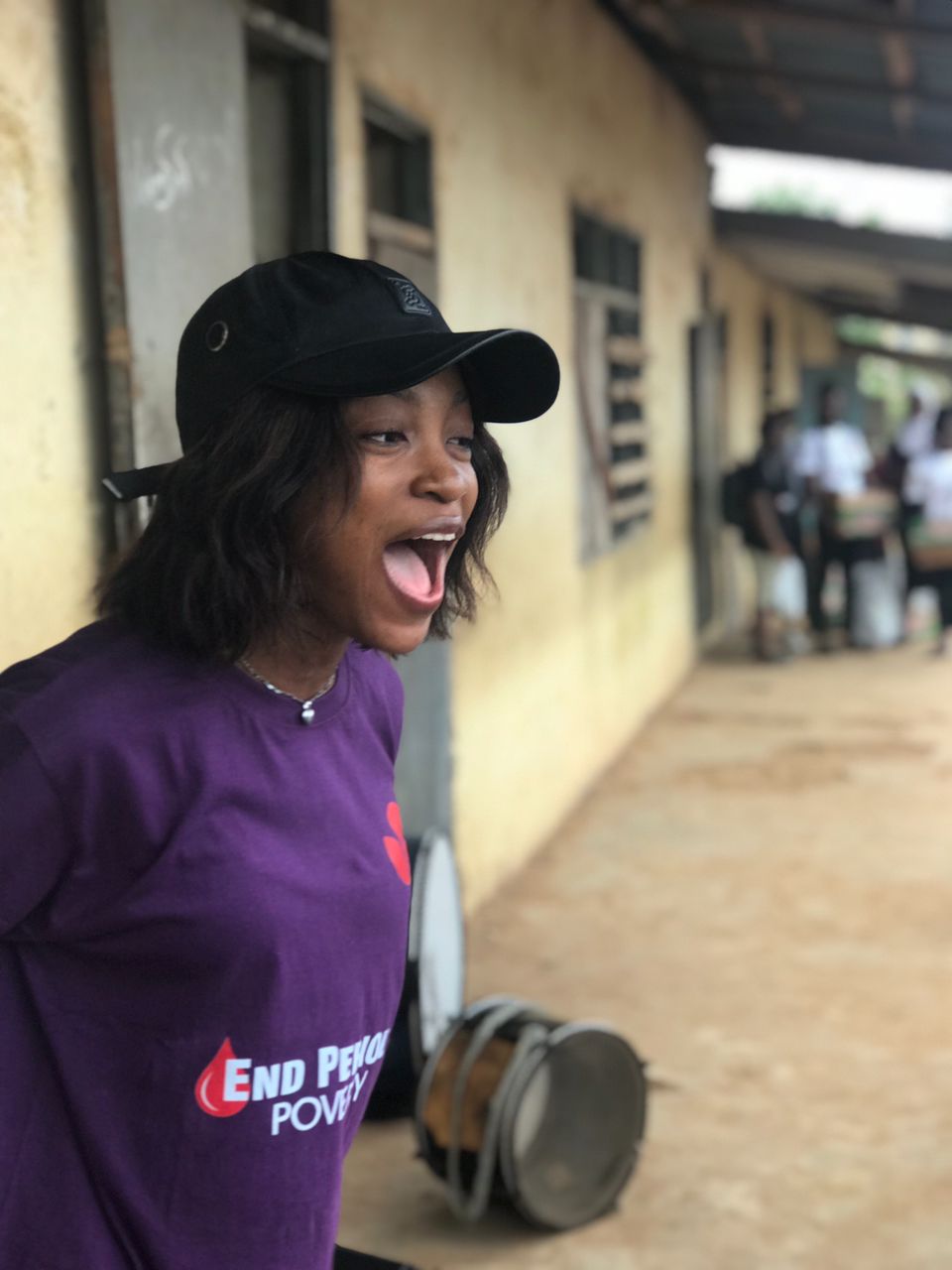 As humans, there are some things that we don't decide. Things like our family, gender, complexion, etc, and these sometimes may place some at an advantage over others. What would you like to say about that?
Yes. That's actually how life works. Fingers are not equal. This is not even an opinion, it's just the fact. And really, you just have to make the best of the advantage that you have. 
So, how would you love to say goodbye?
DO: I'll love to end by saying that there are a lot of problems in our world. And more than ever before, there is a need to rise to solve these problems. There are 17 SDGs. So, you can start something, take responsibility, and champion a cause. And even if you can't start, you can join people who are already solving some problems. Be a changemaker. Do something. Fix something. You really don't want to live in a broken world. 
It was nice having you, Deborah.  
Thank you for having me too.