By: Habeeb Abdul
Few things are common to the lives of UI students than complaints about the school's ability to exact stress – and 'Jaw War,' is the annual medium for releasing it. As a freshman in the university, this correspondent witnessed firsthand the hype around people who mount the podium in defence of self or constituency. But if great events can have unwelcome impacts, Jaw War's would be the focus of Literary and Debating Societies on the one side of their mandate that proves to be more entertaining. 
"It's often viewed as a society for public-speaking only," said Ikpe Josiah, a fourth-year student at the Faculty of Law. His statement was in response to a question about the attitude of debate societies, LnDs, as they are popularly known, to the development of literary creatives in their midst. Josiah is no debater. He stylizes as a writer of realist fiction, a category he said borders on "everyday lives," and would only join a Society "for the fun of writing and making arguments much clearer."
Josiah's opinions find little resonance among members of debate societies. Most respondents for this story treaded cautious paths in their commentary, with some using the avenue as an opportunity to heap praises on their constituencies – or banter. Barnabas Michael, General of the Sultan Bello Hall Literary and Debating Society, has vast experience coaching speakers. He has been invited to facilitate training at up to twenty different societies within and outside the University. His portfolio includes judging too. 
On what he has learned from his encounters with these spaces, he believes there is a lot to be desired in terms of the development of literary creativity. Barnabas stated that while members are sometimes responsible for their constituency's inability to help them develop, he blamed the societies themselves for subpar performance in relation to members' needs. "I see others who are hungry, but their societies aren't doing enough to fuel that hunger. They aren't putting them through the motions. They aren't inspiring them to go for more." He had stronger words. "Some societies encourage mediocrity, and though I believe things might be getting better, I still feel a lot has to be done."
On why that might be the case, Victor Fabarebo, the President of the Law Literary and Debating Society provided some insight. Answering whether the perception of his faculty as the hub of public-speaking might disincline literary-minded students from joining its LnD, he regarded it as an outcome of the "general LnD culture in UI." Its glamour in public-speaking obscures the presence of literary elements in societies.         
A Technical Middle-ground
Problematic or not, it is impossible to conclude that there is an absence of attempts at developing literary skills even in societies that pay no heed to it. Anita Chinomso-Babalola, a non-fiction writer and member of the Queen Elizabeth Hall II Hall Literary and Debating Society, argued, "before there is anything to debate, there has to be a writer who would ponder on the topic, research, and come up with a speech that can be delivered or debated in front of an audience." Barnabas agrees. For him, while there might not be a specific provision for training writers in his constituency's outline, the focus on the nuances of writing presentable speeches invariably influences literary competence.
That outline, which was sighted by Indy Press, does appear partial to the growth of public-speakers. Tagged 'Train Drill,' the one-week curriculum that the General described as the "most concise training structure among LnD societies in UI," comprises everything from understanding fallacies to analyzing the audience and delivering punchlines. A more revealing area is its commitment of parts of three out of seven days to the development of speeches. 'Speech Writing 1 (The Building Process),' 'Speech Writing 2 (Perfecting the Structure and Framework),' 'Oratory and Debate Speeches,' are components scheduled for discussion on different days. Still, biased though it may be, 'Content and Research,' was the first point of contact for this year's trainees at the Sultan Bello Hall Literary and Debating Society.
LnD Outliers
Realizing the need for change, some LnD societies have taken an innovative route to solving the problem. The most recent is the Law Literary and Debating Society. On December 17, 2022, it organized a virtual national event tagged 'The Literary Day.' Commenting on its significance, Victor termed it "an event geared towards celebrating and showcasing literary creativity amongst Nigerian students." It included the launch of a National Anthology, talks by invited speakers on the intersection of creative works with Intellectual Property Rights, and awards of cash prizes to top entries in different categories. As for what inspired it, the President described it as an outgrowth of the routine but underground efforts by past administrations to develop literary skills.
Between the Literary and Debating Society of Nnamdi Azikwe Hall and the Faculty of Agriculture's Vocal Knights, variation exists in everything but the use of publicity. Both have leveraged flyers distributed on WhatsApp as tools for circulating short pieces by their members – Zik since 2021 and Agriculture in 2022.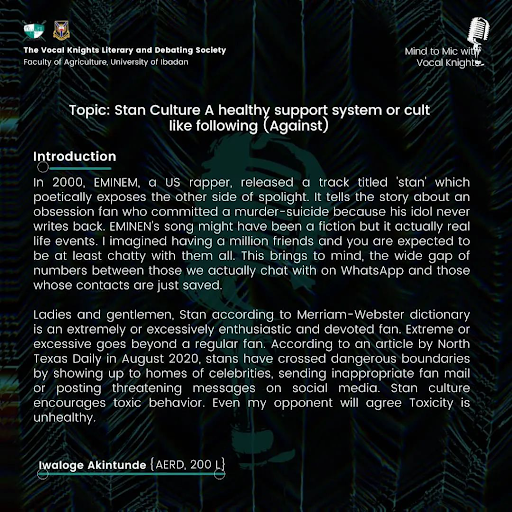 A flyer from Mind to Mic early this year.
The divergence begins from the form. The Knights' 'Mind to Mic' project was a writing contest which, according to the Commander, Theresa Adekunle, was dedicated to gauging "the writing skills of members and see those that needed extra attention and work." Its promotional flyer from January this year indicated an unnamed prize, stylizing it as a 'winner takes all.' Also, while Zik Hall's 'Writing Challenge' preferred a flexible approach, with members allowed to write on issues like the questionable 99-1 defeat Nigeria suffered at India's hands, Mind to Mic tasked members with constructing opening or closing paragraphs to randomly allotted Jaw War topics.
A flyer from Zik LnD's Writing Challenge, 2021.
Both societies have committed to sustaining the culture. Admitting the absence of any literary event after the Writing Challenge, Omotayo Ajibola, President of Zik LnD, stated that the society has infused training on writing award-winning essays into its weekly meetings. He expressed determination to see that baton passed to the administration after his. Similar to her Zik Hall counterpart, Theresa expressed enthusiasm at the quality of potential her constituents have brought to bear. Although she expects hiccups in a second semester that promises to be busy, she stated that the society indulges in reading books and reflecting on the ideas therein.   
At the apex body for all societies, response to the occasion is less definable. While The Literary and Debating Society, TLDS, does not directly engage in the affairs of constituencies, it organized its own event, a first-ever Literary Festival in 2019. Since then, subsequent administrations have not taken the mantle. The Jaw War official website describes it as an "annual literary event in the University of Ibadan organized by The Literary and Debating Society, University of Ibadan."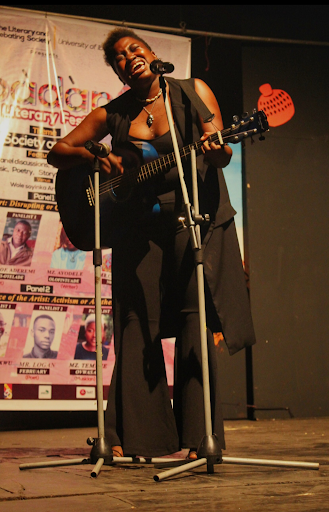 Temmie Ovwasa performing at TLDS's 'Ibadan, The Literary Festival,' in 2019. Image credit: Jaw War official website.
On why the initiative has not been sustained, Neyen Williams, then Public Relations Officer under the Ayeni Otito-Jesu administration and current president of TLDS, attributed the shortcoming to the pandemic and the consequent virtual semester during her predecessor's tenure. A jinx-like pattern emerges.
"We had plans to sustain the Literary Festival and make it even bigger than the last. Unfortunately, due to the ASUU strike and rushed academic session, we decided to put it on hold and focus on Jaw War next year."
Although she stated that there are plans for a scaled-down literary event next semester, she carefully added that they are "tentative."
Changing the Narrative
A few ways exist to reverse the norm. Victor Fabarebo believes that even if societies cannot organize events the scale of the Literary Day, they can manage to "incorporate literary elements into their regular meetings." Even as Barnabas acknowledges the difficulty of covering every material outlined in their Train Drill, his constituency has devised ways to spotlight its literary talents. In-house reviews and presentations at its headline events, Armoury of Words and Sultan of the Podium, feature on its developing list of platforms. These and its curriculum might provide an instructive template for other societies.
Finally, a slightly radical option is the creation of a UI equivalent to the Quill Society at UCH. Jesujuwon Olawuyi, a member, describes the society as mainly a literary organization, with a focus on the improvement of writing skills across different genres. While it does require some public presentation by writers, its fairly exclusive nature might provide a counterbalance for creatives that seek more beyond public-speaking.