Photo credit:Gro Wrk
By: Habeeb Abdul
Chimezie is a mysterious one. One moment, he is the realist whose tech journey was mainly propelled by optimism, the next, he tells you of his unusual affection for programming languages – one that reminds you of loving partners in an arranged marriage.
The romance was not without pain. Chimezie recalls moments when jobs were a speck in the distance and learning involved frugal nightly exchanges of 50 naira for 500 megabytes with which he watched YouTube.
Origin Stories
But while it may seem that the fervor of this developer is part of a recent trend of youths breaking into the tech ecosystem, the background is a much longer history. In 1948, the Nigerian Ports Authority received what was possibly the first-ever computer in Nigeria. The first known deployment in a massive project was during the census of 1963 when expatriates were enlisted in operating them.
Following the establishment of the IBM African Education Centre – a setup that to all intents and purposes bore resemblance to the tech talent development centres of today – in the then University College, Ibadan, in the same year, Nigeria began a stuttering transition into technological self-sufficiency. That process involved a trail of policy enactments and a review of courses at tertiary institutions.
In terms of more recent catalysts, however, it can be argued that the transformation of Lagos into Nigeria's tech hub in the early 2010s triggered a flux of young talents, one that was enhanced by the outbreak of the coronavirus. Commenting on his transition into tech, Bayo,* a final-year student of the Faculty of Technology, describes the pre-2020 environment as a muted one. For him, competitions and work as the technical lead of a campus entrepreneurial organization, incentivized him to develop his skills in UI/UX design.
"I started venturing into tech when it was not known as a place you can go to make money and survive. I got into tech because I realized that I could actually design to build solutions, participate in competitions, and also design my poems and stories on Instagram."
The simplicity is not a novel one. During his first year in the university, Nedu,* a Computer Science student was challenged by a classmate's experience with designing mobile applications. Inspired by the fact that the latter had created four as a freshman, he embarked on a journey into full-stack and mobile app development. He has since grown into a person who thinks that his methods at the time are laughable and is now attached to the logic-oriented nature of backend development.
But it is not always the case that professionals were mainly driven by a challenge. Opeyemi Omole's pre-tertiary days as an Arts student had behind them an assessment of her abilities. Her interest in science fell short in terms of willingness to undergo its mental rigours, plus the fact that she mostly preferred reading anyways. Asked why she had chosen Product Management, Opeyemi remarked on her desire to combine the psychological leanings of her immersion in Counseling and Human Development Studies with a specialty that requires a humane touch.
While her primary role is documentation, Product Management compels her to be familiar with multiple areas of tech. She utilizes tools that are normally within the remit of UI/UX designers and has also had to learn a bit of front-end development. The situation warranting this was always the most frustrating. To deal with confusion during the early stages of her employment, Ope recalls hurrying to her mentor for help when her engineering colleagues spoke jargon. She described it thus, "I think the challenging thing about just being a product manager is not understanding some terms that the engineering team is saying. That happens to me a lot, I don't know whether it happens to other product managers."
Tech and Academics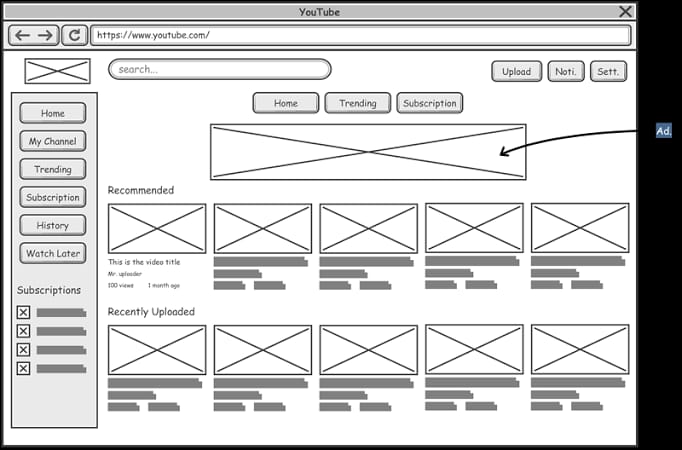 An image of a wireframe utilized by product designers to create early representations of a system. Credit: Visual Paradigm
While there are differences in our respondents' approaches to academic life in general, striking a balance appears dependent on the course and the student's ability to manage time. Olaide's* programme in Computer Science requires her to undergo Industrial Training during three out of her five years of studentship. Since she can convert her workplace to her training centre, her tech roles are often not at odds with academics. However, an assumption of new responsibilities in the last year may very well pose a significant threat.
As 2022 drew to a close, Laide became the design lead for a company providing digital solutions for various problems. Her role includes her providing help to her employers on a planned expansion into Nigeria. Although she rejected the notion that she might be susceptible to stress, she showed uncertainty about her new schedule. "I think if you ask me this question when we resume 500 level, by then, I think I will have an answer."     
For Bayo, who has never had much doubt about his regard for academics, the answer is straightforward. "I've never really been the one to work on balance. Early on, I've been disinterested in that. I realized that there were lots of problems in the system. What we were learning was way different, way backward, they were not open to change." That indifference to the scholarly life around him created years of bare minimums – ones that were merely about marking attendance. The moment he could afford it, Bayo, who would have been in his final year this session, discarded all sentiments and flew abroad. He has never looked back since.
Back on the treelined roads of the university, however, Ope follows a deliberate pattern. She hustles to her faculty for classes, returns to nap in her hostel, immerses afterward in coursework, and spends the midnight on her jobs. That did not happen without sacrifices. When the Academic Staff Union eventually decided to resume, Ope withdrew from her hectic 9 to 5, choosing to shop for freelance opportunities instead.
Nedu and Laide's schedules barely allow them time. While the former's routine ranges between 10 to 12 hours each day, a period during which he transitions from his 9 to 5 to freelance gigs, the latter expends eight, commencing her day at 4 a.m. and rounding off at noon. When probed about her odd arrangement, she responded simply, "That's the time that is convenient for me." She proceeds to spend the rest of the day taking courses on frontend development, a skill she decided to learn after realizing her mastery of product design and indulging in personal activities.
Chimezie's maverick qualities do not end with his relationship with programming languages. At school, he has evolved from his status as an A student to one unbothered about landing Cs. There is no struggle to balance. His skepticism about grades and belief in hands-on skills provide him with enough satisfaction.
First Gigs, Paychecks and Low Moments
If competition benefits could qualify as pay from a first gig, Bayo's can be said to have been immediate. His first outing as a competitive tech talent secured him much more than a spot in the final round of an event, it also exposed him to the design of tech solutions that solve real-world problems. Outside that, however, his first gig was an offer of an in-person role. A design studio had noticed his design-centric poetry on Instagram and had invited him to interview as a writer. While the evolution of the work into a full-time role eventually forced him to quit, he stated that his base salary of 60,000 naira, which once rose to a high of 120,000 with larger bonuses, was lucrative by 2019 standards. 
Olaide's first gig experience, on the other hand, was marked by a reluctance to charge heavily. A friend had asked if she could redesign an unsatisfactory project and on completion, she had intended to request a payment of 10,000 naira. Despite receiving advice to jerk it up to a hundred, Olaide balked and reduced her proposal by nearly half. She said laughingly, "I told him sixty, thinking he was going to beat it down to fifty and that would just be half, because I felt like, how would I just charge somebody 100k? 100k was seeming like big money back then."
For Ope, her first gig had been about writing user stories for a project her client was working on. She recollects the ecstasy of learning on the job and getting paid a sum of 50,000 naira for a task she doesn't consider difficult. Ope describes her zeal for knowledge as the principal driving force back then. Today, she earns an average of 250,000 naira and will by no means regard an offer with the same rate as her rookie days'.
Olaide's sentiments follow a similar path. Her early days as a designer were defined by profound enthusiasm, a trait that was visible in her willingness to undertake free jobs. But even as pay grades like Laide's monthly estimate of 320 to 500,000 naira, Nedu's all-time high of 550,000, and Bayo's haul of 3,000 dollars in one fell swoop may be the material for bedroom fantasies, they each had their share of pain.
Nedu recalls going nearly two years without a job and having to watch juniors and contemporaries secure their first gigs. Ope's moments came from being one of only two product managers at her workplace and the toll of coordinating with multiple teams. For Bayo, the troubles may be termed bougie. His was an apparent inability to reign in his spending impulses. Most of the techies interviewed for this story also related a cap on their social lives, with some either endowed with little time or simply being disinclined from pursuing one.
Learning and Leveraging Communities
Regardless of the specialty, communities are a crucial part of a person's growth. For tech enthusiasts, it acquires a position of premier importance. Olaide references a handful. There is AltSchool Africa, which admits young people into a 1-year programme comprising three semesters, accompanied by a three-month internship afterward. There is also the She Code Africa mentorship programme for ladies of which she was a beneficiary in 2020. Other communities include CodeGear, which appears to have fizzled out after activity for about half a year, and the Google Developer Student Club, University of Ibadan.
On resources, YouTube was frequently cited as the go-to. Despite its shortcomings in terms of streamlined learning and the consequent length of time required to master a skill, the range, randomness and negligibility of a cost barrier trumps them all. Chimezie attributes his early pitches for roles to WhatsApp communities where links to new openings were often distributed. But while he does not deny the impacts of relationship-building in the tech ecosystem, he is reluctant to attend tech events, preferring instead to learn in his own space.
However, a gender-based nuance exists in the reception of people into tech. Ope stated, "At the first company I interned, I was the only female in the midst of the guys." This uniqueness did not translate into discrimination. She remembers being just as capable as other members and believes that women may finally be getting acknowledged as equal partners in technology. Like Ope, Olaide recognizes the role of female-only organizations in helping girls kickstart a career in tech.
She has never experienced discrimination as the only female on her current team and, instead, believes that there are certain upsides to femininity. "I see it as a blessing to be a lady in tech because, right now, you have a lot of communities, organizations, and you even have companies saying they're hiring only ladies and you pretty much get the job just for being a female."
Work Preferences, Layoffs, and Managerial Support
Depending on whom you ask, 9 to 5s and freelancing are both excellent options for people looking to start a career. Ope's current mode as a freelancer enables her to earn a fraction more than her 9 to 5, but she is unimpressed by the randomness. She prefers working with teams and on projects she's already familiar with, especially as new jobs demand adaptation to diverse work cultures. Bayo, on the other hand, is delighted with his freelancing.
He understands the risk of inconsistency in job offers, but also regards the access of freelancers to even meatier opportunities than those available to salary earners. Nedu, on the other hand, crisscrosses both worlds as he works at a 9 to 5 and freelancers at the same time. To avoid overwhelming himself, he avoids receiving more jobs than he can handle and pivots to freelancing when he gets off of Industrial Training.
On the recent trend of layoffs by tech companies, there does not seem to have been an immediate impact on respondents for this story. When asked if he has observed a trend of layoffs, Nedu stated, "It hasn't had any effects on me or even people around me, though, of course, I've heard of those experiences and situations online, but personally, it hasn't gotten close to people around me." He maintains that it would be difficult to dismiss employees who are very skilled at their job.
One reason layoffs might still be far from having an heavy impact is the loss of Nigerian tech talents to foreign climes. The consistent exit and inflow of new hands greatly influences the availability of roles. Speaking with Nairametrics, Oladiwura Oladepo, co-founder of Tech4Dev stated, "The tech layoffs won't be the end for the tech industry. There are still abundant opportunities for people to be able to get tech jobs whether here in Nigeria or abroad."
Yet, a gap might exist in the university management's support of its creatives. Consensus abounds that it is more probable for techies to discover the existence of student-led clubs than programmes established by the university to support them. Bayo's opinion is scathing and considerate. While he agrees that the university's restraint by limitations cannot possibly allow it to resonate with students' career objectives as his current institution, he bemoans the absence of an enabling environment.
"I don't think UI offers any training ground to build tech talents in the first place unless you're saying that tech talents are people that are studying engineering because that's not it. Even people that are studying Computer Science in UI, if they rely on what UI is offering them, they won't be able to code or build any meaningful thingy when they graduate."      
Living the Fly Life
Looking on the bright side, however, UI's tech enthusiasts have committed to carving their own paths. One example is the intention of this Twitter user to create a fresh community for innovators.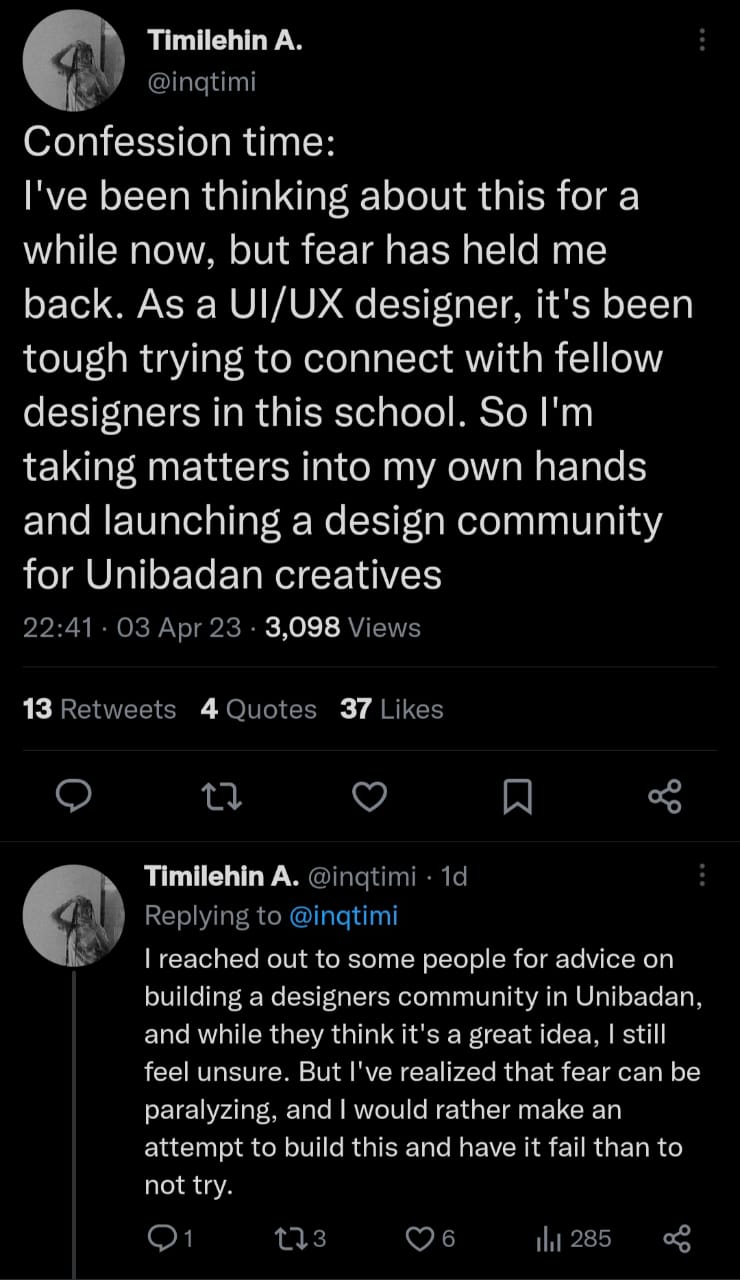 In the long-term, Nedu plans on building a career in programming. Bayo is focusing heavily on becoming a multidisciplinary tech expert, while Olaide's intentions to create disposable income summarizes their yearnings for their financial lives.
Editor's note: Some names were redacted to protect identities.