By; Dion
In student politics, one of the offices that are usually deemed to be less consequential is the assistant/deputy role to another office. Students are rather uninclined to paying them as much attention, with the focus primarily being on the supposed 'main person'. The relative obscurity then affords these individuals the opportunity to underperform, under the guise of their being mere subordinates.
Perhaps, this was the same mindset Arinola 'Addo Original' David, had when he decided to contest for the office of Assistant General Secretary of the Students' Union, UI; especially as he was the lone candidate for the office. At the Press Night, not only was he the lowest-scoring candidate for punctuality, but more importantly for plans and the feasibility of the execution of said plans. It was a show of laxity that the student populace should have been wary of and which has now reflected in his performance so far. 
A quick look at David's manifesto shows a pre-disposition towards constitutional duties majorly, as opposed to fresh ideas. After a brief introduction where he promised to serve with passion, a five-step condensed plan was mentioned. However, all five points mentioned were culled directly from Article V Section 4(i – v) which states the duties of the Assistant General Secretary; completely defeating the purpose of a Manifesto in the first place.  If UItes wanted to know your functions, they could do that by logging on to the University website to get a copy of the Union's constitution. The inclusion of constitutional duties was simply just a way to bolster an already watery manifesto.
Furthermore, he promised a Career Fair to "empower a large number of students by bridging the knowledge gap and assist as many as possible to enact actions". This was presumably aimed at exposing students to different fields and spheres, and the opportunities therein; a wonderful idea if it had been implemented. However, as of the time of writing this article, nothing of that sort has been done by the office of the  AGS. The Career Fair which was even held within that time was organised by a Non-Governmental Organisation, Creer Impact Now, in direct association with the UI branches of the Nigerian Association Of Agricultural Students, and Renewable Natural Resources Students' Association. Also, it is not included in the line-up of programs for the SU week. And seeing as the tenure draws to a close soon, we can not but ask, "When?". When does Mr. AGS intend to host this program? How participatory would it even be coming at the height of activities/close to exams?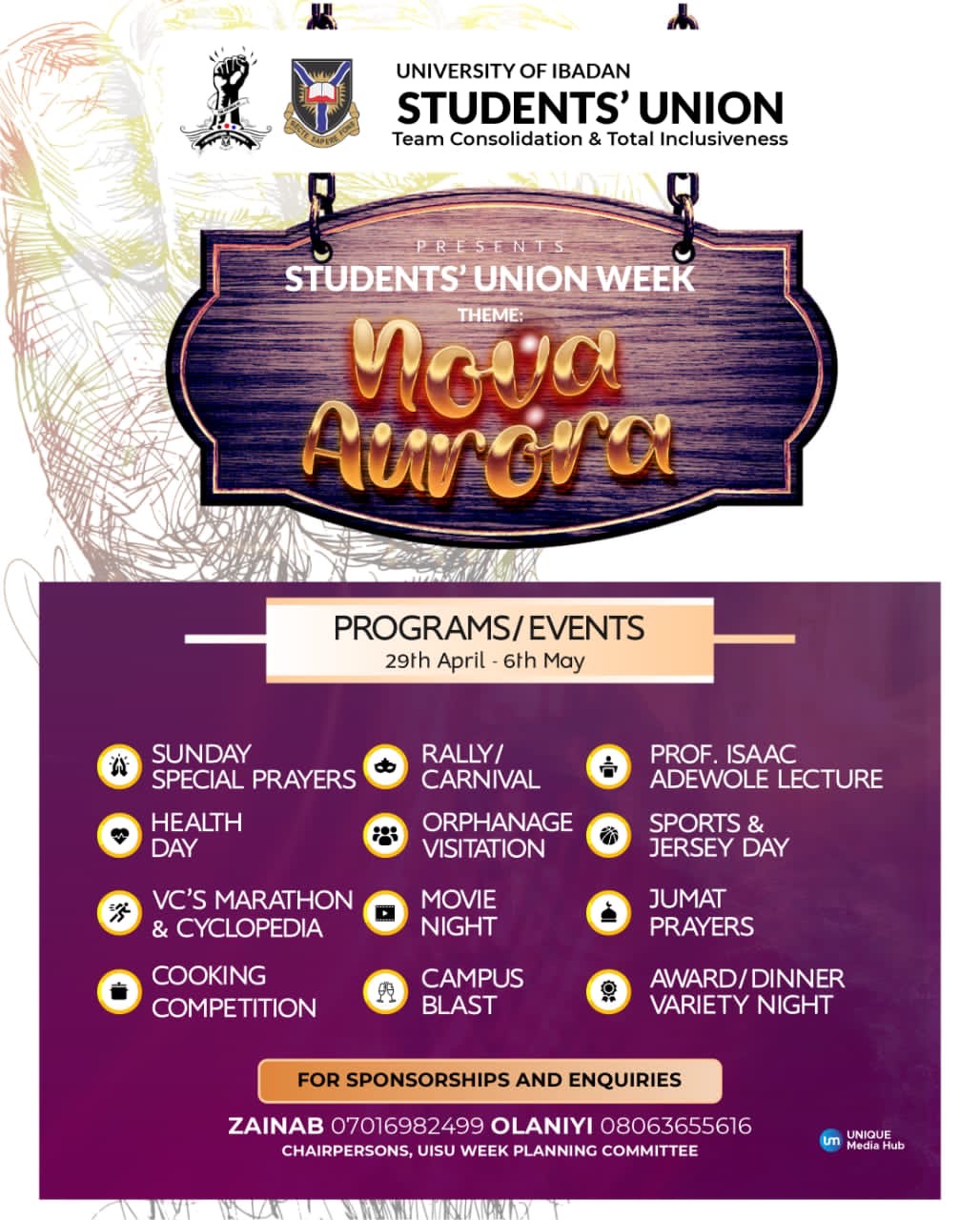 Mr. David further promised to create a forum for Assistant General Secretaries across all departments and faculties to enable the union to know and attend to the needs of students. He also promised that the resolutions of these meetings would be made public although there were no mentions of what mediums would be utilized for this forum; online, physical, or a hybrid of both. Upon our findings, however, it appears that the AGSes weren't reached out to as they were only just hearing of this initiative after our inquiry. This plan should be easily achievable with the right amount of commitment on his part, and could be beneficial for subsequent administrations. Of all the things Mr. David promised, this was the easiest to execute but sadly it is but one more idea washing down Zik River. 
The last section of his manifesto was dedicated to the Fresher's Orientation/Welcome Week which is his constitutional duty. A committee was to be created across all faculties with the prospect of "partnering with willing private bodies and organizations to support the program". And true to his word, it did in fact hold. However, there was a remarkable difference between what was promised and what was delivered. For one, the poor publicity was such that many freshers weren't privy to the events. For a program that was meant to be 'for the benefit of every fresher', it failed to deliver. This is especially highlighted by the delay in payment of cash prizes to the winners of the Mr. and Miss. UI Paegant, which according to the SU President was due to the school management's non-release of funds. Clearly, the partnership with private bodies was either not actualized or  inadequate to fund the planned activities
Finally, he has also been lacking even in his constitutional duty of coordinating National Association of Nigerian Students (NANS) activities as there have been no congresses and next to nothing in terms of creating a shared student consciousness. So, what exactly did the AGS promise that he delivered? That's a question only he himself can answer but has failed to despite multiple attempts at contacting him.