By: Kelvin Omachonu
The University of Ibadan Students' Union has confirmed Nnamdi Azikiwe's qualification for the Semifinal of the UI SU Freshers Cup.
The latest edition of the UI SU Freshers Cup kicked off on Wednesday at the SUB Pitch. It started with the female game, which saw Queens Hall narrowly edge out Idia Hall thanks to a second-half strike from Adesewa Adelabu.
Following Idia Hall's loss, Queens Hall is three points ahead of both Idia and Awo Hall, who will be playing against each other on Friday.
Meanwhile, in the male category, Kuti Hall and Bello played out a 1-1 draw in the first male game on Thursday. It was a keenly contested tie, and it had to be decided by a penalty shootout. Kuti Hall eventually won it 7-6 and advanced to the semifinal.
In the second game of the day, Independence Hall had to wait for the second half to get the winning goal in their 1-0 victory over Mellanby Hall. The young Katanga Warriors were the better team, and they eventually got rewarded for their effort.
The final game of the day saw Zik and Tedder slug it out. Just like the first game, it ended 1-1 and had to be decided on penalties. Tedder eventually claimed the tie via a penalty shootout, which ended 5-4.
In an earlier interview with Indy Press, the Sports Secretary of the Students' Union revealed that the best loser from the first three games would qualify for the semifinal. He stated that the criteria that would be used for deciding this would be their goal difference, goals scored, or goals conceded.
Coincidentally, Zik and Bello had an equal goal difference, the same number of goals scored, and the same number of goals conceded.
However, the SU has now clarified the issue. They stated that they employed the fair play criteria in deciding which of Zik or Bello would qualify. While Bello Hall had three yellow cards from their game, Zik had just one. As such, they confirmed that Zik has qualified for the next semifinal.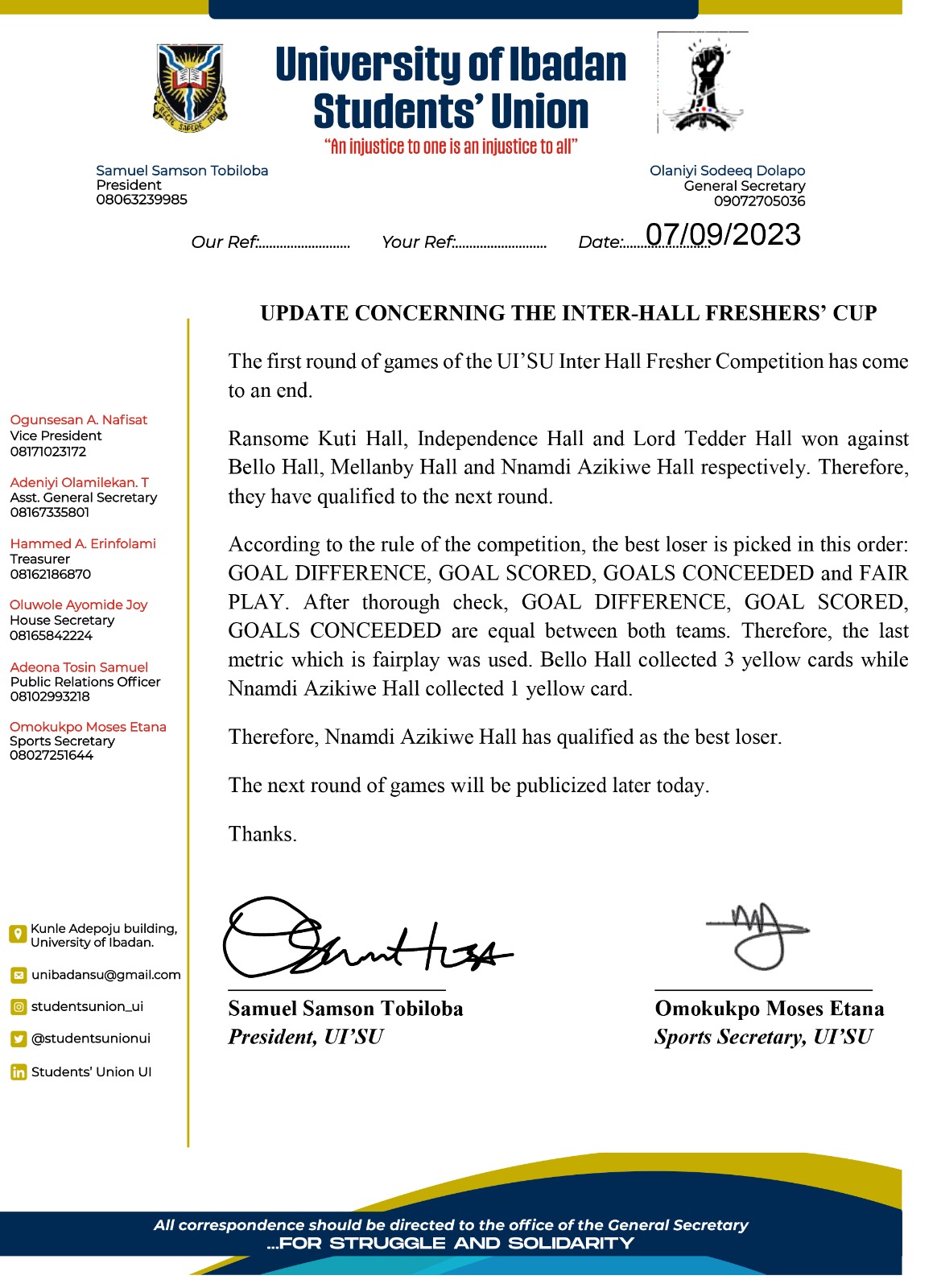 The semifinal, which will begin on Friday the 8th of September, will see Zik Hall play Independence Hall, while Tedder will square off against Kuti.
All the games will take place at the SUB pitch. The women's game kicks off at 2 PM, while the men's games will be played by 3 PM and 4:30 PM respectively.