By: Habeeb Abdul
It all started with a flashlight in the distance. At first, it seemed that a returning night reader was swinging their arm with the light in it.
But this was consistent. It went on, then off, aimed pointedly at the hall's gate each time as the holder's silhouette gradually appeared in the distance.
Scheduled to join the "patriots" at 5:30 a.m. on their first march of the semester, I had waited in the dawn-lit quadrangle of Independence Hall. And kept occupied by a band of praying students, I had observed the area nervously, regretting the choice of thin clothing as every extra minute meant a longer time in the cold.
My liaison was failing to respond and as uncertainty began to set in, I inched closer to the gate where I spotted the torchbearer. Some feet to the left, a couple of people had converged on what turned out to be the meeting spot. And more showed up with the torchbearer's arrival.
To my newcoming eyes, they were a curious bunch, surprisingly small too. After a short interlude, spent on a brisk confirmation of my identity, I was ordered to the tailend of the line. And the training commenced promptly.
It is difficult to see how any light sleeper can remain unperturbed by the Man o' War. On the march, there was no attempt at sympathy for the still-sleepy residents of Independence Hall.
Whistles, shrieks, interspersed with trilling bird-like noises, were regular tools of the trade. We circled the carpark, the spot I had been keen on observing earlier, headed out of the gate and repeated the same motion in Nnamdi Azikwe Hall.
Self-consciousness was setting in, assisted no less by the intermittent screams of my new comrades. A few members, one female, had joined in at this point, the latest two being at the Union Bank ATM.
At Queens Hall, there was similarly no effort to spare the residents from the singing. We entered the park from one end, then arced in a semi-circle to exit at the other.
From here, it was on to the gate and down the road for vehicles heading inwards. Now and then, the torchbearing figure, who I later learned was the Regimental Sergeant Major (RSM), would veer off to direct vehicles.
Using his torch, he would signal them, small and large, to a line on the road, a comfortable distance away from the marching students who were partly hidden by the dark.
We did not make it down the entire road to the Senate Building. Instead, we turned down the intersection towards the road housing the yet-to-be-unveiled Access Bank. I was lagging noticeably.
My breath had been coming in pants minutes earlier. And I was only too happy for my cover as a journalist and my spot at the rear end.
Both allowed a certain indiscretion in pace, without so much as a raised eyebrow from the officers. I walked briskly, jogged for short minutes, then returned to walking again.
As they duckwalked, spinned midstep, stomped, hopped on one foot in tune with the music, so long as I kept them in sight, my role as a journalist was fully served.
There were impossible locations too.
The slightly raised road before St. Anne's, the tortuous hill leading to Awo, and the highest of them all, the impassionate ascent cutting through Talents and the hostel opposite it; all were enemies of the morning jog. In recognition of their effects, the drillmasters adjust by switching to encouragement.
One song goes "'Kilimount' Awo, Kilimount Awo, Kilimount Awo, na there we dey go." And in another, the troopers talk about how they are capable of ascending without sipping water. Not that they ever carried any.
Steadily, the squad approached CMF and veered off on a right towards a downward slope I had not known existed. I was spent here. And the only thing that kept me moving was the need to capture whatever it was their march on what was certainly an endpoint looked like.
The 'warbays' took another right and before long, everyone's hands was raised high above their heads. The path was thin and had to be navigated in a single file. Contrary to my initial assumptions, I would later learn that there was no mystery or ritual to entering this location.
The raised hands were intended to avoid scratches from the overgrown bush while the accompanying could really just have been any other.
The clearing ahead of us, referred to as a base by the unit, is a fairly wide expanse behind Obafemi Awolowo Hall. A small patch of mounds indicated agrarian activity while a hill to the rear was covered with overgrown shrubs.
The ground was noticeably wet too, a fact that posed a problem to the clothes of any member who had to carry out a physical exercise lying prone.
Car tyres encrusted with earth served the dual purposes of training and disciplining patriots, with the occasional concrete pipe converted to a balancing beam.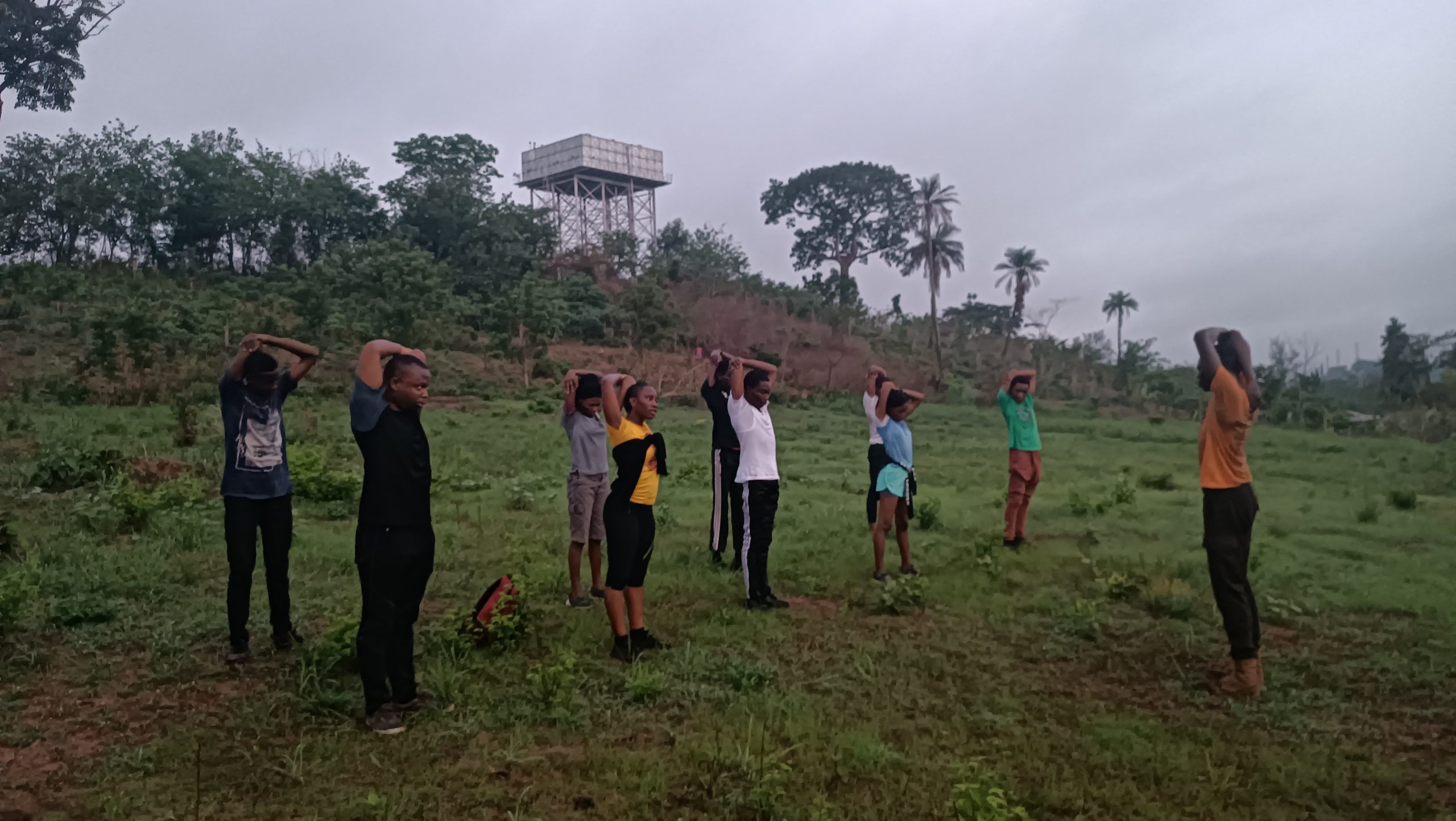 Patriots performing stretching exercises early on a Thursday morning.
The members quickly fell into a routine of foot drills and lower body exercises. The inexpertise showed. Once, every patriot except one turned right when an order for a left-wheel was given.
The sight elicited memories of a similar parade meme. After minutes of practice, they rounded off with brief admonition, the commanders wary on the one hand of the ongoing fast among the Muslims and of preparation time for classes on the other.
Structure Of The Man o' War
The history of the Man o' War, University of Ibadan trails back to the 1980s. But the origin of the entire organisation itself is rooted in the outward-bound method of education developed by Kurt Hahn, a German-British educator.
Hahn's philosophy explains it all. The scholar believed that students should extend their academic activities beyond mere absorption of traditional information. He emphasized failure and new experiences as robust techniques for building individuals.
One of his preferred methods for teaching the values of compassion through service, physical fitness, independence, self-reliance, and discipline, all traits he considered important, was expeditions.
Hahn was known for sending high schoolers on hikes through mountains, forests and over water bodies. His school, Gordonstoun, trained students in crisis management by enrolling them in search and rescue services, with duties that involved deployments to find missing persons, the sites of shipwrecks, fire accidents, among others.
Its motto, plus est en vous — "there is more in you" — sums it up. However, while it is certainly true that the ideologies of the Man o' War lean on those of the Outward Bound School, also founded by Hahn in 1941, the actual institutional framework that birthed the organisation as it is known today was launched by Alec Dickson in 1951.
He started the Man o' War Bay Training Centre in Victoria, Southern Cameroon, a project that was later conferred status in legislation.
At the national level, the organisation is managed by the Citizen and Leadership Training Centre (CLTC) and is further split into State, Zonal, Area and Unit Commands.
Formations are generally divided into community-based and cadet clubs. The former covers a broad spectrum of personalities including civil servants, officers, and members of communities.
The university's unit, however, falls under the purview of cadet clubs. These are exclusively run by students across polytechnic and university campuses.
Becoming Patriots
I found Man o' War drills to be a special form of entertainment. They were physical versions of independence day parades, only broken down to the bits that form the technical whole. Observing the unit train occasionally feels like exposure to otherworldly knowledge.
There, you learn that senior officers are saluted or "complimented," as the cadets are wont to say, with a different foot — the right — while the left is mostly kept for mundane drills.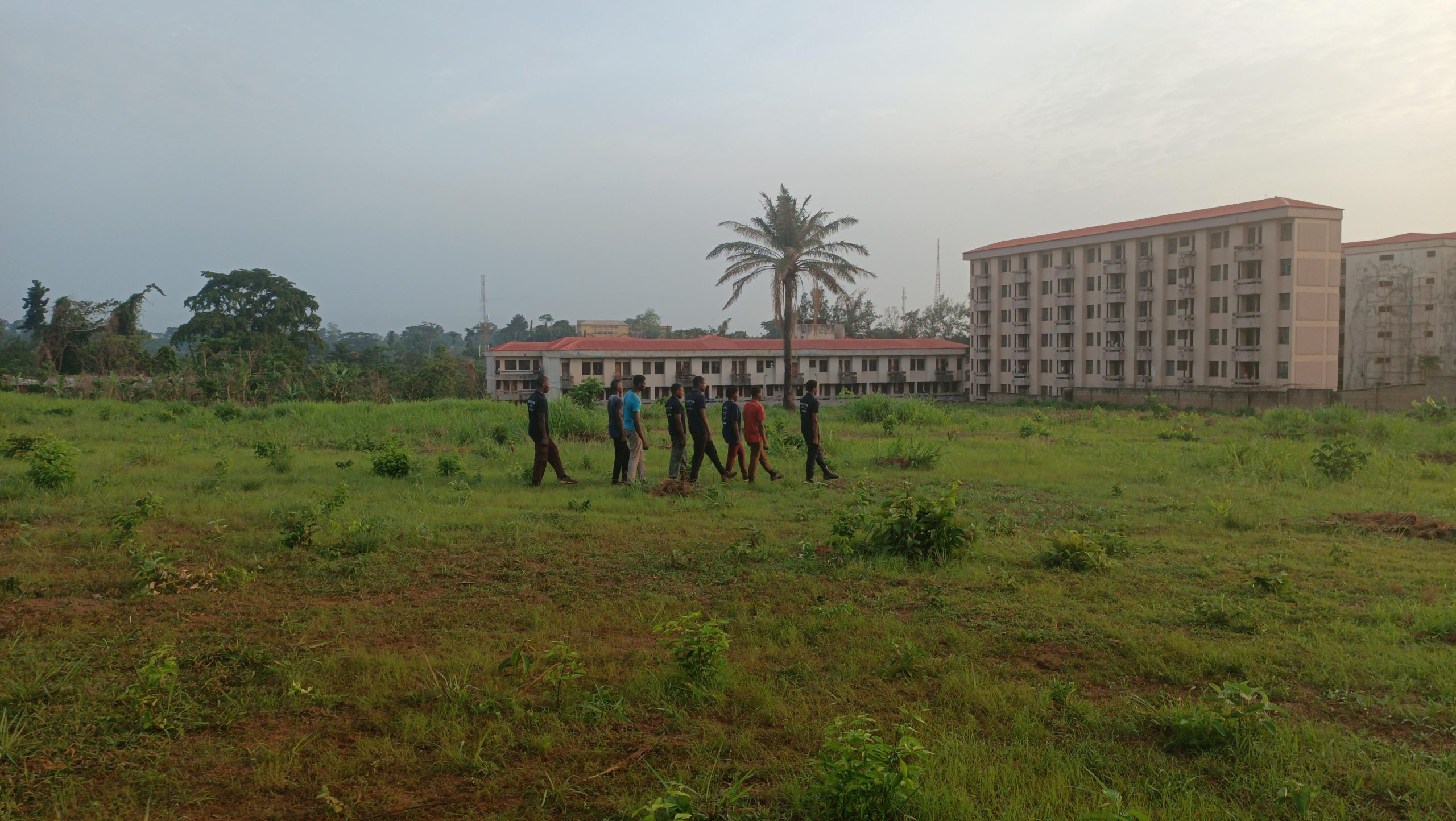 Members of the Man o' War in a slow march, toes pointing outwards.
You also learn to that you raise your hand in salute if you have a headdress on during a rendition of the national anthem.
Often, you are stunned by the ostensibly clinical fashion of parades, especially the certainty of action amongst troopers, even without communication.
It is a masterclass on conditioning. For squad members to learn synchronized movement, instructors tell them to count paces quietly, with specific participants sometimes working with different numbers or slightly varied movement, based on their position within the column.
Asked whether the senior members had been specially trained themselves, Nwosu Chrysogonus, the Chief Training Officer (CTO), explained, "Before you become a Patriot, you go through certain trainings. Your pre-camp, your camp, your post-camp, these are the places whereby we have the time for us to learn and perfect some of all these things. So, if there is any need for additional training, we also have our leaders that also come around to take us."
The camp stages he refers to are fundamental parts of the Man o' War UI curriculum. At the Pre-Camp phase, members are introduced to drills and other routine exercises that would not fit into the allotted time for the subsequent stages.
Camp, the next phase is a lot more intense. Here, an intending recruit, known as an 'I.R.,' is subjected to around 48 hours of stress through physical and mental tests.
In my interaction with the patriots, I saw videos of members crawling through drainages on their bellies or launching bodily over wooden bars raised up to waist-level.
The intention here is to determine fortitude and willingness to brave uncomfortable situations. They also seek to assess ability to follow orders even when those are related to undergoing distress.
During this time, they are barred from returning home. They spend the days, sometimes lecture-free weekends, with their commanders living as trainees.
After this, members proceed immediately to the Post-Camp stage. They are inducted into paramilitary mores, with dressing etiquette, hierarchy, conduct in uniform, history lessons and a variety of others featuring in the course content.
What follows is an investiture attended by Man o' War patrons and other guests within the university. The investiture, wherein the new members are dressed in ceremonial uniforms, is also symbolic of the support of the school management.
At the helm of Man o' War patrons, who are lecturers, is the Vice-Chancellor, the Grand Patron. Patrons could also potentially have been former members of the unit during their days as students in the university.
The journey goes thus: Enterprising recruits become officers, who are categorised into generals and a war council — the former representing top-level commanders like the Chief Training Officer and the Commander-in-Chief while the latter, cadet-officers from the rank of Regimental Sergeant-Major downwards.
All then become statesmen, the Man o' War equivalent term for alumni, upon graduation.
Discipline, Lyrical Sexism and the Long Road to Manliness
Among the patriots, it is infinitely hard to ignore the sexism that pervade their music. Aside from a perception of female members as "men in skirts," several songs are dedicated to describing sexual escapades and emphasizing stereotypes.
Once in a while, you might even witness the cadets improvising lyrics to throw banter at female passersby. For all their vulgarity, however, the unit can hardly be said to be male-dominated.
A dive into past videos and images from trainings and other outings suggest that one is nearly as likely to spot females within its ranks as they are to spot men.
While they were rarely sighted at trainings during my time with the team, two among the personnel with the rank of general were female, one proceeding to become the new Deputy Commander-in-Chief of the organization.
A clearer picture emerges with further search. Across branches in various institutions and in training courses by the Citizen Leadership and Training Centre, women are a constant. A video of a cane-wielding female instructor standing over recruits at Auchi Polytechnic as they rolled through a pool of floodwater dispels scepticism even further.
Still, representation or not, trainees are continually reminded in another song about how being a man is well beyond a day's job.
On discipline, a regular tool of the trade is an order for offenders to "pin heads."
This punishment, noticeably never allowed to extend beyond seconds to a few minutes at the university branch, is a common sight in military training. Erring officers are required to place the top of their heads on anything from regular soil to hard concrete.
Their bodies form an inverse 'V' on the ground with both arms raised high above their backs. On one of the exercises, a vexed drill commander stopped the joggers midway.
Morale had been uncharacteristically low, affecting both the pace and choruses.
First, the patriots were subjected to an admittedly brief spell, "pinning" their heads on prickly asphalt.
When that did not stop some trainees from trailing behind when the exercise resumed, offenders were tasked with the same punishment, this time with their heads in the centre of tyres that had been partly buried in the soil and their hands clapping in tune to muffled renditions of the songs they had failed to sing earlier.
This was a rare sight as I would later come to learn. Top-level cadets are often reluctant to impose the same disciplinary measures that they had apparently undergone in their own time.
On my end, I was gradually beginning to adapt. From starting out unable to jog smoothly beyond a few paces, I could now keep up with extended marches.
I had steady successes, beginning with how long it took before I slowed into a regular walk. Then it evolved into how well I could resist that urge, even as I expended the light meals I'd had for the Ramadan fast minutes after ingesting them.
There was a social side to it too. I had worried in my initial days about the reactions of friends and acquaintances. But with time came confidence.
Soon, I would lose all bother as I could now find myself waving merrily at a familiar face who had been out on one of the many dawns.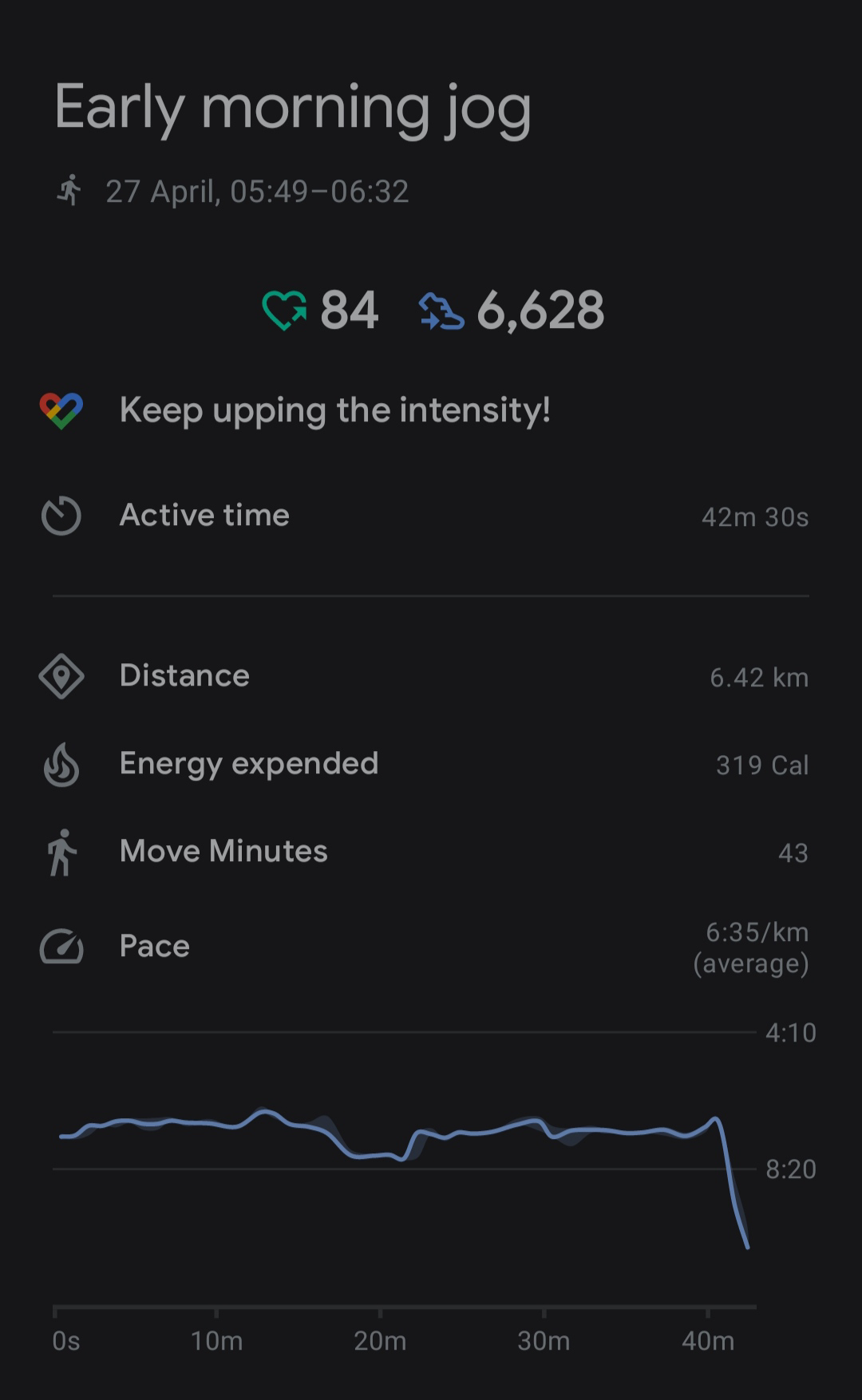 You begin to see it then, the Regimental Sergeant-Major, Akinbode Heritage's, seemingly inexpendable energy; the CTO's zeal to keep going; Oyeleke Abdulmuiz, the Director of General Protocol's, ability to sing continually without running out of breath or falling behind; how it certainly came from years of long and hard effort on the same thing.
I could sing along if I wanted to now, arrive home from marches without receding helplessly into exhaustion. And for my biggest win, the endurance trek, I successfully concluded ten kilometres without pausing to rest or caving to the temptation to fall behind.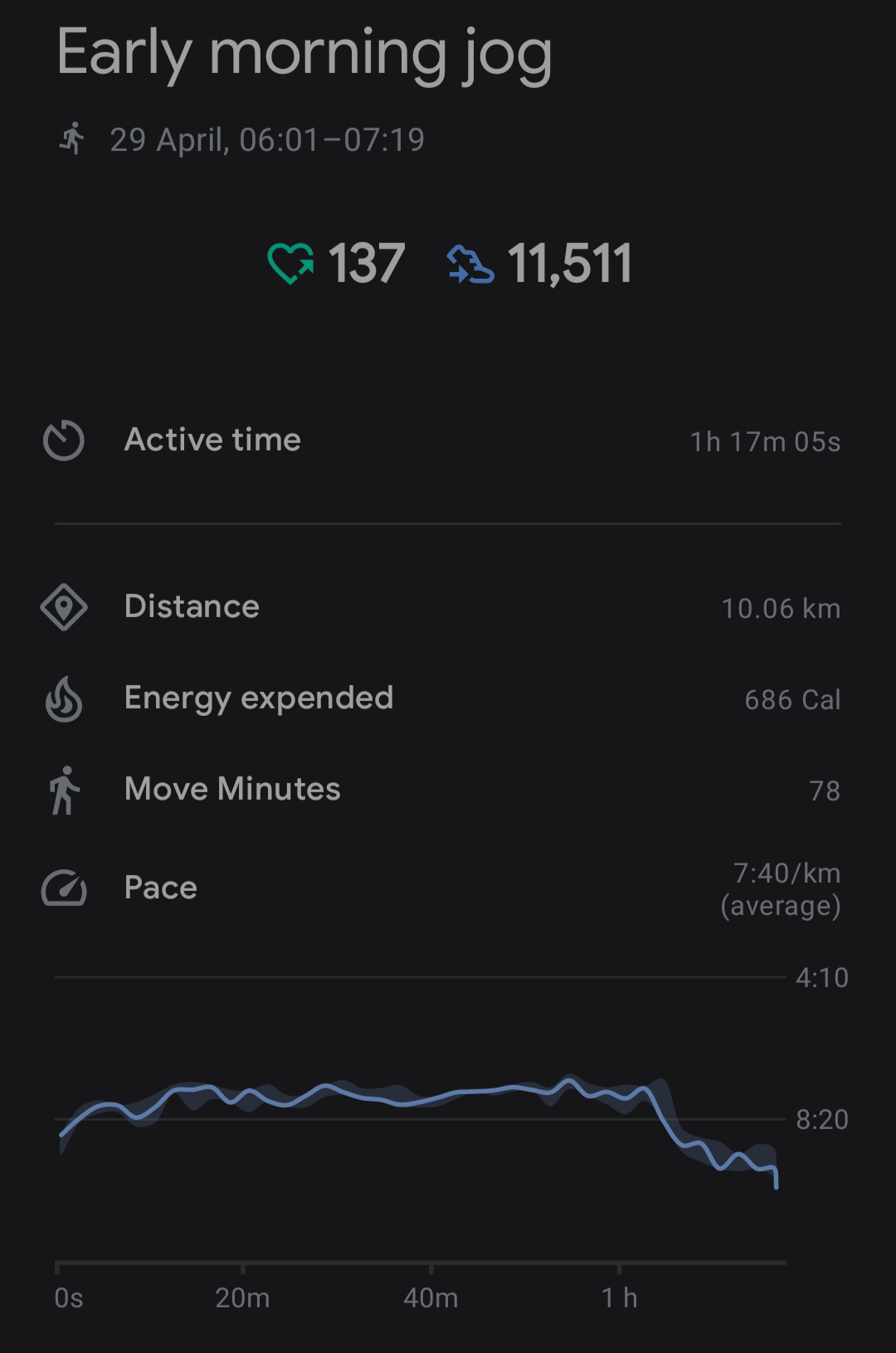 Mine was a milder victory, however, as patriots would often arrive at the base after these marches to another hour or two of physical drills.
Kinship Ties with Abefele, Sister Agencies and Life after School
Aside from its regimentals, the Man o' War indulges in a series of responsibilities within and outside campus.
There are visitations to other branches in and outside the state, during which it participates in flagship training and recruitment exercises.
These events are ostensibly targeted at relationship-building as patriots from other institutions also present themselves during exercises at the University of Ibadan.
Furthermore, the Man o' War is integrated into the university's security architecture.
Typically, the cadets are employed for crowd control at events like matriculations and convocations, UI Post-UTME, protests, and a variety of others.
Asked about the relationship of the Man o' War with the Campus Security Service to this end, the Chief Security Officer, Mr. Victor Fadeyibi, while outlining their various services to the university, likened it to "one between the father and the son."
He stated that their complementary nature to the Abefele is probably one reason why the management pays them honorarium.
"When they do their recruitment, I attend. We also assist in some of their activities by giving them logistics support." Even as the CSO said he was never a patriot during his student days, evidence of that close relationship appears in encounters between the Man o' War and the security unit.
Extemporaneous lyrics to hail officers on duty as the cadets jog by, pictures of the warbays in campus security vehicles, and attendance of top-level officials at their own major events are all the testament that one could ever need.
Another unit that the organisation has a distinct relationship with is the Red Cross. Members of the Man o' War are responsible for leading crossers in foot drills on a bi-weekly basis.
Across halls and the Students' Union, they are known to have affiliations with defence committees. The organisation as a whole also publishes periodic security advisories and personal workout regimen.
The culture never ends for old-timers. Quizzed about the influence of the contingent on his life after university, Olajide Abiola, a statesman and 2021 graduate of Veterinary Medicine, stated, "It influenced many things. I became a better time manager and learnt to sacrifice less important activities. I also learnt discipline in its purest form and core leadership skills."
For Daodu Adedamola, regimentation is now a daily reality.  The 2015 graduate of Industrial and Production Engineering currently serves as a lieutenant in the Nigerian Army.
Narrating his experiences during training, Adedamola was no stranger to most things outside weapons handling and tactical manoeuvres. He stated, "The skill sets I possessed were very obvious during military training. There was nothing almost new to me in terms of foot drills, dressing, training and regimentation. So, yes, I wasn't really caught unawares; instead, I had to pretend that I didn't know certain things so they wouldn't pick me out of the lot."