Two Indy Press correspondents had an interview session with the Hult Prize UI Campus Director, Ms. Faithwin Gbadamosi. The interview saw the Director shed light on what Hult Prize is, the Hult Prize 2021 Challenge in UI, the Hult Prize UI's plans for this year's challenge, and what we should look out for in the coming days. Enjoy!
Good evening! Can we meet you?
I am Faithwin Gbadamosi, a 300-level student at the Department of Geography, University of Ibadan.
You head one of the most prestigious student-led organizations in the University of Ibadan. Can you tell us what Hult Prize is all about?
Hult Prize is an annual, year-long competition that challenges students to solve pressing social issues around topics like unemployment, food security, energy, climate change amongst others with a grand prize of 1 million US Dollars. Hult Prize is a program with series of events actually, it ranges from OnCampus Programs, to the Regional Competition, Accelerator and then the Global Final, and Hult Prize UI is a microcosm of that. Here, we train our students and pick the best team to represent us at the Hult Prize Regionals.
How are Hult Prize themes picked?
The themes are picked every year by the Global team and announced by Bill Clinton.
Can you give us a brief history of Hult Prize UI?
Hult Prize is one of the programs organized by Students' Entrepreneurship and Innovation Hub (S.E.I.H.). Hult Prize UI started in 2016 and has since then witnessed the birth of startups like FactsCount, Skill NG, Vinsighte and so many others. The First campus director was Dr Samuel Babalola and then followed Dimeji Ojo who is also the Pioneer President of SEIH.
How has Hult Prize UI 2021 been so far?
It has been awesome! We have the best team, and we've been pushing in spite of everything that has been happening. It's the first ever virtual Hult Prize OnCampus Program in UI but we believe that it's going to be the best ever.

What has been done? Have applications been received? What stage is the challenge in?
We've organized three general training and information sessions. We just concluded our Bootcamp for competing teams and the elevator pitch will come up on the 21st of November. This is where we'll pick the top 10 teams that will pitch at the Finals.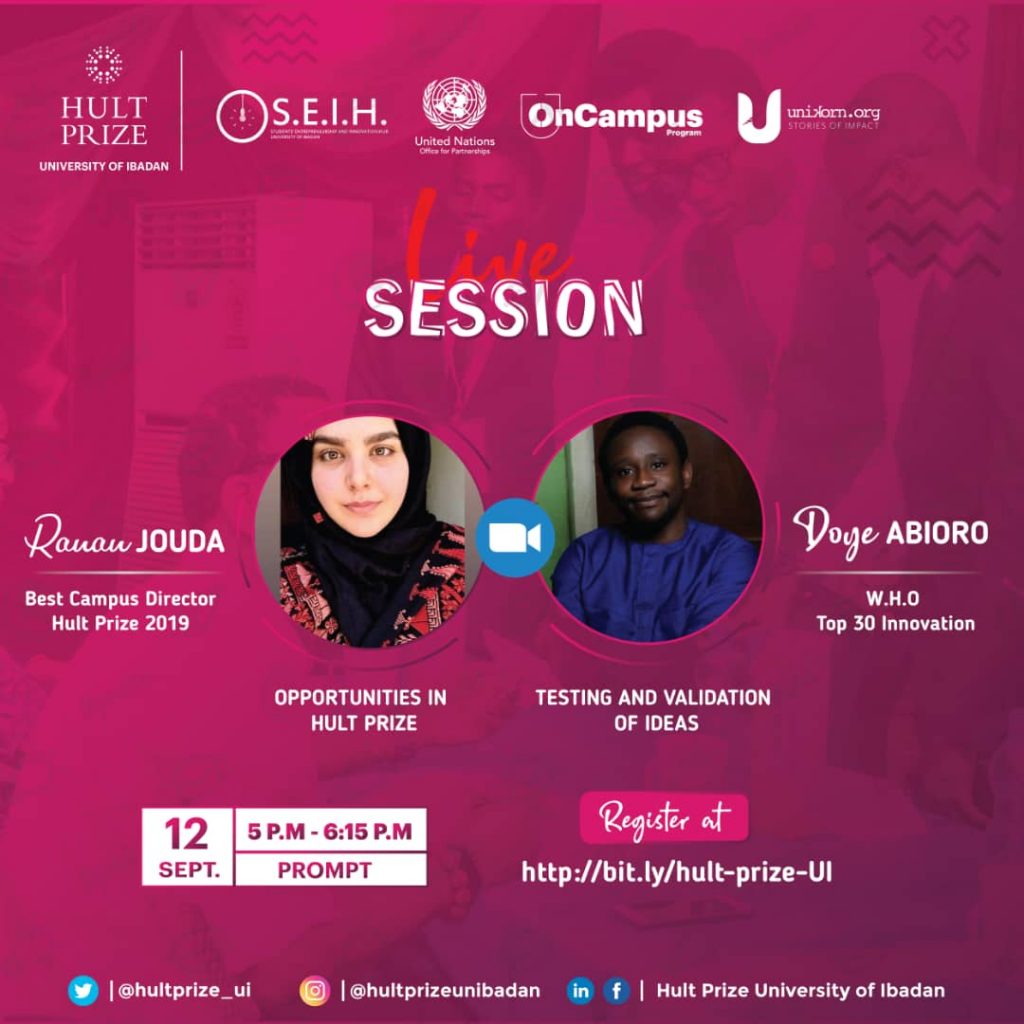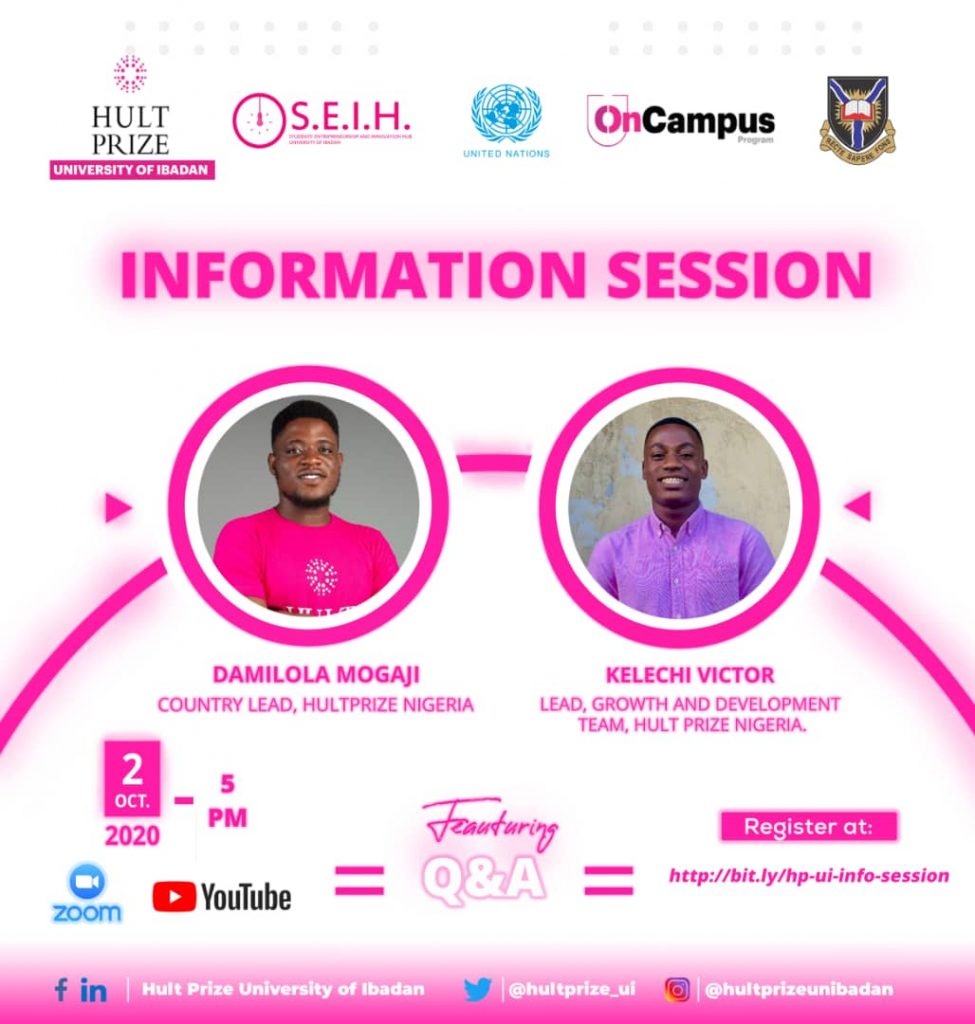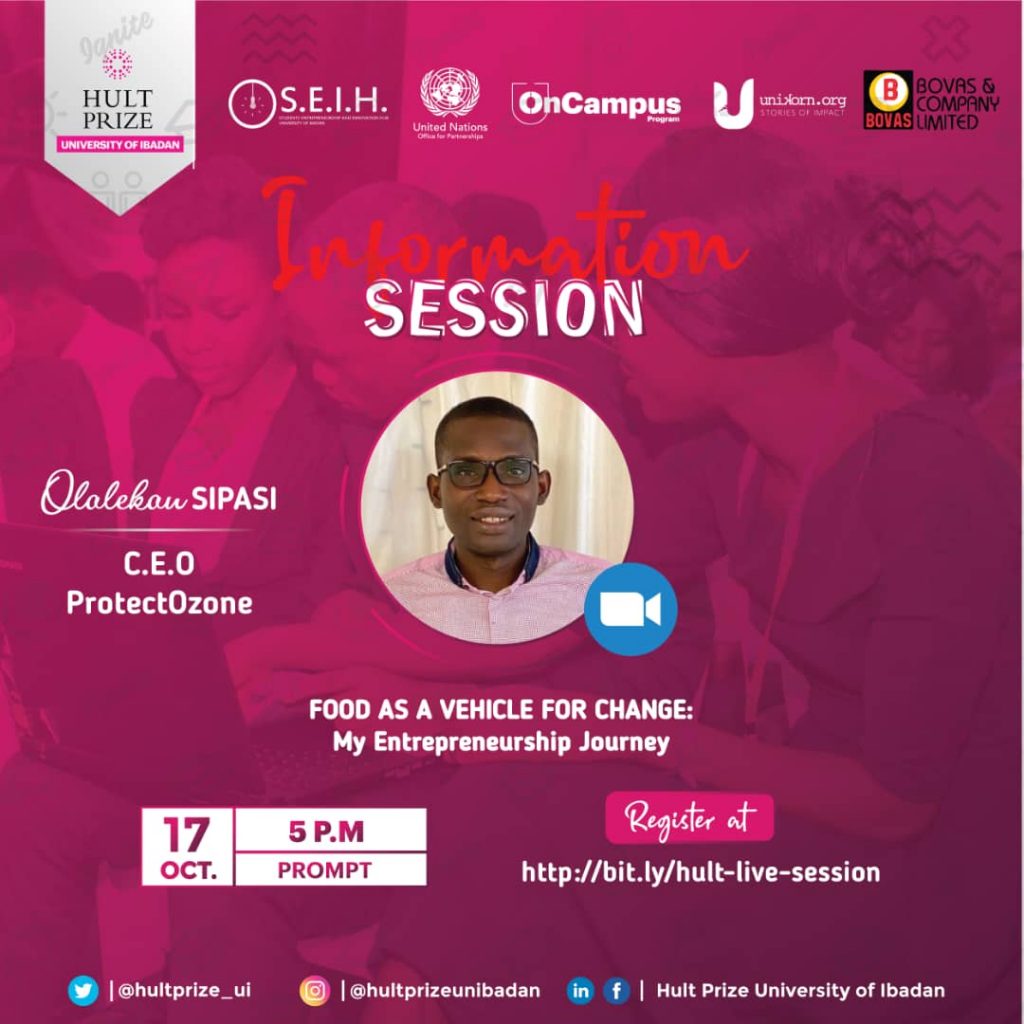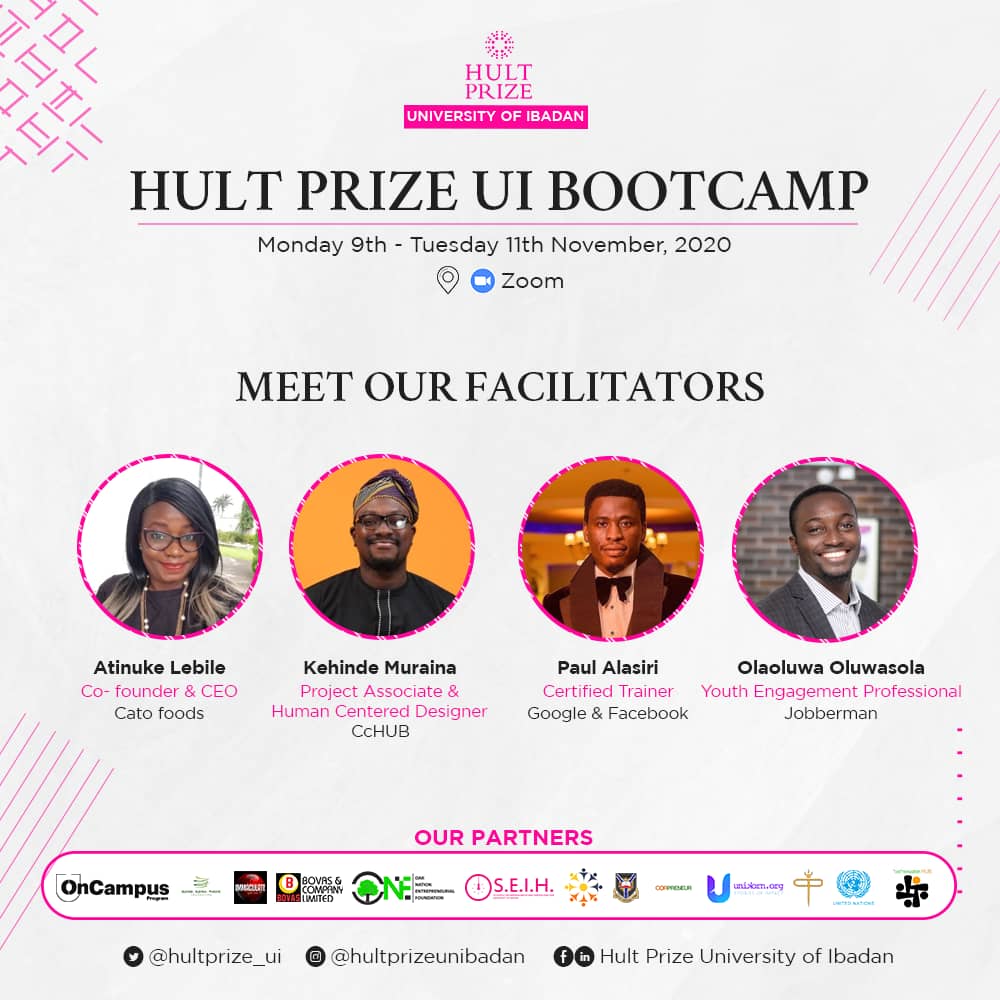 To watch all Hult Prize UI 2021 Information Sessions, visit https://www.youtube.com/channel/UCJYHtj2K6WxV9VbrdATGhOA
How well did UItes respond to the Prize this year, and what would you say moved people to respond at that rate?
One thing with Uites is that they never let anything stop them. In spite of everything, we received quite a number of applications. I would say the energy from the amazing Organizing Team members and ambassadors moved people to respond actually. We went all out to encourage people to register and even created a matchmaking forum for students with ideas but no team members and vice versa

Has the paradigm shift from physical pitching to Virtual affected the program?
So, the effect has been felt both positively and negatively. The shift though necessary, reduced the expected enrollment by about 20% owing to virtual mode constraints(internet connectivity, inability of teammates to meet on person etc). On the positive front, we've learnt more effective ways to get things done and communicate effectively online which we are certain is good for times to come because we would never have thought this was a possibility.
What has been the most challenging thing so far?
The most challenging thing has been keeping people motivated. Our team members, ambassadors and even participants.
What has been the most memorable thing so far?
Most memorable? The first time we had over 90 participants on zoom! I was so happy that I danced around my room.
What's left to achieve for the 2021 edition of Hult Prize UI?
Pick the best team, make it to the accelerator and win that stack of dollar
After all has been said and done, what would be the achieved things by which you'd judge that Hult Prize UI 2021 was successful?
We would witness the birth of new businesses that solve food problems in Nigeria and the world at large. Our participants would be better thinkers who have been equipped to think big and have no limits.We would have nailed the first virtual Hult Prize program in UI. Plus we'll make it to the Accelerator
What's in it for winners? And what's next for them?
There will be cash prizes for the top three teams and this is only to encourage them as that is only the beginning of their Hult Prize journey. The winners of the OnCampus Program would get a chance to compete at the Regionals.
Thank you so much for joining us tonight! We hope Hult Prize UI 2021 will be terrific!