On this edition of Katanga Spotlight, Indy Press' correspondent, John 'Dare Okafor, met with the Administrator-General of Independence Hall, Temitope Olaogun to discuss the administration's plans for Katangites, pressing issues as regards e-learning, its effects on Independence Hall and the forthcoming Indy @ 60 celebrations. Enjoy!
Indy Press: Can we meet you, sir?
Olaogun Temitope:  I'm Olaogun Temitope Olafimihan, a 500-level student at the Faculty of Veterinary Medicine and the present Administrator-General of the Great Independence Hall, University of Ibadan.
Indy Press: Seeing that we are gradually saying goodbye to the pandemic, what has been your leadership experience during the pandemic?
Olaogun Temitope: Ah, the pandemic has really caused a lot of havoc. I was supposed to be inaugurated last year March, then the Covid-19 delayed us till this year's February, even till now the students that are supposed to lead are not even on ground. It has not been easy, we ran through the stress for running for posts and campaign, we did a lot of things and made a lot of promises to the people and at the end of the day the pandemic has affected the administration. It has not been easy, to even source for  funds; like it's somehow, people are just recovering from the Covid-19 pandemic, to get resources will be somehow hard.
Indy Press: What are your plans for this virtual semester for Katangites?
Olaogun Temitope: Yes, we have plans, although we are planning towards second semester. There's virtually nothing we can do when the students are not around. Though we are planning towards celebrating the 60th anniversary of the Great Independence Hall even if hostels are not open in second semester. And we are still working towards fulfilling few of our promises we made to Katangites.
Indy Press: Some Katangites still have their luggage in their rooms and they haven't been allowed into the hall without clearance. What's their fate and what are the plans for them?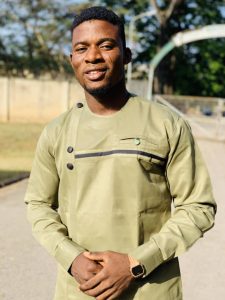 Olaogun Temitope: Concerning Katangites that still have luggage in the hall… actually, before the pandemic started, we started clearance, but the pandemic started and people had to leave on emergency and many people were not able to go home with their luggage. When school announced resumption we were given grace of two weeks which ended on February 4th to come and pack our stuffs and do our clearance. The reason the deadline was Feburary 4th was because of the NASU strike. NASU strike started by Feburary 5th, since then, clearance and packing of luggage stopped. Now that NASU has resumed, porters are now back on duty, supervisors are back on duty, we are looking at talking with the hall management to give people the chance of coming into the hall to do their clearance and pack their stuff, so that people that need them outside school will be able to get them. Although, I'm still yet to talk to the Hall Warden, because after speaking with him, he still has to speak with the Dean of Students. The response from the Dean of Students will determine what will happen.
Indy Press: Concerning payment of dues, what is the plan of your administration?
Olaogun Temitope: Concerning payment of dues, the process used to be like once you pay you accommodation fee, and you want to come and register in the hall for accommodation, that's when you have to compulsorily pay for your hall dues, but now, people don't even need to pay for accommodation because the halls of residence are not opened. There's no way we can collect hall dues for now. We are hopeful that when school resumes by second semester, we would find a way to collect hall dues, though it might not be the full hall dues, at least we would collect some amount of money just to run the administration for second semester and from the dues we will collect, we would still give out packages for Katangites.
Indy Press: What's the assurance that most Katangites will like to come back to the hall to use just a semester?
Olaogun Temitope: Yeah, many Katangites, in fact I can give you the assurance that 90% of Katangites will be ready to come back into the hall because there's no place like home. Independence Hall is our home; many Katangites will be ready to come back. The vibe, the ginger, aroism we enjoy in the hall can't be enjoyed outside school, so many will be ready to come back. More so, many people are still at home. When school opens the hostel, they will be ready to come back to the hall and many people are still staying with their friends in apartments outside school due to scarcity of apartment. They may not be convenient with that. I'm very sure that many people will be willing to come back into the hall after the first semester.
Indy Press: If the pandemic persists, what are your plan for Indy @ 60 and if it has ended by then, what are your plans?
Olaogun Temitope:  Plans on the 60th anniversary is something we have started, the hall management, the excos, the honourables, most especially, Independence Hall alumni; we have started and there is no going back. It will hold in second semester, hopefully before exams, we don't know the date yet. The date will be announced very soon, but if the pandemic persists and the school management does not open hostels, at least we can write to the school management to give us the permission to celebrate the 60th anniversary that will obey the Covid-19 protocol. If they don't permit us, maybe we will do it virtually so that people from different locations outside UI can be able to join virtually.
Indy Press: When you ran for office of the AG, you had plans and projects in minds, same as your executives, what will happen to those plans?
Olaogun Temitope: Yes, we promised Katangties, by God's grace before the end of this administration, we should be able to fulfil some our promises. We are not sleeping; we are working tirelessly. We would be getting the results of our efforts very soon. For Indy @ 60, our alumni are really working for us. As part of my promises, I promised to bridge the gap between the hall and the alumni. At least, I have gotten about 28 AGs into a WhatsApp platform. Now they are working on setting up an alumni association, build a website, and register the alumni body to make it more formal. Soon, we would be getting the results of our efforts.
Indy Press: Talking about your administration so far, how has it been working alongside your executives during this pandemic?
Olaogun Temitope: It has not been easy, we are not working together physically, though we have been meeting online and discussing about the problems and solutions facing the hall but not really physically.
Indy Press: As of today, what do you think are the major challenges facing Independence Hall?
Olaogun Temitope: The major challenge we are facing is still that the renovation of Independence Hall is yet to be completed and that still boils that to the fact that there's no funds on ground to complete the renovation.  Though we were promised that when school resumes and accommodation is paid for, the school management will be able to have funds to complete the renovation of the hall, such as painting, plumbing and other works. But now that the hostels are not opened, we still have to wait till second semester when we might have paid for our accommodation fee so we can have funds to complete the renovations.
Indy Press: Indy @ 60, should we be expecting a magazine?
Olaogun Temitope: For the 60th anniversary, we are really working at producing magazines for the hall. The major problem we are having is still funds, if we have the funds, surely we would make magazines. Before the pandemic started, I have been talking with the Editor-in-Chief of Indy Press towards the cost of production of magazines. Because of the pandemic, no money for now, but if we are able to get funds, by God's grace we are making magazines.
Indy Press: What are your last words for Katangites?
Olaogun Temitope: Of the greatest Katangites! Articulate Katangites! Greates Kantangties, we all understand that this is a critical period because the hostel has not been opened and many people are outside the campus, many people are still settling down and even lectures haven't started fully. I want to implore us all to be serious and take this academic semester very seriously. It may look like exam is still far, but it is not. Start reading your books as early as possible so that we have good grades in the coming exams. By God's grace, by second semester, we would be coming back to the hall. I pray God will spare our lives till then. I look forward to having everybody back to the hall in second semester. I appreciate you all for the opportunity you have given to us to serve.
Indy Press: Thanks for honouring this interview.