By: Olamilekan Oke
Everything that has a starting must also have a finishing, but in this case, we never saw the end coming this soon. Maybe we all felt this guy was meant to last forever and give us melodious rhythms to vibe to till eternity.
Since he came into the limelight in 2010, after the release of his hit single, Eni Duro, he has released albums back to back ever since. Olamide Adedeji, also known as Baddo announced on Saturday that his album "Unruly" is 95% ready and that there's a probability that would be his last album.
The king of the streets from Bariga, Lagos, didn't just promote his songs alone, but he has also helped a lot of guys found their footings in the industry.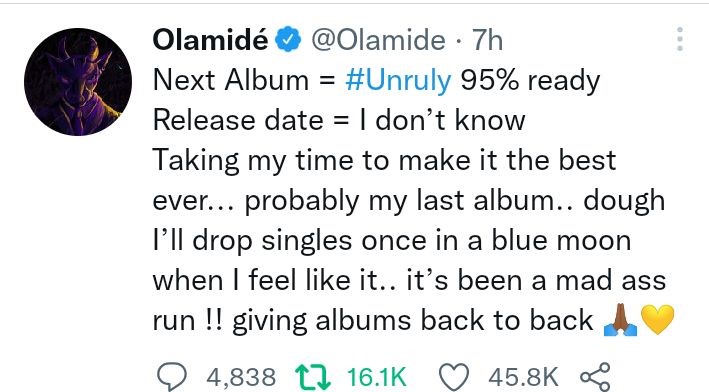 His label "Yahoo Boys No Laptop" (YBNL) has given a lot of musicians the platform and promotions they needed in the music industry. Ranging from Adekunle Gold to Lil Kesh, to Chinko Ekun, FireBoy, etc. He is one of those selfless guys in the music industry who gives young artiste the platform and promotions they need, as we can see in the case of Portable. He doesn't necessarily need to sign you to his label before rendering help. He got featured on Portable's "Zazuu" and that changed his life and career.
Olamide is the only hip hop musician that released albums back to back for 11 years straight with Rapsodi (2011), Yahoo Boy no laptop (2012), Baddest guy ever liver (2013), Street OT (2014), 2 Kings (2015) , Eyan Mayweather (2015), The Glory (2016), Lagos Nawa (2017), Mafia family (2018), Double (2019), Carpe diem (2021), Uy Scuti (2022). His 12th album release date is yet unknown, but it seems it's going to be his last studio album. Olamide has produced a lot of good musicians in the industry and peradventure he doesn't drop albums again, the likes of FireBoy, Lil Kesh and Adekunle Gold will forever remain a gift to us through him.
Baddo isn't retiring from music yet, he's still in the industry, he'll be dropping singles when he feels like, and collaboration with other musicians will definitely go on. I feel Olamide just wants to take the back seat and watch other young artiste grow. It's important to note that he didn't hold his regular December show "Olamide live in concert" (OLIC) last year. Maybe, all these are signs we just ignored and never pay attention to. Whenever he releases his forthcoming album later in the year, listen to it very well, because who knows? It might just be the last!