Indy Press had an interview with the Administrator General of the Great Independence hall. In the interview with Mr Adejumo Uthman he talked about his plans for Katangites, hall due payments and his position as the Administrator General of the hall. Excerpts below:
Could you please tell us a little about yourself?
I am the Administrator General of the Great independence Hall. I am a 400level student of the department of Arabic and Islamic Studies, Faculty of Arts.
Why did you decide to run for the post of Independence Hall AG?
I had my mindset on running for AG since 100level. I have always believed in leadership from my secondary school days, and I feel with these little experience, I have a lot of experience, and I think I know the things that Katangites need. Though, I may not be the best; I feel I'm surely going to deliver by God's grace.
Freshmen recently resumed. We would like to know your plans in helping them settle into the hall.
Since resumption, I have been talking on the public address system, trying to orientate them. We are trying to ensure that there is love between them, so as to continue the traditions of the hall. By God's grace, everything will be known to them in the coming weeks.
What is your relationship with the other executives? Have they been supportive?
I think I have the best. They are always available and supportive, even in impromptu situations. They are always there. We all have the interest of the hall at heart, and I pray that God will help us achieve that.
You were part of the last administration. What difference are you bringing to Independence Hall?
The previous administration might have been doing it, but a new change will be put in place. We are trying to ensure political consciousness. We have been contesting for several posts, but there are new changes. Unlike before, we constitute committees a few weeks to major elections, we created a stakeholders committee group during the holidays, and we have been working and taking katangites who are ready to contest in different posts, not just for SU elections, but also department and faculty elections.
Has anyone indicated an interest in any post?
There are three Katangites who have shown interest in several posts, but I told them to contact the former AG and the former Speaker, so the committee would tell them how to go about it.
Last session, there was a severe political apathy within the hall.  A couple of positions were not contested for. What are you bringing to the table that will promote Katangites to be politically inclined?
The post of Social and Buttery was the only vacant role, because people were saying it was too stressful. But the PRO position was not empty. The contestant was disqualified at the screening level. But by God's grace, we would inform and make sure political apathy stops in independence hall. We are going to build more politically inclined people in the hall.
How are you going to build them?
I think by sensitization and letting them know. Because some people believe that politics makes them divert from their primary assignment, which is education, some people believe that politics whiles away time, but the thing is you doing politics doesn't mean you won't be on a first-class or a 2-1. If we are orientating them and talking to them about it, letting them see a reason to go into politics, I think some of them would consider going into it.
The issue of hall dues has caused serious concern. This session, most faculties, departments, and halls have started charging #3000, unlike last session when it was #2500. Some staylites have complained that they had to pay #8500(hall dues, capital project, and shirt). But what exactly is the aim of charging #2000 for capital project, for finalists considering the current economy?
The breakdown of the N8500 is – N3000 for hall dues, shirt N3500, and capital project for finalists, which is N2000.  So far, just one finalist has complained to me. The former Administrator General actually was the one who coordinated the meeting. We have a group already. And we have about 200 people in the group. We unanimously decided that we all would pay the sum of N2000. Even I, the AG of the hall, will pay the N2000. And mind you, it is not compulsory, but we all decided to pay the N2000 in the group, and there are evidences. The N2000 is for the renovation of the health post. The proposal for the project was discussed on the group, so I do not think there is any finalist on the group that is meant to complain because they were the ones that decided that they would pay that sum. I think, if we can achieve renovating the health post and the name 2021/22 session is written on it, then I believe the next set of finalists would also be willing to do something like that.
You mentioned that the N2000 for the capital project is not compulsory, but we have been at the spot for dues payments, and we have seen occasion when finalists complain that it was compulsory. Does this mean that any finalist that wants to pay his dues has the right to not pay for the capital project?
As I said earlier, it is not compulsory, but it's something that we have all decided on.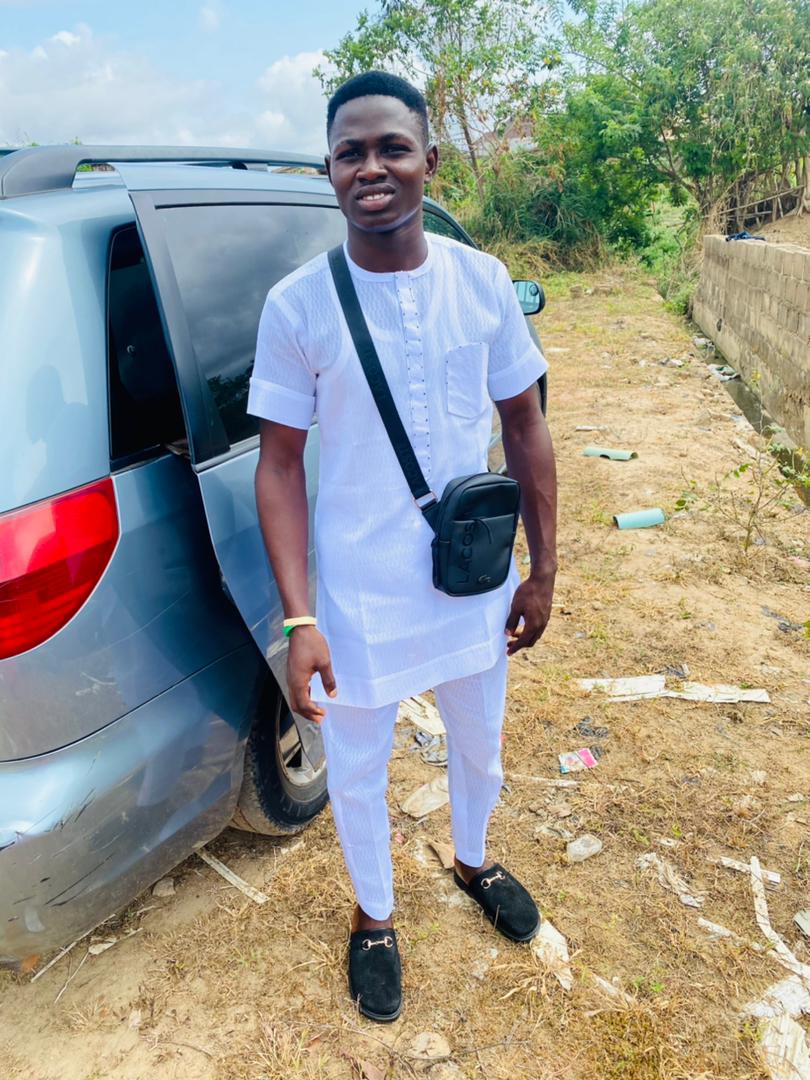 There are some finalists that are not aware of this. Like I said, there are some finalists that are not aware of this, and there are some that I have seen complaining. So I want you to state it clearly if it is compulsory or not
The ones that are not aware, if I explain to them, I know the Katangites I have met during this period are ready to pay. In fact, most finalists have not started their payments for the hall dues; around just ten had paid as at Friday. So I do not think that there are lots of Katangites that have complained. Even the person that complained was part of the people that agreed to the payment of the N2000, but I do not know why he changed his mind.
Okay, finally on this issue, is the payment of the #2000 compulsory or not
It is not compulsory, but we all decided to pay on the group.
Okay let's move on to another thing. What is going on to prevent bullying? Especially against freshers.
I do not think any has happened to my own hearing, but I do use the PA system to inform the finalists and the staylites not to bully the freshmen. Because I believe one thing, you might be A today, and tomorrow you will be Z, you might be an exco today, and tomorrow you will be a former exco. We were once freshmen, but now we are finalists today. I think the finalists and staylites should treat the freshmen as brothers. At the same time, the freshers should also respect the finalists and the staylites, because I believe respect is reciprocal.
About the Indy Hall Maracana, we did an article two weeks ago on the dilapidated state. Whilst we agree that the hall does not generate enough funds, for the safety of students who play football, which should be given some attention. Is there any plan whatsoever for the Indy Hall Maracana?
If we are going to make it a standard pitch, then we will be spending hundreds of thousands of naira.  But I will actually talk with the Sports Commissioner and the House Secretary to check on what we can do to it to make it okay during the rainy period.
It is not the case of the pitch being bad; it is a case of the hazards with playing football there. You have seen the kind of structure at Zik Hall. It cannot be compared with the one we have here. Behind one of the posts, you see some stones there. The concrete on which the barricade nets are cast are protruding. If someone hits his leg, it could cause a severe injury. We believe it should be one of the projects that your administration should be looking at. Renovating the Maracana would prove that you actually care about the safety of the Katangites, but would you rather spend money on the hall week.
If I get your question, you are saying I should choose between renovating the Maracana or I would rather spend the money on the hall week.
 Yes
I don't think it's clashing. I do not think so.
The reason for that suggestion is because a lot of money goes into the hall week. What if you put just half of that money into renovating the Maracana? The money might not be enough to repair it at once, but it would help fix some of the damages there.
I believe the Hall week and the Maracana do not affect each other. But as I said, I will talk to the house secretary and Sports commissioner to check and make all the complaints about the Maracana, and by Gods grace, I know alumni of Katanga republic are ready to sponsor. I have been working on sponsorships, and if I know what is needed in the Maracana, I know lots of sportsmen that are in Katanga republic and have left Katanga republic that will be willing to repair the Maracana. If you're talking about the Maracana alone, there are many things in the hall that Kantagites really need. But let us not forget that we are executives and not the hall management. We pay 30k for accommodation and other things, and I think some things should be done by the hall management as well. Our JCR is faulty, we are also going to be working on that, and out of N3000, and I do not think we can do all the projects in the hall.
Last session, we noticed that the EXCOS were not in tandem with what the hall warden was bringing to the table. The elections were cancelled, and the Hall week rally. What is the kind of relationship that you have with the hall warden?
Thank you. As you know, we have different characters and different ways to which we approach different matters. Because it happened last year doesn't mean it will happen now, and because it happened last year doesn't mean it won't happen now. But I think if we talk to the hall warden, and he sees that we are actually heading towards the progress of the hall, I think he would buy into that. And I can't assure you that it will be a smooth one or a bad one, but I know the hall warden is a father, he's a leader, and he should understand better than us, so we shouldn't have any issue with the hall warden by God's grace.
In the past, we've seen cases where the AG has allegedly collected money from finalists who want to be allocated D-block. Have you collected money from anyone in exchange for a space in D-block?
I have never collected any money from anyone for accommodation. Anyone with issues with his room allocation should meet the Hall Warden or Supervisors. The EXCOS are not in charge of the hostel allocation.
When you leave your post, what do you want to be remembered for?
I can't do this alone, my cabinet would also share in the glory if it all goes well, but by God's grace, I hope to achieve everything I put in my manifesto and more.