On this week's Katanga spotlight, Indy Press Correspondent, Olúwagbemiga Odunukan, interviews Afolabi Nasirudeen, popularly recognized as Nas, the incumbent president of the Faculty of Agriculture, University of Ibadan. Nas walks our correspondent through his journey in UI thus far, he speaks about politics, service, business, academics, and what the future holds. Do enjoy!
Can we meet you?
I am Afolabi Nasirudeen. A 500-level student of Agricultural extension and rural development at the University of Ibadan. I gained admission into UI in the 2017/2018 session. I come from a family of four, the third born. I am into fashion and a lover of politics.
You are one of the Katangites currently sitting as faculty Presidents at the University of Ibadan, what spurred you to go for this role?
I came from Yaba college of technology, the first and best polytechnic in Nigeria according to rankings. I opted to further my education and came to the first and best university in Nigeria. That was how the journey started. Before I came to UI, I was the vice president of my association during my ND days at Yabatech. I had the ambition to become president but it was a role reserved for HND students. Immediately I got into UI, after my first year, I contested for Health and welfare minister for the 2018/2019 session in my faculty and won. Serving in that administration and how the success turned inspired me to go for the presidency.
You most recently hosted the Southwest Convention for Agricultural Students in your role as the president. Can you give an insight into what the event entailed?
First and foremost, the southwest coordinator of Agricultural students in Nigeria is from UI, basically, under rights, the school she comes from is supposed to be the host. The journey in which she became that coordinator was also a funny one. We both came in as direct entry students and while I served as Health and welfare minister, she served as finance minister. Then, we both wanted to contest for president of our faculty but in the long run, she opted for a bigger post, that's the southwest chairperson, and won
It was a joint effort between the host president and the southwest chairperson. If you ask participants of the convention, they will probably give very good feedback, in fact, they have already started doing that and I am pretty sure they enjoyed their stay.
You haven't stayed in the hall all through your time as a student but you've been very active in Indy Hall politics, how have you been able to do that?
Immediately I got into UI, I met someone who became like my mentor, Olanrewaju Olasile a.k.a Advantage. He was the Hall chair for Kenneth Mellanby Hall in the 2018/2019 session. It was he who explained the rudiments of politics to me. Along the line, I got to understand that you don't necessarily have to be somewhere before you make your impact. Basically, the reason I haven't stayed in the hall is because of my work. Still, in every which way, I always make sure people know I'm a Katangite. Over the years, I have built influence and I have not been neglected in matters like that.
You talked about your work, you do own a brand. Could you tell us how you came about it?
I always like to tell this story. The brand is inspired by my mum. When we were growing up, my mum used to make clothes for us. You know these kinds of clothes that you'll meet there and you can wear them for 4-6 years. As per the big boy I was growing up, I felt it would not make sense. So I just climbed the machine, I don't even know how I did it, but I did slim fits on my clothes and I was able to do my big boy. I wanted to work but she said no and further said I should go learn a trade instead. That's how I started learning tailoring. After about 2 years, we had to relocate from Ikotun, Lagos to my Dad's land in Ota. That's how the brand journey started.
When I was in Yabatech, I used to work for a guy that has a fashion house. I noticed that for a job he got like #40,000 naira for like 5 clothes as at then, I don't remember but it was around #2000-#3000 naira I was paid and I did most of the work. Probably he forgot I was there when he made the negotiation.
It was there I realized it was something I could do by myself. During my first semester in UI, I called my brother to send my machine down to Ibadan. During covid, I was bored and attended a lecture from JCI, I'm a member. One of the speakers, an ex-uite Adeola Adelabu, said if you have a business check out people that are really successful and popular in that line as well as DIY videos on YouTube and I did. Since 2020, my brand has been able to send clothes to about 6-7 countries and my clothes have gotten to about 18 states in Nigeria.  My brand is Nas Couture.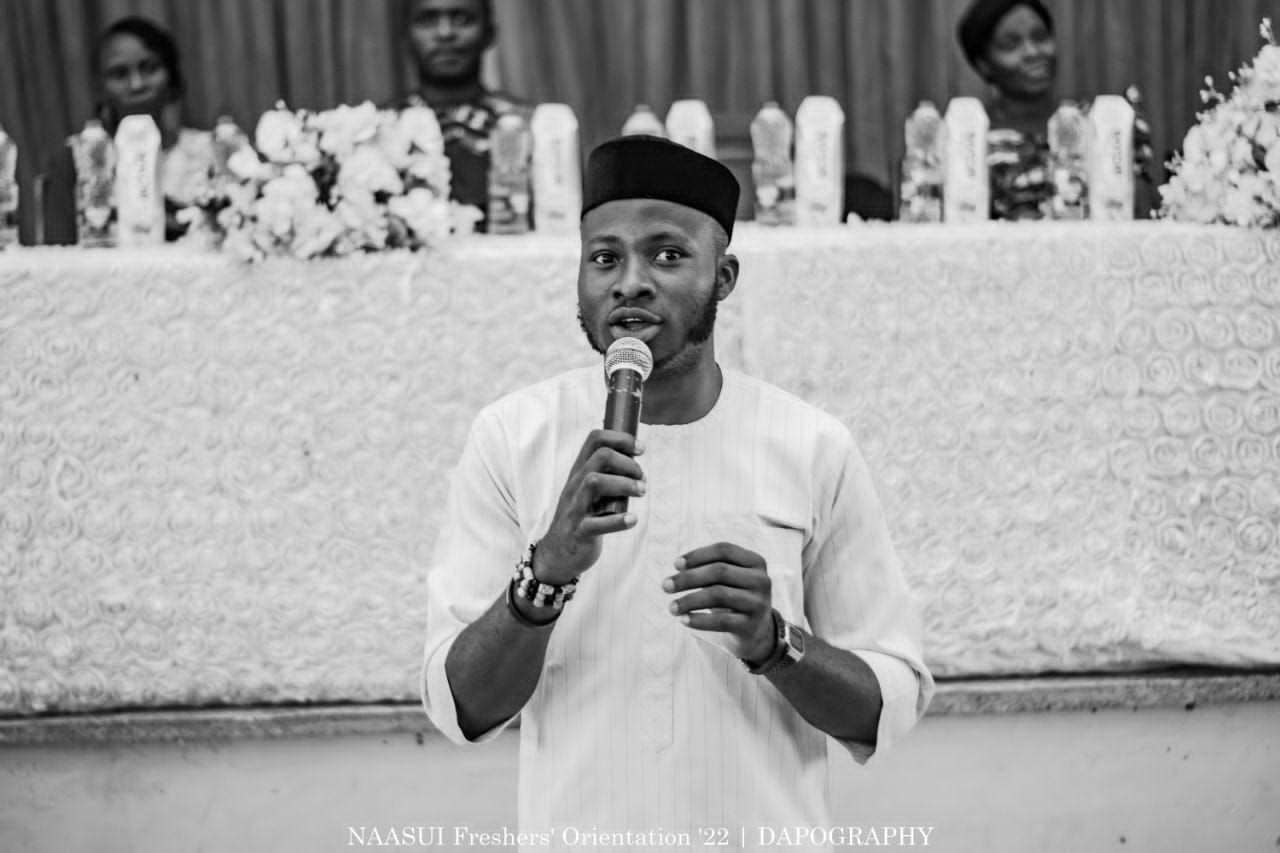 How has balancing academics, politics, and business been for you and quite frankly, what would you advice someone looking to tread the same path?
Getting to UI, I already had a resolution that I don't think I will get a first-class and I didn't plan to finish with bad grades either. Not like I couldn't do it but I've been the one sponsoring my education. So if I don't work there's no way I would eat. My brand has been feeding me since Yabatech days.
I feel that works for me and it depends on what works for each person. What I do is prioritize my time and schedule during school hours. At times, some classes wouldn't hold and that's free time wasting. So I use those normal hours for lectures to hustle unless they're the inevitable classes. Then, during exam period I totally shut down and reduce advertisements at that point. I face my books squarely and for someone doing as many things as I do, I feel my GP is not bad.
So it depends on what you want. If it's the first class you want. Focus and get it.
In your presidency, what has been your high point and low point thus far?
The high point is that to an extent, people always support me no matter what it is because I keep very good relationships. The low point is that there are people who just want to see you fail and they're everywhere. Around administration and life, those things can hamper one's plans.
 Something important too is if you want to go for posts and you are not ready to give your heart don't go for it at all.
You're a vocal presence on UI Twitter, a recent topic in that space has been how the university of Ibadan limits its "creatives", inciting a lot of hot takes. As one yourself, what's your opinion on this matter?
In truth, for the people that totally want to be serious with their books – the University of Ibadan limits their chances. Take for instance OAU, when they have sporting activities and the school is officially informed, if they miss a test, for example, they give them the privilege to take it again. In UI, it would be hard for any lecturer to pardon you if that happens or maybe it's our students that are not taking the right routes.
But then, a lot of people have complained that when they see opportunities that can better their life, they're not able to go for it. Still, I believe that when they say UI is limiting them, it's not supposed to be so. You're not supposed to be limited, that's why you are a creative. Anywhere in the world, there are no creatives or even celebrities that have had it easy. They had probably faced one or two hurdles. If you have not made it to the point that people know you, it might be hard for you to pull some strings, you've to work for it.
See people like Twinkle, Precious Ibeh, ATS, and so on. I adore the college of medicine guys. I had takes on this on my Twitter. People like former BAMSSA president Fafure Adeleke I think, he's been a cinematographer since when he was in school. There's Fiyin Atinmo of Dentistry who takes very lit pictures and still puts himself out there. That's the thing with some of these UI creatives. People don't even know what you do. You have to put yourself out there and sell yourself. UI might limit because of the kind of curriculum but things are changing and you need to diversify a bit.
The 2023 general elections have now concluded with the presidential election being the most controversial. What are your views on the outcome of the election process?
The Federal government already appointed a body to oversee this election and emotions should not override whatever we feel towards a body or the government. At times, rules might not be followed but still, you can't say because your candidate didn't win, another person can't win. It's a world of democracy and people are free to do whatever they want. If the results had gone in favor of someone that's not your candidate, you'll take it like that. If there are concerns, you leave it to the court to decide and the court ruling should overrule everything. Let's leave emotions and sentiments aside and face reality. Doing the elections, Atiku supporters will come and post their results and you'll feel they are winning. Same for Tinubu supporters and Obi supporters.
Coming down to our local, the SU elections are forthcoming and since the days of Oluwakay, Indy has not had someone on that stage. What are the chances of Katanga republic this election season?
I think our candidates need to project themselves well-headed into elections. Indy is rich in tradition and would probably want to support everybody but in reality, it cannot be so because it would be very glaring if someone going for the elections is worth it.
If you followed Akeju's election, his PRO Bernard was a Kutite and he was known all over the school. He started as Education's PRO, he did something and everybody knew him. He had a radio then, Sabi radio I think. So when he was going for the post, people were afraid to go against him. Now, I knew I wanted to be President, half of my faculty already knew when I was at 200 level. They didn't just know everything I did, I put my all in it. I left the faculty at 400 level to serve as executive vice-president of JCI and gave my all. So if you are going for a post, you've to have a future projection already. So when I wanted to contest for faculty president, friends from everywhere supported me. This SU election I feel is one that people would just vote for who dey like because a lot of people have really not done anything to project them as to why they deserve the post. It's not like it's a must but people should know you put your all into something.
Some of them just think about it overnight and come out. And this is not something you just do because you want to, it should be because you want to satisfy people.
What are your plans after school?
The truth is this actually gives me sleepless nights more than the school I'm in. I don't know if I should go back to Lagos or set up in Ibadan but definitely, I'll have it figured out and it might not be right now. I believe in God a lot and I know I'll be in a very great place in 5 years. I post my throwbacks a lot and this is not the Nas of 4-5 years ago.