By John Eriomala
Twitter's place as a source of diverse opinions is almost unrivaled in the Nigerian cyberspace. In terms of influence, perhaps only Facebook and Nairaland come close. One of the reasons for this is trends that source for 'unpopular or popular opinions' usually identifiable by a picture and a phrase. For instance  'O jewa ke eng', and 'Bomboclaat' among others. 
Last week, Twitter was awash with one of such trends, and University of Ibadan Students were not left out. In the parent thread for UI by Twitter user Kikiowo, @Kikiowo Ayorinde, students – both past and present – discussed everything from the state of halls, and the quality of cafeterias to the students unionism. One opinion that kept reoccurring, however, was that the University does not give room for creatives to thrive. A few people expanded on this; they stated that most students are only interested in academics. Consequently,  the school has a relatively 'dead' social scene. However, how valid are these opinions? The consequent paragraphs will examine the current state of UI's creative ecosystem and how it could be improved upon. 
Times and Seasons
Few things appear to be consistent in the entertainment/creative ecosystem at least in recent years. One is that the ecosystem thrives during already-earmarked periods. In the First Semester, Halls and Departments/Faculties alike, hold Freshers' Welcome Events which include football matches, concerts, gyrations, and movie nights. Here, you get the chance to meet a few up-and-coming artists and have fun. There is also coverage by student photographers and video creators for the different social media pages. After this, it's more or less a drought until the end of the semester were a few 'hangouts' and 'picnics' are held. Last semester, for instance, the biggest event that was held was the concert at the Student Union Building Car Park organized by Infinix. Notably, there was a performance from Zlatan and an appearance by Broda Shaggi; there was also a contest where two lucky students were awarded prizes. 
However, with the arrival of the Second Semester comes the bulk of activities and rush hour for creatives. For the writers and public speakers, there's Jaw War. Associations like the Junior Chambers International (JCI), and Asido Foundation host one or two events. Award ceremonies take place across various Faculty and Departmental dinners including the FOPA and UCJ Awards, Mr. and Miss. UI Paegantry Contest, among others. Also, elections take place across halls, departments, and faculties.  In between all these, brands like Tecno, Jumia, and Indomie might show up to push their products and services.  Halls also host their annual weeks towards the end of the semester. For many creatives, this is the time when the campus comes alive. Photographers and graphic designers alike combine to work on fliers. Musicians mount most – if not all –  of the available stages during this period. Content creators troop to Instagram and YouTube; vlogging every moment away.
Outside of these events, however, the UI campus remains a very sanguine environment. The occasional party banners or flyers one might encounter – like the  Remontada house party in March 2022 – are careful to schedule for off-campus. In fact, many of the departmental and Faculty dinners that are taken off campus. The implication of this is that asides few creatives like dramatists, whose plays are independent of the academic calendar, the rest of the ecosystem functions with time. It's little wonder why the average UIte might refer to the school as 'dull' or stifling of creatives. They barely get to see themselves function in these capacities on campus; most have to chase off-campus gigs for their creativity to flourish. That said, is the calendar alone to blame for the current situation?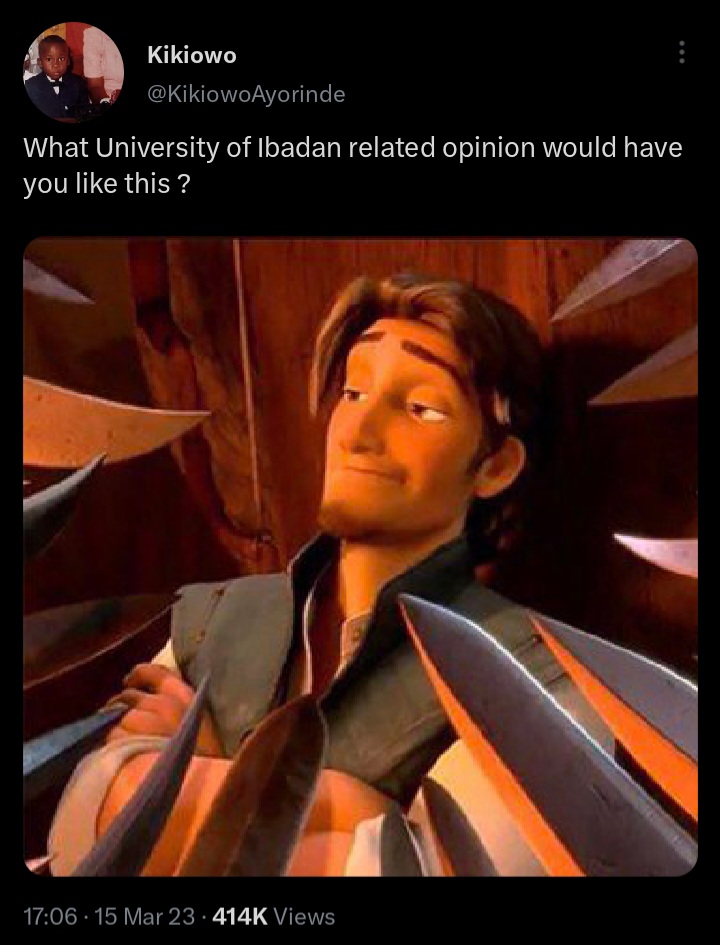 The Burden of Responsibility 
"Remember the child of whom you are and why we sent you to school. Make sure you read your books". Whether it's 2003 or 2023, those lines are not out of place in any Nigerian household. They become a watchword by which many students live; striving to attain academic excellence above anything else. And in the University of Ibadan, it's no different.
While one might expect extreme studiousness to be exclusive to traditionally 'tough' courses like Law, Medicine and Surgery, Pharmacy, and Mechanical Engineering, it's quite the opposite in the University of Ibadan. On a typical school night, you'll find lecture theatres filled with students earnestly reading or working on assignments. Even on Sunday mornings, the odds that you would find less than five people in any reading room on campus are almost zero. Jacking has become a defining feature of UI students recognized by even students of other institutions.
This then leads to a precarious situation for many a creative. As a rapper, Ory G, real name Oreoluwa Jadesimi, a 200 Level Medical student, put it " A standard UI student is overwhelmed with academic work which affects the amount of effort that goes into their creative process. Therefore, artists like me go the extra mile to create time for our crafts all because of the passion." 
He further went on to say "The University of Ibadan is known for being 'the best' academically and it seems the extra efforts put into that sector diminishes the efforts put into other sectors like social life, sports, etc. I honestly feel there should be a balance between all." The pressure to graduate with good grades means creatives have to either sacrifice more hours to school work or push aside these extra-curricular altogether.
Still, on academics, there's also the fact that lecturers do not give any room for flexibility in test or examination schedules. This is not limited to creatives alone; many students have had to forgo opportunities to travel out for fellowships, compete at hackathons, and even represent the school at sports events like the Nigerian Univeristy Games (NUGA), knowing fully well that no exceptions would be made were they to be absent. 
If there's one thing schools like Obafemi Awolowo University and the University of Lagos – two schools renowned for their talent development program – share, it's the presence of enabling infrastructure for creatives to thrive. OAU for instance has the famous 5,000-seater Amphitheater located at the heart of campus. This not only makes it easily accessible, but the open-air nature also makes it ideal for concerts and other student events. Remember the video of Asake performing an earlier version of Joha that trended last year? Well, it was taken during a performance of his at the Amphitheatre in 2015, and as one could clearly see from that clip, the venue was packed to the brim. Whereas, for an event of such magnitude in UI, students would have to use the SUB Field with no protection from the elements, no space to sit, and no clear view of the stage. 
Finally, there's the disconnected nature of the ecosystem itself. Savage, a 200 Level Political Science student, pointed out how musicians in particular find it difficult to collaborate in UI. To paraphrase, "Many would promise to 'hop on a song' with you or be present for your event but eventually give an excuse for not showing up". There is a vacuum in terms of agencies or individuals that connect the various types of creatives we have. It's why two sketch artists might live on the same block in a Hall, see each other every day, and yet have no idea of the other person's works until they meet at an Exhibition somewhere outside school. Even online, the communities for UI Students on Facebook, Twitter, and Instagram are sectioned in such a way that if one is not an ardent user, one's experience would most likely be limited to posts of other users in their departments, a few 'influencers', and association pages. Little wonder why many new students abandon any ideas they might have had of 'exploring their creative side' after getting into the Premier university.
How to Bridge the Gap
Thankfully, the situation is not so bad that it can not be remedied. The question to ask instead is "What should be done differently?".
First off, there need to be spots that serve as Confluence points for different kinds of creatives. Something of that sort exists in the Eco-Friendly Center located on Barth Road (just before Awo Junction), but it is not enough. Parks such as Heritage Park and the one located at Awba Dam could be revamped to pull creatives. For instance, artists seeking a serene environment to paint or draw in, instrumentalists who want to practice outside their halls among other creatives. 
Also, creatives need to ensure that they put themselves out there. If you're a creative or an entertainer, you've probably heard this a thousand times by now. However, that's just because it is the truth. The likes of Fireboy, Blaqbonez, Asake, Jaido P, and Superboy Cheque were already known for their performances before they left school. Blaqbonez, in particular, would do everything from rap battles to talent competitions; sometimes having to travel out of state for this. 
As recently as last year, Michael Barnabas, Sultan Bello Hall/Faculty of Technology public speaker – popularly known as Barny Juice – was one of four finalists on the Boomplay Pass The Mic challenge after joining the contest online. Take advantage of such opportunities online. Register for art competitions and exhibitions. Moreso, there's a need to provide proper performance slots for entertainers during campus events. It's a common occurrence to fix performances by spoken word artists, and instrumentalists for the period just before final awards or results are announced. More often than not, this affects the overall performance and reception from an already tired audience. Event organizers have to schedule programs in such a way that the 'entertainment' doesn't instead become an 'annoyance'. Also, they should ensure that the act matches the event. For example, while a spoken-word artist might be perfect for a Public Speaking event, they would be out of place at a Faculty Dinner or Hall gyration. It's as simple as that.
The place of the Press in promoting creatives is one that can not be overstated. Journalists have a duty to inform the populace of creatives doing relatively well in their constituencies and beyond. This could be via a weekly column or even interviews; any format, really. What's most important is that the creatives are highlighted as this would in turn encourage others to continue to push their work out there. In summary, all stakeholders have a role to play if UI is to ever regain a measure of social vibrancy. It's not enough to just complain; active steps have to be taken to provide an environment for creatives to thrive.