For this week's Bold and Beautiful, our correspondent Ilesanmi Emmanuel interviews Grace Obajimii, a 400-level student of Mathematics. A fast rising  Professional photographer. She discussed a wide range of topics in this interview, including how she started her photography journey, photography style, and lifestyle, Enjoy
Hello, Grace. Can you give us a little background information about your background?
My Name is Grace Obajimi and I am a portrait, event, and lifestyle Photographer, and my brand name is Jimi Pixels. I specialize in professional portraits for individuals, family shoots, events then lifestyle– lifestyle is day to day activities of the common man.
My  Primary school education was at Ireyemi Nursery and Primary School and Airforce Primary and Secondary School, Shasha, Idimu. Had to change Schools in Primary 5 due to Inadequate Teachers and the Exclusion of necessary Subjects like Computer Science, and Yoruba. It affected me badly because I could not speak any Iota of Yoruba. Had to find a way to adjust when I also proceeded to Olorunfunbi Junior and Senior Grammar School.
How did you start or develop your interest in photography?
Well, I won't say it as an in-born thing like a lot of people says. I will say I grew my passion because I went for training and developed my skills by signing up for a photography class, though I wanted to do something on the computer, the class was filled up. But my Mom was like maybe I should register for the photography class and I did, and grew interested.
You had no initial interest in Photography?
Well, I had an initial interest because I loved taking pictures of myself, so I guess that is what prompted it. 
How will you describe your current phase? Are you a beginner, an amateur, or a professional?
Okay, I am not a beginner, at least now I started fully in 2021 when I got my first Camera. Though I have been doing stuff before then. So I am not a beginner and I am getting to the professional side.
What was it like getting your first Camera?
It was amazing.  My Dad got it for me, I am so grateful to him for that.
Who and what will you say were your biggest and first clients?
Have not had my biggest, though I have been getting massive orders like this month, and that is what I want but I have not yet gotten to where I want. The first photo shoot I did was with my friend, it was free.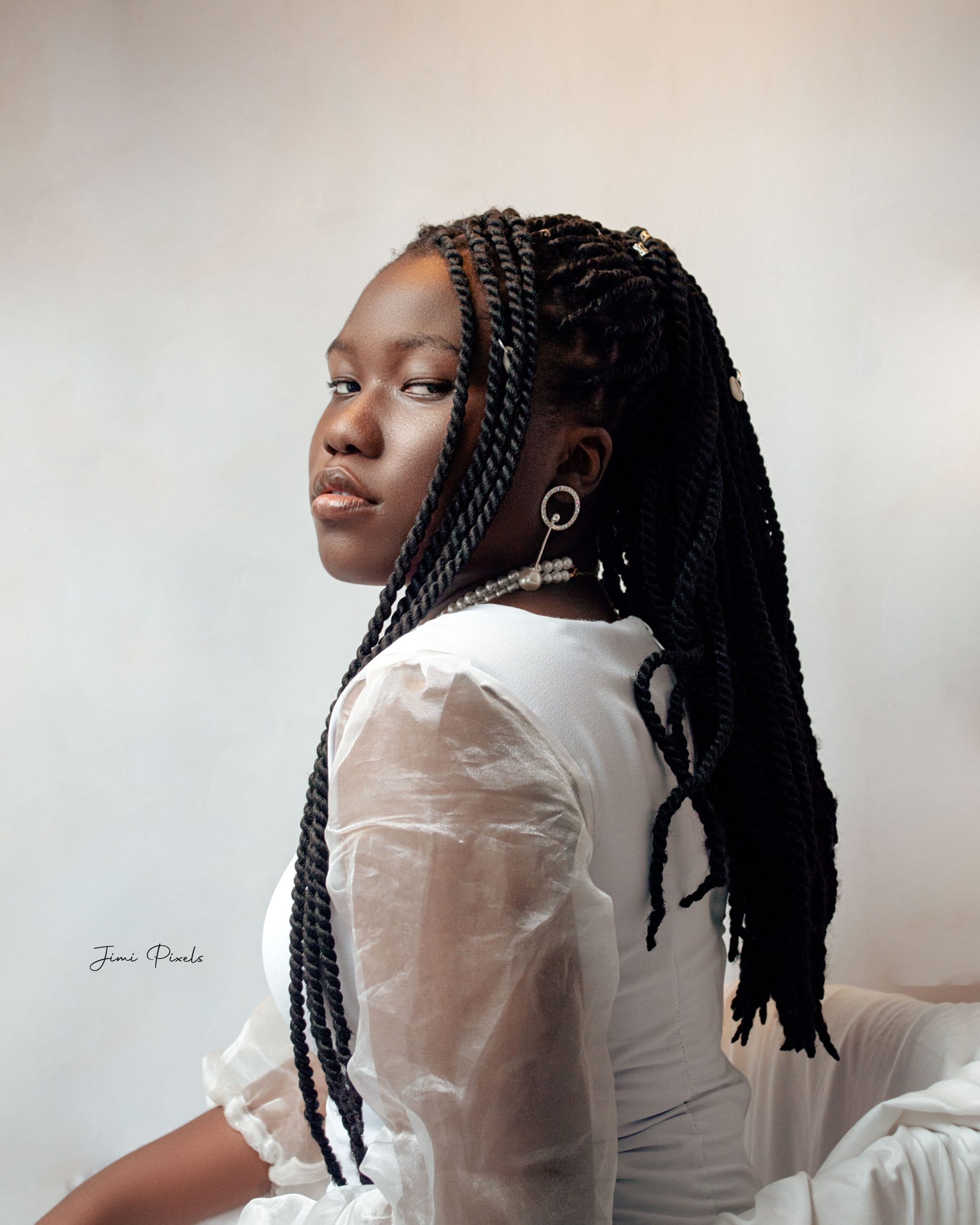 How did you go from free service to paid service?
I had to do a lot of free services for my friends, here and then, for early 2022, though I got some paid ones in 2022. Then I started volunteering for programs to publicise myself.
So do you still do free services?
That free is different, I could do a discount but not free.
Mathematics and photography seem to be quite a distance, how have you managed to combine academics and photography?
I have tried to be serious with my life with determination and everything I have tried to balance it. when it comes to exams period I pause everything photography entirely.
Doesn't that cut part of your earnings? Imagine you have a major gig during that period.
 I will fit in. I remember I did a gig on the morning of an examination.
How did that work?
I just took the pictures and told them I will edit them when I get back from my examination.
What time was the exam?
I had the exams around noon, so I did the shoot in the morning and told them when I come back I will edit it.
Do you see any use of mathematics in your line of work?
Not really, There might be a point in terms of calculation in photography. But I am doing Pure Math, I have not seen the application yet but I am very sure there is the application of Mathematics in Photography.
Where do you see yourself taking this, since you are just starting?
I see myself taking this to ascendancy. In the next few years, I would want my client base to be so strong. I will love product photography. I want to venture into weddings, events, and product photography. I'm still doing portraits and lifestyles for now. 
Is there a difference in all these aspects of photography?
Weddings and anniversaries are all events, Product is taking pictures of things people sell.
Why don't you do all of that now including your portrait
You have to build yourself into one. That is one thing I learned from my boss— Ajaji Adesoji. He said to build yourself in one aspect and when you are strong you can move on to other aspects.
Can you run through your Creative mind, when you want to do a Photoshoot for a client, how do you turn ideas to image reality?
Firstly, when planning a shoot I ask my client what they want to use for the picture, and if they have any particular ideas we work towards that. I could suggest ideas to them, go online and do research, add my ideas, and create something unique and better. We do copy exactly, but make sure it is something better and unique to me.
What will be your advice to younger folks that want to start in photography?
Interest, passion, and consistency. First, they should be able to define why they are interested in photography. If I were to say my mom only suggested I take the training and I just did it, that would not have developed my interest. Then the passion and to be consistent too, because I gave up at a point so during the Covid I came back.
What brought you back?
I have always loved doing it, but I was not serious about it, I would take pictures with my phone.
Was it because you were not getting paid?
No, It was because when I was doing my photography training UI resumed, so I had to stop,  but later on, I said let me go back because of my interest 
What will you say has been your biggest Challenge?
My biggest challenge? I will say it to myself because sometimes I doubt myself, but like I would want to do it. Even with the little things I do, I try to bring my best.
Based on my research, when Photography was new, a lot of artists felt, they were lazy artists with no skill set. Same thing with AI now, some people see AI as destructive to space, so do you think photographers are lazy artists or take skills?
Well anyone can be a photographer— someone that takes pictures, but it takes skills to be a professional photographer.
Can you mention the skill set needed?
Learning through the different aspects. There are different aspects, you learn about the exposure triangle, composition, editing, retouching, uploading, social media engagement, exposing yourself, and branding. It takes a lot for someone to be a professional photographer, anyone can be a photographer there are phone photographers, who call themselves Mobiographer.
Do you think Photography is a male dominant field?
It is gradually not so anymore, but I still know a lot of male photographers than female photographers.
In this age of female inclusion in the workspace, how do you plan to excel?
My work always speaks for me. When People see my pictures as amazing, they will refer to me.
What other things do you do outside of Photography?
I have interests in crafts and bead making
How will you describe social life?
I love hanging out, I see myself as an extrovert but too extroverted. And I like watching Movies and editing
What is your current relationship status?
I am taken.
How can prospective customers reach out to you?
Through my WhatsApp line: 
https://wa.me/message/RPIT27JT2FZZE1
 Instagram handle:
http://www.instagram.com/jimi_pixels/
http://www.instagram.com/j_creativa_/
Thanks for your time
You welcome