On this week's Katanga spotlight, Ajadi Sodiq, a correspondent for Indy Press, interviewed Omodele Adedeji Adesuyi, a famous brand owner called Tish Bag. In the course of the interview, they discussed his career, politics, brand, and his impact. Do enjoy!
Hello, can we meet you?
Hello, I'm Omodele Adedejo Adesuyi. A 500 Level student in the Department of Wood product engineering, faculty of Technology, University of Ibadan.
What was growing up like for you? Share with us a fondest memory.
Sincerely, growing for me up was fun. I grew up in Dordan Barracks in Lagos, a military barracks. You know all these barracks kids and how they behave. However, my mom was quite reserved and she never wanted us to mingle and become the barracks kids we were meant to be you know, it's not possible but we enjoyed the vibes with our other kids and it was really fun for me.
Memories from my childhood that still lingers in my head were being a student of Efors Nursery and primary school, Victoria Island, Lagos. I enjoyed it and could literally remember one day coming back home with my friends after I'd spent my transport fare and I had to trek with my friends and my parents were looking for me. They went to my school and couldn't find me, they were so scared and they also had to trek back home according to the path which I took and on their way they found me- you should know what that day is going to look like for me.
Interesting. What inspired your brand, Tish Bags?
Tish bags? That's a big question oo.
Okay, during my 100 level days, I use to see guys, my cousin in Bowen University use to talk about knapsacks and totes bags, he usually wants the tote bag and I was wondering how can I make my brand name something closer to tote bags, however, a tote bag is a household name for the type of bag and I was concerned about having my brand name, having something that will always ring a bell whenever students need it and will serve such purposes.
I then coined the name from my parents' name, my mother's name is Titilade while my father's name is Ishola. So, I felt I should take Ti from Titilade and Ish from my father's Ishola and I coined Tish out; that was how Tish Bag came out. That bag was quite easy for me to make because I had this art and craft, should I say I'm creative? Fortunately, then, I had a friend in the Faculty of Art whose name is Gbovi, Gbadegesin Marvelous, he was the PRO of the faculty of Art then, so he helped with publicity. I showed some of my friends then and one of them bought three of those bags at once and I was like just like that, so I had to make three for him, surprisingly he paid immediately and I said okay let me do another, this thing dey make sense…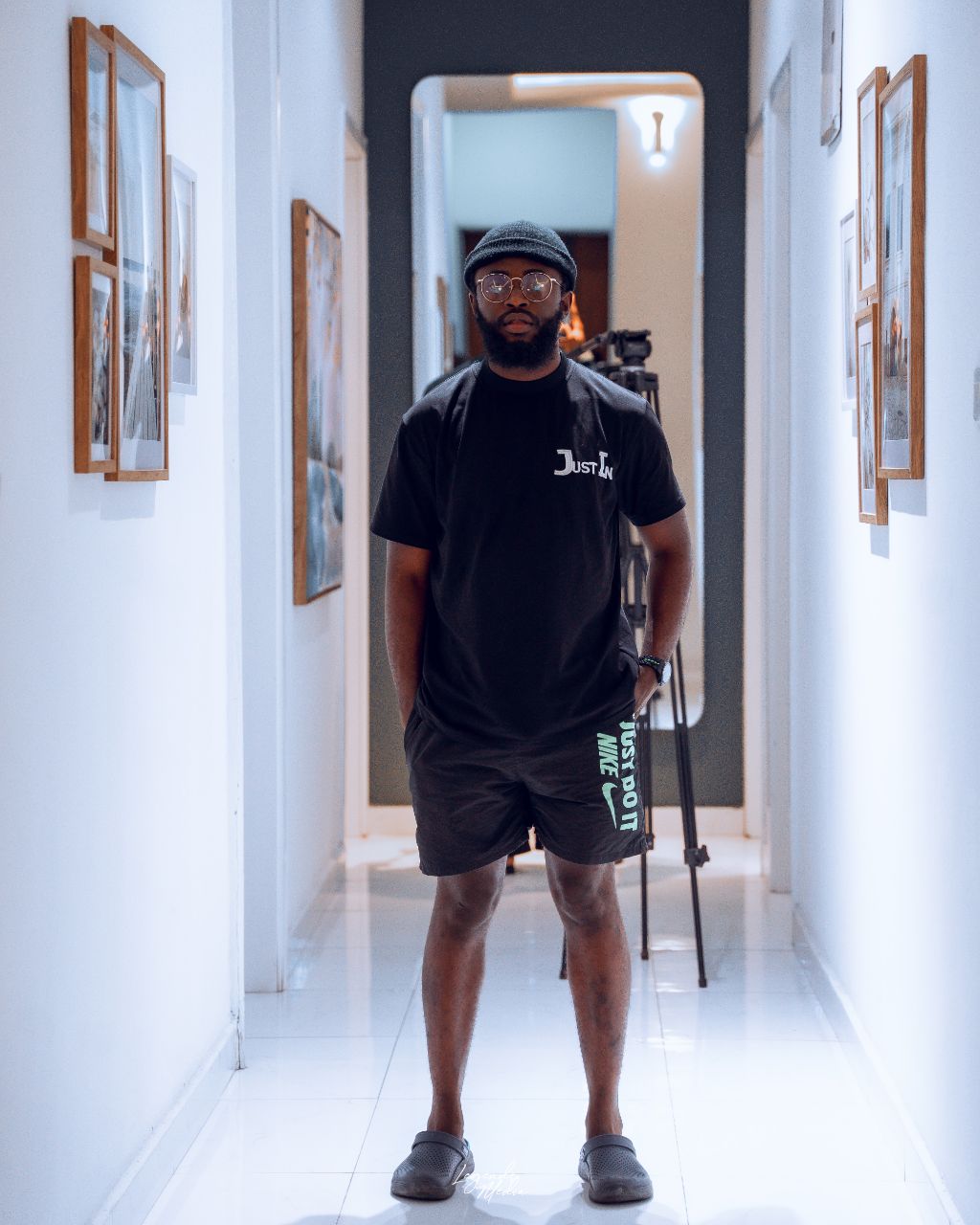 That is beautiful. What has been your greatest challenge and win operating the brand so far?
For me the greatest challenge had to be the fact that I had to keep up with the quality and demands of my customers; students. One thing about Tish Bags then was that I produced quality tote bags that can be carried for years, sometimes I see my bags on people that have been produced for years and I usually am like, wow, I made that. The challenge I had to keep up with the quality and my production line was quite small so I couldn't keep up so in 300-level I had to suspend the Tish bag.
So, as regards, the win, one of them was when I was nominated for the Entrepreneur of the Year award and FOPA Men of the Year and that was my 300-level, also that was the peak of it being nominated alongside Pottv. So I suspended the brand and had to focus on my academics.
How has your business been helpful to your academics?
Sincerely, the business has helped me build a connection, and social and communication skills but as regards my academics, I won't say it helps me. Nah, it didn't help me; for academics, it didn't not because I believed I had to pay the price with my academics.
I'm not a straight-A student, and running a business alongside academics was not an easy thing for me because like I said I had to pay the price at some point. With the time I dedicated to my academics, it had to be shared, I wouldn't say it was helpful. However, in real life, it was really helpful because it helped me know more people, have social skills, connection and helped me get through.
 So, Mr. Omodele, what was that challenge that academics has put you through concerning your brand or let's say running your brand?
As I said, I'm not a straight-A student, for me, it's just a way to balance it. I'm someone that had to pay more attention to my academics to get a B, like a close one; now combining the two and sharing that attention with a brand, was stressful. So, in my 300-level I had to suspend Tish Bags because the brand needed more hands and attention which I couldn't give like I  had to give attention to other things. I rather than just face my academics.
During exams, I don't take orders from two weeks to exams. I won't take orders at all, you know Tech exams usually take two weeks so I usually cancel any orders but if a client really wants it, I just take the order and give them a delivery date after exams.
Have you started back now?
No, I haven't, Tish Bag will still be low for the next three to four years on a bigger scale. As for me then Tish Bag will be back.
Are you holding a post in your faculty or do you have any political ambition?
When I was in 300-level, I was the Vice President of my Faculty and currently, I'm the Social Director of my Faculty of Technology. I'm in my final year I don't have any political ambition because UI ti sumi (I'm tired of UI) I'm not planning on coming back. I've been able to serve at my best at the office I currently hold.
What inspired you to run for those posts?
When I was in secondary I was a quiet and shy guy and my dad noticed, but when I got to University boom! I was into comedy and it really unleashed a lot of parts in me, the social part of me, I could mingle freely. I was able to socialize and relate with people on different levels, mindset and I was able to initiate a conversation with you, I could relate a conversation with you without being shy or afraid.
When the post of Vice President was opened, I felt I could perform in that office, and I went for it – I did my best at that time.  And for this social director at my final level, I also knew I could make an impact socially in my faculty and I also went for it so far so good God has been helping and we've been pulling the little string we could get everybody socially active and it has been fun for me anyways relating with people, try to build connections, trying to let people do what they would not otherwise have done.  I see it as a challenge taking people out of their shield, people that are just shy for no reason and think they will be judged and all and we bring them out to see the best in them.
What's your view on the UI'SU 23 election?
To be realistic, I don't like to interfere in the UI'SU election because that has passed my level, but it's a big deal for me. However, I just wished the best candidate would win. The vibes of elections are not there among students again, not like before ever since they mandated some kind of rules.
As a leader, thinking of leadership, what's your definition of good leadership?
As a leader for me, you must genuinely first have the interest of your followers in your heart because that is the best way you can truly lead them. Imagine leading people that do not want you or the people you don't have their interest in your heart and that is where corruption comes in, then you become insincere with your decision making and it's just not cool.
For me as a leader, you must be able to sacrifice your interest for the interest of the masses because they got you the post and not just because you don't want to be in the comfortable position but because you have to serve to lead. It's not only what you promised to do for your followers it's what you do according to what pleases them.
Are you in a relationship?
No ooo…..
I'm not in a relationship, I single die. I never see girlfriend. I'm still really searching. I don't mind having one sha.
My last relationship was like 2012 and I ate the breakfast very hot then in secondary school and ever since then I've not been in a relationship.
That's serious. What was your memorable experience staying in Indy?
I love Independence Hall with my heart, the only living hall, the greatest of them all, ever since my 100-level I stayed in B-block again in 200-level ,and in 300-level I was off-campus and 400-level during my IT too, but in my final year I stayed D-block. The memorable days were always the gyration night whenever we cooked Ewa (beans), though I haven't eaten the beans before I always get the vibes from there.
Who are your business Role models and Mentors?
Tony Elumelu inspires me a lot.  Like, how does this man do it? Till today, I'm still wondering how did it but his spirit really inspires me.
What's your plan after school?
After school, after my NYSC, it's just to get something good done for myself. I've been in the faculty of Technology and I'm more of a career person. I will be going into my field, I want to practice my Wood Product Engineering, and I'll go into interiors.
Where do you see Tish Bag in the next 5 years?
You know I said I am pending the brand this final year. I don't want to do anything, I just want to read and be diligent but just facing my academics, but Tish Bag in the next 5 years; all I'll say is it's just starting.