By: Eriomala John
Hi, everyone. Welcome to the very first instalment of Culinary Adventures with Dion; your trusted food review column. On here, we'll be taking a look into various eating spots, cafeterias, and restaurants within and outside UI, and feeding you with reviews of the dishes served in these places – pun intended.
Warning: Some reviews might be too spicy, too salty, or too bland for your consumption. Note that these are merely a function of all that the writer observes, and as such you're encouraged to check these spots out yourself.
Now, to the dishes. This week, we'll be reviewing signature dishes from 2 popular spots in UI.
Dish: Stir-fry sphagetti with sausages and plantain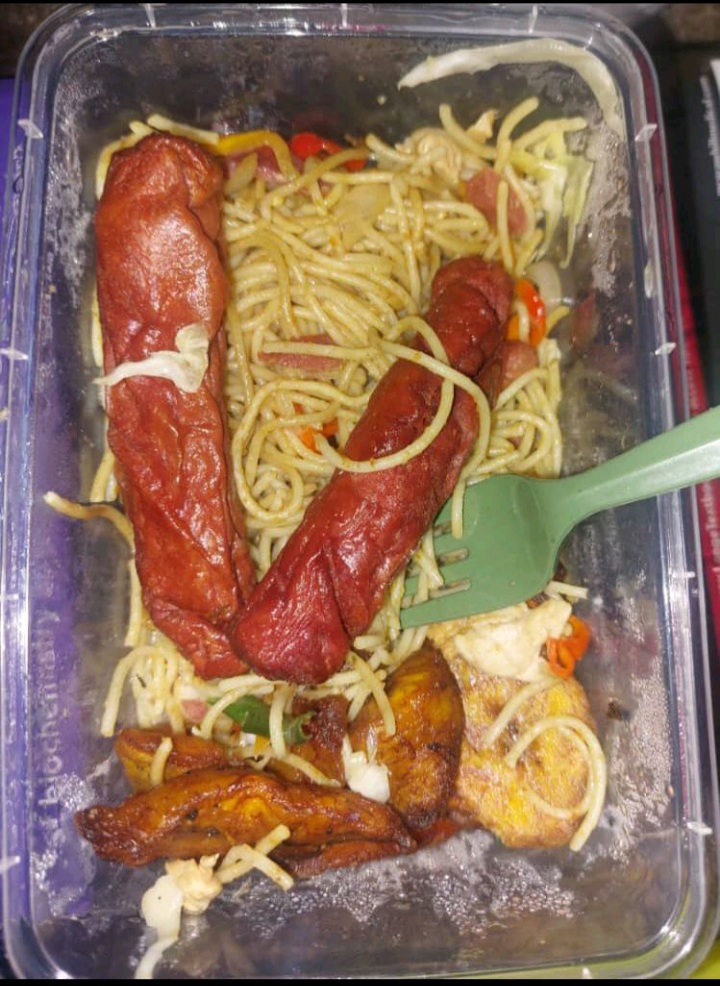 Location: New Flava Restaurant, Zik Cafetaria
Cost: 1,600 Naira (Stir-fry only – 1000 Naira)
Rating: ●●●○○
First off, the customer service at New Flava was excellent. As soon as I walked in, my order was taken and payment made in a little under five minutes.
The ambience within the restaurant was also calm. After ordering, I was directed to a sitting area at the front of the
cafetaria to wait while my meal was prepared. Really nice benches, I must say. Aesthetically enhanced by artificial vines.
All in all, the entire waiting process took about 27 minutes, and soon I was ready to dive in.
First, the sphagetti itself. If I had been handed the first fork-full with my eyes closed and no prior knowledge of the content of the pack, I would have called it noodles; mainly due to the lack of seasoning and texture. It tasted more like 'boiled' sphagetti and less like 'stir-fry'.
Presentation-wise also, not that appealing.
As for flavour, most of that came from the shredded chicken and sausage pieces, and also thin pepper slices. The combination of all three made up for the little seasoning and alsomade bites juicier. I later found out that one could request for a more spicy serving while ordering. I'd advise this for anyone stopping by anytime soon.
The two pieces of sausage were dry and appeared to have been cooked on high heat too quickly. As for the plantains, these were the best part of the meal; soft yet chewy and moderately oiled, and complimenting the overall texture of the dish.
Overall, not the best dining experience but made up for by quality customer service ⅗.
Dish: Jollof rice with beans, plantains, and beef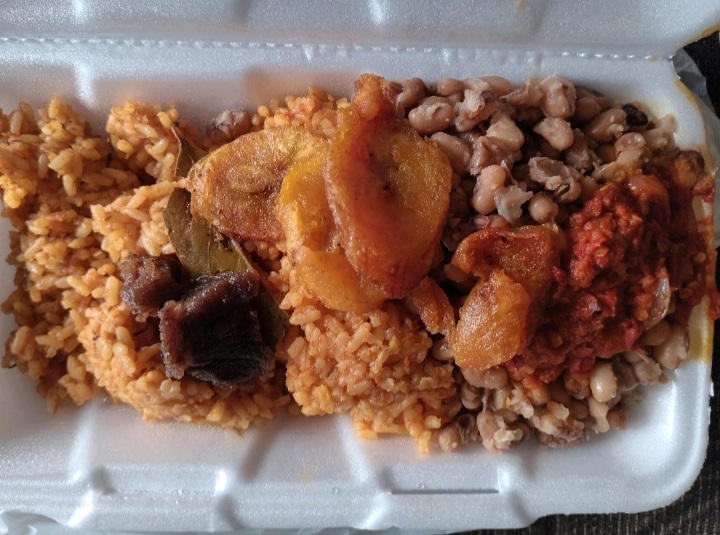 Location: Glittering Scholars Kitchen, Sultan Bello Hall Cafetaria
Cost: 800 Naira
Rating: ●●●●○
Initially, I intended to get their famed jollof spaghetti but had to settle for another crowd favourite in the absence of the former. Customer service here was brisk as well as I was able to pay and get my food in about 13 minutes.
A first glance at the plate didn't do so much to convince; especially the appearance of the jollof. It was mashy and somewhat pale looking. The smell, however, was in sharp contrast to how it looked as I could detect slight hints of the smoky-wood flavour I have come to associate with tasty jollof rice.
My first few bites told me my nose had been correct. Although soft, each spoon of jollof rice held long enough to explode with perfect bursts of spices and condiments. The beans was a little harder than I would have preferred and clashed with the jollof rice on more than one occasion. Although, it faired better mixed with stew.
I might go back there just to learn their plantain frying recipe; moderately fried, and tender, and a perfect complement for the jollof and beans. It's to such an extent that I would have gone back to buy a few more slices had I not been far from Bello. Also, it was in stark contrast to the dry, tough to chew, piece of beef.
Overall, an enjoyable meal which could do with minute upgrades. ⅘.
That's all for this week, folks. Make sure you explore new food choices this week. And try to enjoy the Culinary heaven that is Ibadan in every way you can. See ya soon!