By: Eriomala John
The mention of the word 'art' in the University of Ibadan is more likely to trigger a response referencing its famed Faculty of Art before anything else.
An innocent bystander might even assume it to be a call for directions to the faculty itself or one's attempt at hailing a cab or tricycle; never mind the availability of said vehicles in the immediate vicinity. 
However, for individuals like third-year Aladesanwa Olufunke, 'art' means so much more. It is an expression of love, her creative mind, and the talent given to her by God. Olufunke is an Electrical and Electronics Engineering student. And on days when she's not that, she's a visual artist, one of several in the University.
Unlike athletes, public speakers, or the homonymous artistes — musicians — visual artists are ironically not as visible as their other creative counterparts. But what they lack in fame, they account for in other ways; that and the fact that they are walking stories themselves, even before their pieces speak for them. 
Humble and Not-so-Humble Beginnings
Remember all those drawings of Ben 10's Aliens or Supa Strikas rip-offs people made in primary school? Well, Olufunke's journey into art was just like that.
Chatting via WhatsApp, after a long school day, she said "I got into art from a very young age. I watched my elder brother draw and persons said I should be able to draw too. I then tried drawing and realised it was a talent I had that needed to be developed".
Unsurprisingly, she appears not to be the only one with such an introduction. For fourth-year Faculty of Law student, Havilah Collins-Inya, the journey into visual arts started at six. "I started by sketching out Bratz illustrations back when I was six and then progressed to painting animals in primary school." She would eventually experiment with multiple mediums, including a phase with sculptures before settling down with her current love, Digital Illustration.
Olufunke on the other hand hasn't abandoned the sketchpad altogether, although she now does Murals on a large scale. 
Journeys like Olufunke's and Havilah's are the norm when it comes to visual arts, be it painting, printmaking, photography, or any other 'p' really; talent that's discovered at a young age and honed from there.
But for some artists, it's a journey that took being locked down with family in a global flu for a path to become truly clear.  
While someone like me was listening to yet another album from the 2010s, Olasore 'DanVinci' Daniel maximized the COVID-19 'break' to begin drawing and painting seriously.
On the evening we got to meet, there had been a power outage and so I walked into his room with more care for how I'd see (night-time boosted myopia) than what I'd see. However, what I did see turned out to be wholesome.
On the floor, close to a makeshift work area, a tasteful drawing of a small boy with his sister on his back could immediately be seen. There were three other pieces placed around the room; two drawings, and an oil painting depicting scenery like one would find on Gongola Road. It was the quintessential artist set-up.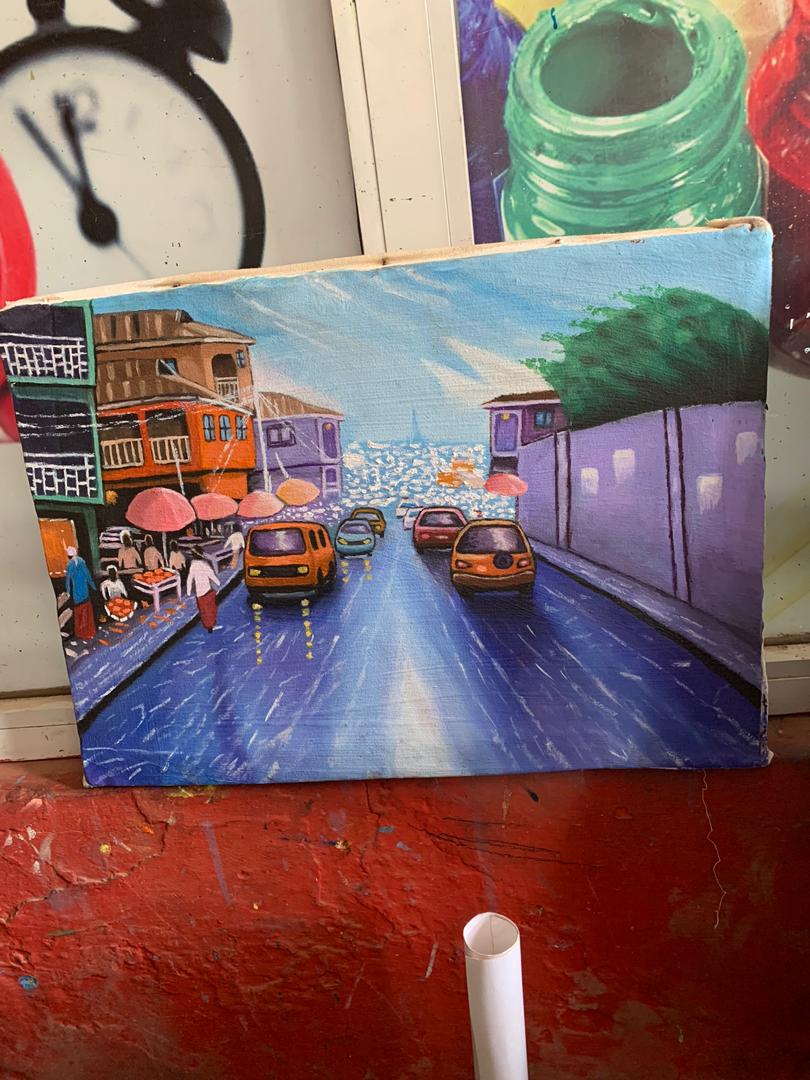 "I've been drawing seriously since 2020, taking the Corona (COVID-19) break into account and developing myself personally in that time".
He would go on to talk about his transition from drawing to digital art, which he now does on a freelance basis, among several other things. 
New Media, Inspiration and the Now
One of those things he talked about was the drive behind his pieces; or inspiration, so to speak. First hint: He doesn't name his pieces. Second hint: He doesn't have emotional attachments to them.
Okay, that was pretty much a reveal. DanVinci's inspiration primarily comes from a desire to be better at his art. As he puts it "Every skill, in life, is like a pencil. You have to make sure it's refined. You have to spend time and effort sharpening and ensuring it's sharp enough not just to puncture but make a mark."
Still dwelling on the source of his drive, he said "For instance, there was a time this year  where I was getting gigs but I was not growing. I didn't take my content creation seriously or post on my social media. I was working for people o, but I was not growing".
This went against his plan to work on at least one personal piece every month. An interesting case, really. 
Then there's IrePower; real name – Akintomide Temilayo, who has found a way to channel her views and opinions into her paintings.
Ire, a final year student, has a preference for colours; opting for ink, acrylic paint, and colour pencils as her compass on the quest for expressiveness. 
The Great Blue, for instance, is one of her works, inspired by her course of study; Social and Environmental Forestry. Initially, it was just meant to be a drawing of a girl wearinhg an expression of her (Ire's) choosing.
However, her selection as her Faculty's representative at the Paint 'N' Chill Competition, switched things up entirely. She would eventually find an innovative way to expand the drawing to include scenes from sea-life; depicting the blue-economy. Art as commentary on the environment; it really doesn't get better than that.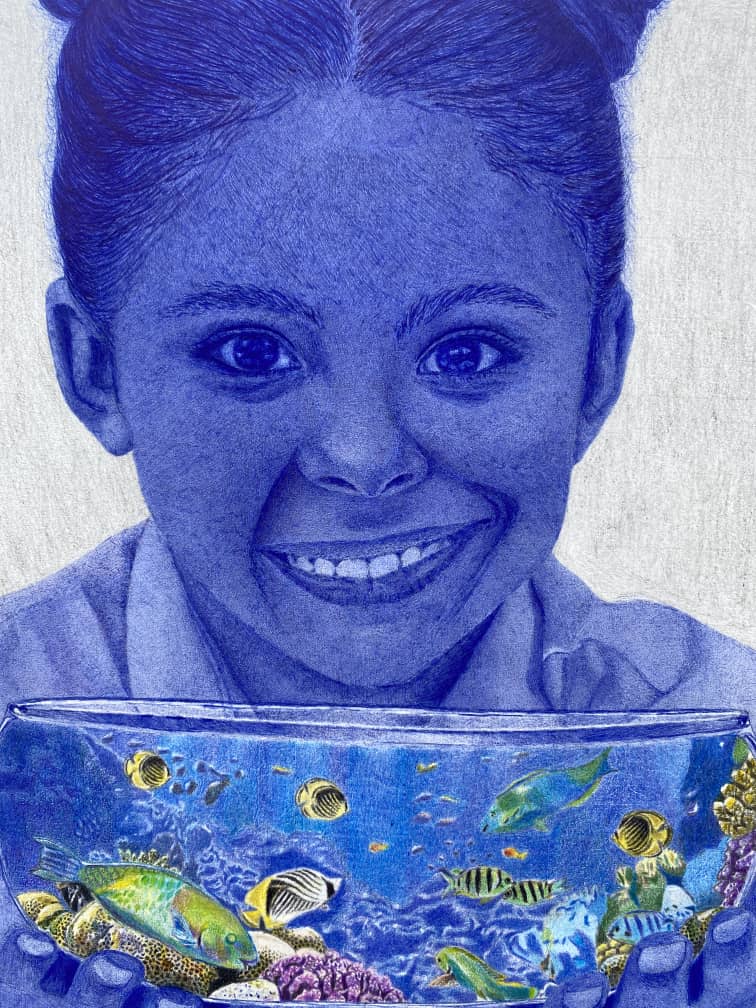 Perhaps, it is this ability to source inspiration from different sources that also pushes visual artists to explore different media. It might explain why every single artist I spoke with had explored some other form at one point or the other.
There's also the capitalist angle, which try as you may, can not be taken out of the conversation. Artists have to make money. And if a different medium would give them that, it's simply logical that they try. 
For the Love of Competition 
That said, less transactional opportunities do present themselves to artists more often than you might realise.
These are mainly in the form of art contests and exhibitions. Unlike traditional commissions, art contests usually have a central theme, offering artists room to interpret and play around these themes as much as possible. 
This makes the ideation process even more fun in a lot of cases. As Olufunke put it, "The expression of concepts that speak about our cultures, the way we treat our body, ourselves, or our environment; most times, without the use of words."
The prize money serves as an extra source of motivation to come up with a piece like "Love Your Eyes," where she portrayed various ways people could love their eyes like eating well, making use of sunglasses etc. 
Pencil-artist, Ariyo Adeoluwa, a third-year medical student agrees with Olufunke's view on this. With a glint in his eye as he spoke, he described the competitions and contests as an exciting aspect of his art journey.
Given his limited proximity to students in other departments, most of the information he gets on these contests comes from doom scrolling on Instagram and recommendations from friends. His ideation process typically takes up to a week.
To use his own words "Whatever I'm coming up with has to be a very good idea. It has to be the best idea. So, I meet with friends who I share these ideas with, and get feedback".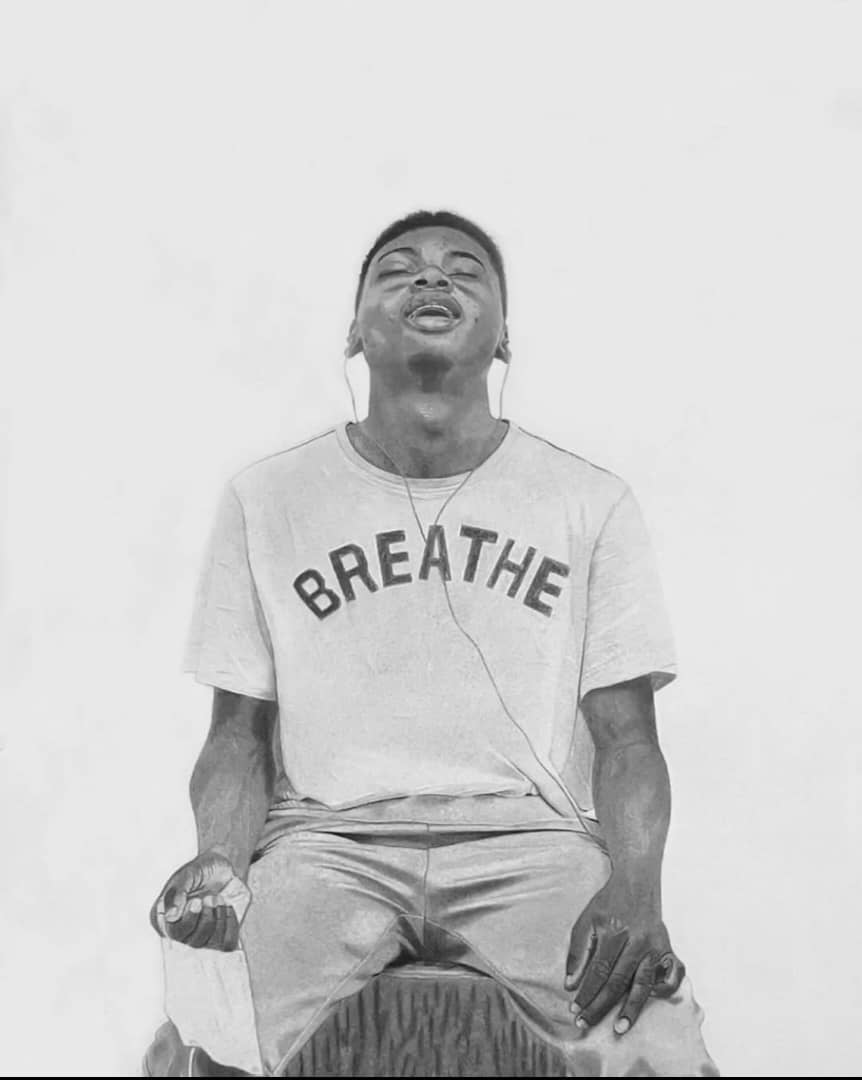 The beauty of such a process is that it yields results in terms of the quality of art produced and subsequently, winning these contests.
In January of this year, Ariyo was announced winner of a global competition by US-based Light Journal, which curates fine art, photography, and poetry. His winning piece, "Breathe", was a self-portrait of himself with a facemask in hand, head tilted back, eyes closed and with music in his ears.
A reflection of the way he wanted to feel at certain points during the lockdown. When I ask him about the monetary compensation for that, he chuckles. Understandable. I'd do the same too.
(To be continued)
This is a two-part article exploring visual artistry in UI. The first part will focus on the creative process and opportunities gotten by current students of UI while the second will centre on challenges, the role of community, and the current reality for both graduate and undergraduate artists.