---
Theophilus Femi Alawonde
A team of three 400-level students of the Department of Mechanical Engineering, University of Ibadan, Team UNY, came second place in the fourth edition of the Professor Ayodele Awojobi Design Competition whose grand finale was held between 3rd to 5th September 2020. UI's Team UNY came second just behind Covenant University's Team SEJJ and ahead of the University of Nigeria Nsukka's Team E-Den, out of the over 130 entries received from about 75 institutions across the country.
Other news: University of Ibadan Governing Council: Oyegun Named New Chairman
The fourth edition of the competition, an event organized by the University of Lagos Engineering Society, had the theme "Design without Limits" and its grand finale saw five teams battle for the N1, 000, 000, N800, 000 and N700, 000 prizes, among other benefits such as mentorship and support.
The judges awarded first place to Team SEJJ's Pet Bricks — a design to make bricks out of plastics. Team UNY clinched the second place with their database committed to educational purposes, while Team E-Den came third with their software which contributes to recycling and waste management efforts.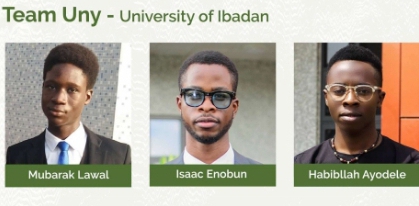 According to Tosin Ogundimu, the UI Campus PAADC Representative and a PAADC 4.0 finalist, the top sixteen teams participated in a masterclass themed "Scaling Design into Product". The masterclass opened the finalists to insights on how to pitch ideas and turn designs into products.
PAADC 4.0 Grand Finale, which was held on Zoom streamed live on YouTube, had Mrs. Foluso Gbadamosi (Director, Prime Atlantic), Mrs. Rolayo Akhigbe (Senior Vice-President at First City Monument Bank), Mrs. Lara Rabiu (Founder of Afara Initiative), Mr. Dipo Faulkner (Country General Manager for IBM and President of the American Business Council), Mr. Amauche Emenari (Doctoral Researcher at Massachusetts Institute of Technology), and Mr. Ade Olufeko (Founder, Visual Collaborative) as judges.
The Professor Ayodele Awojobi Design Competition is Nigeria's biggest Science, Technology, Engineering and Mathematics-based design competition, targeted at the undergraduate population. PAADC's vision is to encourage the development of indigenous solutions to Nigerian problems, using science and technology.
To follow up on the three-day grand finale, visit:
Day 1 (3rd September): https://youtu.be/tdlhj0zcPS8

Day 2 (4th September) : https://youtu.be/impmp8yjfVs

Day 3 ( 5th September): https://www.youtu.be/Ev5ia_Ha4Rg