In the aftershock of the #ENDSARS Protests and the Lekki Massacre of Tuesday, 20 October, 2020, Ofure Ebhomielen – the University of Ibadan's 2018 Overall Best Graduating Student and a vocal campaigner during the #ENDSARS Protests, Martins Isaac – a student of history, seasoned analyst and the 32nd President of UCJ UI, and Gbenga Sadiq – one-time President of The Literary and Debating Society, University of Ibadan and a veteran poltical commentator joined Theophilus Femi Alawonde at the Roundtable to discuss issues surrounding the #EndSARS Protests and Lekki Massacre, complicit parties, the Nigerian governments reactions, and the likely effects that the protests will have on the Nigerian nation in general and Nigerian universities in particular. Enjoy and learn!
Theophilus: Good evening, everyone. Thank you for joining me at the Roundtable tonight! For the sake of this discourse, do us the honour of introducing yourselves.
Martins: Good evening, everyone. I am Martins Isaac.
Theophilus: Thanks for joining me at the Roundtable.
Ofure: Hi, my name is Ofure Ebhomielen. Happy to be here
Theophilus: Thanks for joining me at the Roundtable.
Gbenga: Good evening. I'm Gbenga Sadiq.
Theophilus: Thanks for joining me at the Roundtable.
Theophilus: Good evening once more, and thank you all for joining me at the Roundtable. The discourse will centre on the #EndSARS protests, Lekki Massacre, and, going forward, their effects on Nigeria at large and our university campuses in general. I'll be anchoring the discourse.
The past few weeks have been of different shades for Nigerians — for once in a long while, we saw unity of purpose and accountability. Sadness and grief also registered their attendance with gory stories of Nigerians' ordeals in the hands of the Special Anti-Robbery Squad (SARS), which eventually climaxed when the Nigerian Army shot at peaceful protesters on Tuesday, 20 October, 2020. What are your general comments on the past few weeks, as a Nigerian?
Ofure: Well, before October, I'd been a very passive Nigeria; didn't care much about the country because it's clearly run without a vision. A country with greedy and corrupt leaders does not seem like one with a bright future. My intention was always to japa at the "ripe age and time". When #EndSARS started trending early this month, I didn't give it much attention because I didn't see our leaders responding to hashtags and Twitter bants. But everyone started talking, and people actually went out en-masse to protest. Then I stopped focusing on the government and leadership, and my attention was on the stories being shared on Twitter. I was sad, I was angry, I was disgusted that such a thing had been allowed to go on for long without any finger being lifted by the government to help, or placate the families and communities involved. Then my attention shifted back to the government and I was super-pained. That pain gave birth to my first tweet on the #EndSARS matter.
This protest is for #EndSARS and other things wrong is this country:
– Police turning checkpoints to toll gates #PoliceBrutality.
– Oppression-insensitive leaders.
– Mute government.
– For naira trading at N457 to $1.
– For petroleum still being our only source of revenue in 2020.
– That N37 billion was approved to renovate the National Assembly while students in tertiary institutions have been home for months and the standard of education being nothing to write home about.
– For all the animals (persons) that have swallowed millionssss of national naira.
– For the bad roads that have claimed thousands of lives.
– For those in power who think leadership is about selfvice.
– That the goal of the average youth is to japa and not look back.
– Yes, above all, for #EndSARS too.
There's more to this and Nigerians are tired of being swindled by those in authority. What more do we have to endure? 60 years and nothing to show for it!
In the days that followed, I became so hopeful because I saw what my generation was doing. I realized that Nigeria can't be battered if we are the ones ruling. I saw unity and faith; I saw peace and progress. We were living what our freedom fighters envisioned for the nation. But everything changed with the shootings. Once again, I became angry, then my anger turned into fear and now, I don't really know what to feel. I'm confused.
Our leaders don't rate us. Recent events prove it much. Fashola Holmes and co. put up the most disappointing performance. The generation gap between our leaders and the youths is a lot, hence, there is bound to be miscommunication. The 5% shouldn't be the ones making rules for the 95%. We don't reason at the same frequency so there's no point.
Theophilus: I can imagine — and I know my imagination cannot even do justice — what it is you are feeling. It started with the spark, then the hope, the gory tales, the continued hope, then the shock.
Martins: Well, the word general comment leaves me with no restriction, no boundaries, as well no guidance, difficult to start or end.
However, like several other Nigerians, these past few weeks are weeks to be proud of. The battle was lost on the field, but happenings – the vibe since then – show what happened did not end there… It has revolutionized the mind of the average Nigerian… Not just youths, but both young and old. It also shows the older generation actually trusts the youth and are ready to follow, only when the purpose and cause is unmistaken.
The past few weeks are weeks too many revelations, revelations that cannot all be captured in black and white. The past few weeks show that the younger generation is not dumb to the problems of Nigeria and can be responsive when they see an actual leader that can be trusted. For whatever reason, the youths trusted the selflessness of their entertainment stars. Wizkid, David, Runtown, Falz, to mention a few. Like Awojide Dípò said, they calmed when Wizkid addressed them. And it draws contrast to the lack of needed followership for Sowore's Revolution Now Movement. As much as the demands were noble, 100% desired; the leader wasn't found as same and was not trusted. The difference is people will tell you Sowore has ambitions, the musicians did not, and you have to look at the methods too – the protests were highly peaceful till the government had their way.
My biggest pick – Nigerians (young and old) are responsive when they see the need to be and trust the cause. What they need is a leader who is selfless and can lead them.
I totally agree with Ofure's point that the age gap gives room for differing reasoning frequency. However, youths also leave very much to be desired. Shall we talk of student leaders in UI and their penchant for bribes, looting and diversion of student funds? Or, people like Elliot who believe the media should be censored for kids who do not know how to operate the gadgets bigger than their age? How about the two shameless ladies who, amidst the struggle, boasted of 3 to 5 thousand naira for which they sold their right to change bad governance for another four solid years in Ondo State? How about the thugs hired? These people are all youths too.
I think moving forward, I will say Nigeria has more of wrong-thinking populace than logical-thinking ones, but the corrupt populace is always the one in public office.
Ofure: Yeah, a lot of Nigerians are highly sentimental and it impedes logical thinking. I see that every day on Twitter. It was quite shocking at first when I joined, but I guess not everyone has the ability to be unbiased.
Gbenga: I believe most of what need to be said concerning events surrounding the #EndSARS protest have been said. So, I stand the risk of sounding like a broken record. But, it is good to set the record straight, even though for the sake of doing so. Young people have been oppressed, assaulted and murdered by a rogue unit of the police force for the better part of the decade. We had enough, and decided to show our displeasure by protesting on the streets. Our protests were well coordinated and organised. The government tried all they could to stop the protest, and did so by unleashing all forms of violence on the peaceful protesters. The actions of the government were climaxed by the massacre that happened in Lekki.
The entire episode reminds us of three things:
1. The political elites currently in charge of the Nigerian government do not care about citizens, nor do they care about real governance. All they care about is power.
2. The entire police force is a rogue establishment, completely out of control of anyone, not even the government.
3. Truly, there is immense power when people unite for a common goal.
To be fair, those youths Martins mentioned are very much Nigerians, and they reflect the reality of the country. We shouldn't shy away from that fact. We should acknowledge it, and try to solve it.
Ofure: Exactly! Inasmuch as we have youths that are willing and able to change the course that this Nigeria ship is sailing, we still have youths who don't share that vision. It's really as a result of the different backgrounds and environments that we're raised in and that's another thing we need to consider if we want to build this nation. It's not only the leadership that deserves a revamp. Societies and communities must be involved.
Martins: I completely disagree with point number two respectably, sir. I will put a historical perspective as the face of my basis for disagreement.
During the colonial era in Nigeria, the Nigerian Police Force was established to maintain order, and suppress disgruntled Nigerian agitators. Whenever there was protests, riots, agitations, mass movements demanding change, rather than diplomatically engage, the colonial government would send them to brutally suppress the dissenters. Also, recruitment wasn't subjected to a level of education. It was merely being rogue and tough, passing physical trainings etc.
At independence, Nigeria had no chance to change, that we slumped into 30 years of military regime almost immediately after independence… Another set of colonizers, only they were indigenous. With the army, they brutally suppressed anyone who questions their legitimacy let alone opposition.
Have we talked about why the federal government is reluctant to grant state policing? It's simple. In a civil society, which Nigeria is on paper, only the police force engages civil matters where the breakdown of order is concerned and to maintain their hegemonic monopoly of violence, they refuse to yield.
The way the police, or soldiers – any military unit – work makes it such that if the perpetrators of a crime were to be fished out in minutes, it would be easy. How? They do not go beyond their deployment. When on duty, they are always deployed and a record is always kept. However, how do you expect the federal government to sanction the only force with which they have instilled incredible fear in Nigerians? Take for instance, Nigerians would still be on the street protesting today but for the Lekki Massacre. After several futile efforts, they ended the only thing that mattered to them; the protest.
You can't say the government has no control over the police. They have only utilized the police for their selfish reasons. Police officers get summarily dismissed even if they are clean. About 7 or 13 seniors of the current Inspector General of Police were summarily and untimely retired just to promote the succeeding one.
It is thus untrue to say the federal government does not have control.
Theophilus: Brilliant general comments! Even though you all took your general comments through differing processes, you have all confirmed that the END SARS Protests were born out of a genuine need for change, that the Lekki Massacre was a climax, and that there are some lessons to learn.
Our leaders don't rate us. Let's start from the president. First is that his speech came way later than anyone would have expected. Second is that the speech lacked what was needed to reasonably calm the nation at that time. What do you have to say?
Ofure: The speech clearly shows that he, his speechwriter, and the bunch of figureheads in the Aso Rock don't value human life. Very appalling speech!
Martins: The president's speech has been summarized aptly by many.
1. There's NPower, TraderMoni and the many poverty-immersing (definitely not alleviating) schemes for the youths, they should leave the streets and embrace them.
2. Disbanding SARS, only for the first time since the numerous bans since 2017, was a privilege, a benevolence act which Nigerians must not abuse, but be thankful for, even though it was audio. Should they push their luck too far, the Lekki Massacre would be the best scenario (silently).
3. Lekki Massacre was Nollywood, it was no reality. What is in the media is false and the international bodies putting mouth are clout-chasers; they should face their business… In the end, we are indeed on our own. Abacha did worse and got away with it, why won't Buhari get away with his own atrocities, especially when he's wearing agbada?
In short, Buhari came to shut everyone up, with added threats.
Theophilus: On to Babajide SanwoOlu. He remains the Chief Security Officer of Lagos State. The Lekki Massacre happened in Lagos. Since then, SanwoOlu has gone from outright denial, to partial concession, to full confession (which he did on the CNN show). What do you have to say about the man who joined in the #EndSARS protests?
Ofure: Well, despite the fact that Sanwo-Olu is the Chief Security Officer of Lagos, he still answers to the president and the higher powers. So, there are a number of things beyond his control. People say that he called for the curfew because he was aware of the massacre that was about to take place. I don't really know how true that is. But I know that those in power always try to circumvent blame, never owning up to things that they do, always trying to appear innocent in public eye. All na propaganda.
Martins: Well… You see, I didn't like Sanwoolu from the day I first knew of his existence. Why? He was brought by Tinubu, the Afobaje of Lagos to unseat Ambode. He was going to be a puppet. For many reasons, I'm convinced he didn't order the shooting, even before the denial. Truly, it was above him. But the truth is he has always been a puppet and will forever be. He knows the repercussion of what happened with Ambode. However, he might have known the massacre could happen. The quest for power makes you enslaved to that power. Not to forget, Sanwó is a powerless one parading himself as one hell of a photogenic Public Relations boy, who tries to appear good, but with definite restrictions.
Theophilus: Martins and Ofure are quite convinced SanwoOlu is complicit, but he didn't order the Army. However, the Nigerian Army recently said SanwoOlu was the one who invited them to "regulate" things at the Lekki Toll Gate protest. Was their revelation nothing but a move to score a point and level up with SanwoOlu? Or, could he have truly invited – and indirectly ordered – them?
Martins: Could go three ways:
1. SanwoOlu could have invited them to regulate things. With arson on the rise in Lagos, it was not out of order. But those same soldiers could have been given a different order from a more senior persona to Sanwó on what they should do when they get there. Order that thumps order.
2. The army, like Tinubu did, could have carried Sanwó handicap and just dragged him under the bus. It's always very easy. He's the governor of Lagos State and definitely will be the fall guy.  He invited them is not the same as he ordered the shooting…
3. They could have interpreted his order to satisfy their blood thirst… We are talking about soldiers here.
Please note, this is not to make excuse for Sanwó. I still don't like him. But that should not affect my reasoning!
Ofure: But, Martins, you know those foot soldiers wouldn't have gone ahead to shoot if they were not ordered by someone high up. I believe that the more senior soldiers are usually rational and not as you say, "blood-thirsty". The Commander-in-Chief of the army is the president, and whatever order he gives has to be carried out. That's why I feel strongly that the order came from the president.
Martins: The order could have come from Buratai. Soldiers get overzealous. They know what their boss wants. They don't need to be told to execute it.
Gbenga: Quite frankly, I believe the army acted on their own, just to prove their loyalty to the President. And the president supported their actions, by simply keeping quiet about it.
The governor's repeated claim that he does not control the army is true. He doesn't. However, this does not mean that he could not have (knowingly or otherwise) set the state up for the massacre. The day of the massacre, there were already indications of the military coming in to "maintain order", and we all knew what that meant. People had genuine fears of an internet shutdown, and people were scared of bullets. Any right-thinking governor would not have declared a curfew with all that tension in the air.
Martins: What if curfew – taking people off the streets was the only way he could save the people from the soldiers he clearly cannot give orders to?
Ofure: Why wouldn't the governor declare a curfew? If the army was coming to "maintain order", then the safest thing to do for your citizens is forcefully send them indoors. In this case, it meant a curfew. The army, if not ordered by the president, probably took advantage of the fact that there was a curfew that people weren't adhering to and went ahead to shoot.
Gbenga: He should have insisted that the army stay in the Barracks, until the president declares a state of emergency. Of course, the president wouldn't because he wouldn't want to take the blame. That way, soldiers would not have come out at all. And even if they did, they would have been restricted to the violence hotspot, not at Lekki, where no single violence was recorded before the massacre.
Martins: SanwoOlu can't order the army. You know it. He definitely cannot order the army, not an army that was probably sent by Buratai or Buhari. Sanwó dares not.
Ofure: So, the soldiers went to Lekki with the intention of killing people. Agreed But who ordered the soldiers out of the barracks? Did they leave the barracks solely because of the curfew law?
Gbenga: No, they didn't. The order likely came from the Chief of Army staff, who is presumed to be working for the President. However, they would not have had the opportunity to do what they did if SanwoOlu had not declared a curfew.
Martins: Actually, the army could have left with the intention of killing people. We are talking about people who manipulated events like freeing criminals from prison to discredit protest and end it. They desperately wanted to end the protest. It's why they carried that out, and in that covert manner… It's why they didn't do it in the day. But in the night. Violence was rampant in the day, where were they? Why go out in the evening when everything was calm? There was a single aim… Sacrifice a couple of youths to end the protest, their major aims.
Gbenga: As a leader, every action or inaction has a consequence. And you have to take responsibility for those consequences. The question of who ordered the shooting is not, in my opinion, as important as the question of who created the enabling atmosphere for the shooting. Those are the ones we should hold responsible. And at the heart of that is the governor.
Ofure: I don't think Sanwo-Olu would have ordered the shootings; I highly doubt it. Doesn't seem like his kind of move.
Theophilus: If you don't think SanwoOlu ordered the killings, what of requesting the army to be at the protest ground, as the army claims?
Ofure: He could have dispatched the army to the protest ground, like Seyi Makinde did, to ensure no riots breakout.
Martins: Exactly! By ordering a curfew, ordering the army to kill peaceful protesters would have been the most foolish thing to do. Not even Tinubu would have done that, not because he's not the devil but because you are the number one suspect with that move.
Ofure: So, are we agreeing that the curfew, in one way or the other, was ordered because of the knowledge of the impending doom, and not ordered because he wanted to curb violence that was a suing in different parts of the state?
Martins: It could be as a result of either. I will give it a 50 – 50. It is an assertive statement, and we can only speculate given we are very much in the dark.
Gbenga: That statement from the army was clearly an attempt to misinform the public. That he invited them to enforce a curfew does not mean he instructed them to shoot at civilians.  However, I believe SanwoOlu set the massacre in motion by declaring a curfew. He knew exactly what could happen. Everyone knew too.
Theophilus: SanwoOlu set the massacre in motion because he knew exactly what could happen.
Ofure: What if the shooting order had already been given before the curfew?
Martins: It could be. But I do strongly do not believe the curfew was because Sanwó wanted to set a killing movie in motion. Granted people would have remained on the streets, there was no need for a curfew to execute the act. There was no need at all for it.
Invariably thinking, he might have declared curfew to even avert the killing. If there were no person protesting, the soldiers might not have killed.
Gbenga: What I mean by this statement, though, is that the governor should have suspected (as any reasonable person would have), that soldiers would try to take advantage of the volatile situation to perpetrate evil. The curfew was ill-advised, and with the sole aim of stopping the protests.
Martins: I agree with the former… But, the curfew was what any governor would have done… Places were already being vandalised. A police station was set on fire in Orile and people (policemen included) were beaten to stupor. Whenever there is a breakdown of law and order, there are two ways to restore order: curfew to send people away or state of emergency from the federal level. He wasn't wrong by going for a curfew which is within his power no matter his intent. Yes, he could have known about the killings as well. But the soldiers didn't kill the protesters because of the curfew. If they had made that their illogical excuse, it would have been rational to implicate Sanwó more. But they are still denying killing, meaning it was meant to be a covert operation. Look at the facts:
They killed people. Then attempted to wheel them away, the dead and injured. Not because they care, but because of the media… To cover the massacre. SanwoOlu might have known about the planned killings and be foolishly powerless, but the curfew was not to trigger the massacre… I would rather say the curfew was hijacked by the devilish opportunists who killed the protesters.
Ofure: Exactly! A curfew was the right thing to do to curb the violence that was going on.
Gbenga: The curfew may not have been to trigger the massacre, but we can't hide from the fact that it did. If there was no curfew, there would have been no massacre. Note that the curfew was also the LCC's excuse for taking out light and cameras.
Theophilus: The curfew was indeed an enabling environment for the massacre, whether or not the Lagos State Governor wanted it to be.
Gbenga: Exactly! Which is why the Governor should be held accountable.
Martins: He definitely should be accountable. But he who has the powers over the armed forces should be held more accountable. Buhari.
Gbenga: No doubt about that.
Ofure: I'm all for blaming Bubu. Maybe I'm part of the sentimental-thinking Nigerians.
Gbenga: It's not sentiment. It's the truth.
Martins: Moderator, how was the curfew an enabling ground for the killings? Did the curfew gather people together?
Theophilus: My claim is that the curfew could well serve as the army's "excuse" for shooting. The army has recently alleged that soldiers only shot blank rounds.
Martins: But the army hasn't used it. They are denying it. If they had used it, Sanwó would have been madly complicit.
Theophilus: The Army has agreed that they were at Lekki.
They have agreed that they were called in to "regulate things"
They have agreed that they shot live rounds, most likely to regulate things and "disperse the disobedient protesters".
Martins: Empty rounds. Denying it for days already and coming back to say this? And you believe the part that supports a narrative? History doesn't work that way. The army is never to be trusted
Theophilus: No. I don't believe their stories and claims. What I'm bringing out of them is that we know the army was present and they killed protesters. They initially denied, but, their recent stories, as untruthful as they seem, are affirming our belief that they were indeed there that night. They are shooting themselves in the leg. They have said that they were there, and that they were called in to regulate the protest. If they deny killing the protesters from today till tomorrow, it doesn't change the fact that they were the ones who killed them, since the protesters didn't kill themselves.
Martins: Gbenga, your assertion that if there was no curfew, there would have been no massacre is extremely false; I would firmly say. You honestly can't say curfew created an enabling ground. Not especially when the shooting has been denied severally. If anything, the curfew could have been to counter the possible shooting. The curfew affected nothing about the protest. People remained outside. Soldiers were already on the streets. Nothing stops murderers from committing their murderous acts. The curfew could not have triggered shooting a peaceful gathering… It was a determined attempt, a pre-empted one that not even the National Anthem could stop…
Theophilus: The National Anthem…
Gbenga: The violence that led to the curfew in the first place did not stop after the curfew, did it?
Ofure: It escalated mainly because of the shootings.
Martins: Only if people had obeyed. It could have. Please, I am not blaming people for disobeying. Not even the massacre will justify it. If I was there, I would have stayed. I remember when Olayinka said we should go home during #FreeMote within 2 hours and anybody found in the hall would be expelled. Even though I was fresh in 100L, I was furious. It was unreasonable. He can't expel everyone, I told myself. Even when Ojo Aderemi said otherwise, I stayed 3 more days before leaving. It is the spirit of protest. It is anger. But go back to the incident. There would be no one to shoot if there was no mass gathering in the street. The order to shoot had been given. The curfew was not needed to execute it, and sadly, couldn't prevent it.
Gbenga: SanwoOlu knew people wouldn't leave Lekki. If he claims otherwise, then he's a liar!!
Martins: Even if you know you won't be listened to, it doesn't mean you won't sound your warning. I already said I wouldn't have left too except I saw gun. So, knowing they would not didn't mean he would have stayed silent. He didn't order the curfew to enable a massacre. We should iterate this very well.
Gbenga: The point is, the only thing that curfew achieved was setting the necessary atmosphere for the massacre. That's a fact we cannot hide from. And nobody made the governor declare the curfew. At least not that we know about.
Martins: This is purely distorted fact. If the curfew was the excuse for the killings, the army would never need to deny it. They could just paint those who died as disobedient. It's not their first time. But it wasn't. The manner of operation too. It was covert. Light out. Retrieving corpse. It was COVERT! It's only a planned attack that goes that way. Light out or not, curfew or not, 8 died in Ogbomosho in a day. A CURFEW IS NOT NEEDED TO CARRY OUT A MASSACRE. The curfew was only hijacked.
Ofure: I don't even believe anything the army says at this point. Immediately they denied the shootings, they lost every iota of trust I had in them. However, please enlighten me, Gbenga. What does the constitution say about curfews? How's the state supposed to deal with people who flounder a curfew order? What if the shooting order had already been given before the curfew was enacted? Because there was a video the week the protest started, about this senator or one of these high politicians, saying that Buhari is calm and that he blames Buhari for allowing this protest to take place. That if he were the one, he'd have sent the army to deal with the protesters. Imagine our puppet president getting this type of advice from his advisers.
Gbenga: First, the protesters at Lekki, at the time of the massacre, were not violating the curfew. The curfew was, though belatedly, moved to 9 PM. That said, there is no law that criminalises the violation of a curfew. A governor's pronouncement is not law, and as such cannot be prosecuted. Nobody can be prosecuted for violating a curfew. Curfews are, at best, precautionary measures to curb something. Only the president can declare a state of emergency, in which case, all civil laws would be suspended. Only then can the soldiers act with their discretion. And even then, human rights laws are expected to be observed.
Ofure: Good. This is what I wanted to know. If the protesters at that time were not violating the curfew, then it's not on the governor to order the shooting of people who were staging a peaceful protest. He has no motive for doing so.
Theophilus: I would like for us to revisit the Lekki Massacre, as it remains the most solid proof that the people were truly suffering brutality and brazen wickedness in the hands of the Nigerian armed forces.
Since the Lekki Massacre, events have unfolded: the initial denial. The semi-confessions, Fashola's discovery of a conspicuous camcorder, and rejoinders… Given the events that have unfolded in the past days, do you see us getting to the root of what really transpired at Lekki Toll Gate? Do you see the Army eventually confessing that soldiers shot at peaceful protesters? Do you see us unearthing the "indirect powers" behind the massacre?
Ofure: This government is stubborn. I doubt we'll get a confession.
Martins: All of these to what end? The worst that would happen is some disliked soldiers or officers would be made to bear the brunt. It has always been like that. The army has 100% and satisfactorily executed the desire of the Commander-in-Chief. Buratai before then had wanted protesters that they are rogues and that the army are loyal to the president. Buhari delivered a speech where he sympathized not at all with Nigerians nor acknowledge the killings. Mark my words for it: nothing will happen to Buratai or the officers who executed the dreadful act.

Theophilus: Martins believes that those who acted "thought out" their moves before acting. They know they silently or loudly have the president's backing, and they no sanctions will come on them.
Gbenga: The truth will come out eventually, one way or another. The government may be er admit or acknowledge what happened, but everyone already knows something terrible happened that night.  That's fair enough for posterity. Whenever we have a truly representative government, we can get the deserved acknowledgement. The Rwanda government never acknowledged the genocide at the time. But time and history will always let out the truth.
Martins: Nobody will be brought to book. If you see any names, it's either it's audio or the person was made a scapegoat! They acted on orders, well executed with the aims achieved. If anything, they earned promotions.
Theophilus: But, Gbenga, history itself has taught us that history could be distorted and twisted to suit the teller's — the perpetrator of evil — narrative. It happened with Aba Women's Protests for years…
Gbenga: Now we know it was a protest not a riot. A success for history.
Theophilus: LCC's move was also fishy. The lights were restored after the shootings. How could they then have claimed that the curfew made them switch off the light?
Ofure: The lights are never even supposed to be turned off.
Theophilus: Which is affirms your point that the soldiers truly went to Lekki to kill the protesters. Who could make the LCC turn off the lights?
Martins: The army can coerce anybody in Nigeria to do anything. They can force even Buhari to resign. So, it's not only the governor. He could have been the one. But don't easily pin it on him.
Ofure: Exactly! Even from 4 PM, there had already been warning signs and people were calling for protesters to leave Lekki toll gates as the removal of cameras meant winter was coming. But the army cannot order the government to remove the security cameras. So, the government's removal of the security cameras meant that it had a hand in the shootings.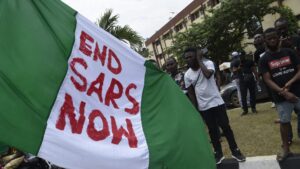 Martins: The army could have removed the camera itself. They are experts in covert operations. They needed lights off only to prevent recognition. They know recordings would be. The lights off prevented their faces from being taken. That's all about the need for light out
Gbenga: But they didn't, did they?
Martins: We don't know who did. Do we?
Theophilus: Which means LSG is complicit.
Martins: Thank you! This puts Sadik's claim that they switched it off because of the curfew under the bus. They were just all excuses to make you pin it on the governor… Curfews don't engender blackout. It's not needed to kill people. Several have been killed in Ibadan, in same Lagos without any curfew. They did not need one. The killers have succeeded if you think curfew was the first piece in executing the dastard act
Gbenga: It's not my claim. It's LCC's claim, please.
Martins: You can't use a false or heavily disputed claim in research, Sadik. It's terribly unscholarly. It's why you dissect the facts well. Curfew or no curfew, lights would have gone off and people would have been gunned down. The curfew meant nothing. And as for the effect, many would have gone home cos of the curfew, but revolutionary minds wouldn't have.
Gbenga: The many that died didn't go home. Besides, why are we not talking about the fact that the curfew was poorly announced. A curfew was announced at 11am, and set to be effective by 4 PM. Then, around 6 PM, it was extended to 9 PM.
Ofure: Which substantiates the fact that Sanwo-Olu acted immediately to protect his people. That curfew was his was of preventing what was coming.
Martins: We don't have right-thinking leaders. That is no news. But then, following my stupid unpopular but logical opinion the curfew was to take people off the streets, what if the short timing was needed to take people off before the army arrived? I mean, I'm just saying… Just an unpopular theory.
Theophilus: There have been thoughts that the youth should go back the drawing table. I read an article on Facebook whose points I'm all in for: in summary, the writer said the wealthy class use the poor class against the middle class. The middle class always suffers all.
Even during the vandalism, the shops that were looted belong to the middle class most likely. So, he said to win this battle, we should use the wealthy class' tools against them. School the poor class — let them see reasons why they should no longer be tools in the hands of the wealthy class. Support them if need be.
Do you think this move can work?
Related post: Discourse #1: E-learning and the Realities of the University of Ibadan
Ofure: Schooling the poor class takes is a lot easier to say on Facebook. I mean, Facebook says What's your thought? Share. It's easy to type "School the poor class" on a blank screen. But it's not a 3-year vision. Not even a 20-year vision.
Theophilus: It's not a 3-year vision, not even a 20-year vision…
Martins: Shops vandalized? Middle class? Who are the middle class? To me, they are the professionals… Doctors, lawyers, lecturers…. Only there are the upper middle class and lower middle class. We need to clarify to conclude. Wealthy class are the Alikos, politicians, et al.
Theophilus: Exactly! I mean the shops that were vandalized belong to the (upper) middle class, not the wealthy.
Martins: Irrespective of class, actually. There are two classes of Nigerians. The elite one (in thinking) and the fools. There are poor people who protested #EndSARS too, likewise the rich. And there were poor who were pro-SARS, likewise the rich. Poverty is a factor, but not all the time.
Theophilus: Going forward, what positive effects do you think the END SARS Protests will have on the Nigerian nation in general?
In addition to that, what positive effects would it have on "governance" on Nigerian university campuses? Do you see students becoming more politically conscious and vocal? The disbursement of funds was accounted for by Feminist Co. Do you see students frowning more at mismanagement of funds by student leaders?
Gbenga: Thank you. No doubt, the movement has birthed an awakening among Nigerians especially the youth. To be frank, I am not very optimistic. However, it will be unfair to deny the fact that this could just be the trigger the nation needs.
The #EndSARS movement is timely, in the sense that it comes at a time where most citizens are frustrated with the government. High inflation rates (especially food inflation), multiple taxation, and poor governance. Nigerians have been pushed to the wall. And as the proverb suggests, they are beginning to push back.
There are still several factors to consider, and it is not hail Mary yet. However, it is a good trigger, and I can only hope that Nigerian are willing and ready to put in the work needed to make sustainable change in the way we do governance.
It will be naïve to assume that a series of well-organised protests will suddenly turn sinners to saints. That would never happen. Students may become emboldened to insist on the necessary structural and institutional changes to reduce corruption and ensure good governance, but that will be it.
Martins: For effects on Nigeria:
1. Socio-political awareness… It has always been either of both, until the protest. The protest shows Nigerians can demand good governance, which includes protection of their basic rights
2. It has started what historians will call 'proto' which I will suffice with revolution. Only that this proto-revolution is only active in the minds of many now. They now see the evil in APC and PDP; in the bad leaders they once idolize. I have seen many core APC and Buhari loyalists who have publicly denounced PMB and regret their support of him. I always thought they were blind loyalists and PMB can't be wrong to them. Like them, many actually realized the problem of the country, at least in the political sense
3. Apropos with one and two, there is unity of purpose and intent. Bar any change, 2023 might be the first significant election where there would be the first major attempt on the duopoly of APC and PDP in Nigerian politics
4. Government will realize the people have a limitation to patience and would, for the little sensible one, exercise restraint in throwing just anything at the people.
All a revolution or social change in orientation needs is a trigger. There is no way students' orientation towards their leaders won't change after the #EndSARS protest. With Wizkid calling Buhari old man, a lady calling him a bad boy and many more, it shows Nigerians (the conscious ones) greatly frowns at bad leadership now.
A worthy scapegoat is Desmond Elliot. Now imagine student leaders who are well within reach of students. It's all hope, but no doubt, youths are very angry at the moment.
Long may that last!
Ofure: For effects in Nigeria:
1. There was nothing like the "Nigerian Dream" prior to now. In fact, if there was any, it died with MKO Abiola, or maybe even with the Independence leaders. The leftover Nigerian dream was to japa. But with the protest, came hope, and many realized that Nigeria is redeemable
2. Now more than ever, people are going to exercise their civic duties and take voting during elections as seriously as possible
3. Lots of youths have found their voices, and people are willing and ready to speak against injustice. It'll make the current leaders more deliberate about their actions
As regards our universities, yes, definitely. Everyone is 'woke' now. #EndSARS was more than SARS, it was a general call-to-order for every and anyone in a position of power. People now know that it's their right as members of an association to demand transparency from their leaders. I'm sure most students are not aware of how their dues are being handled by their excos, as long as they collect package and the dinner is lit. But onwards, people are more likely to ask for the monthly breakdown of expenses
This would have some domino effect in that it's putting in check the calibre of people that can contest for leadership roles. If one knows that their actions are going to be monitored closely, then they have to behave well. So yeah, there's pretty much no space for bad leadership anymore.
But I'm liking where this is going. This was the Change Buhari promised us, only that we're the ones creating it ourselves
Theophilus: Thank you for your final submissions, distinguished analysts. Should the readers wish to reach, read or follow you, how best should they proceed? Your Twitter handles, LinkedIn or Facebook usernames, please.
Gbenga: Twitter @Og_sadik
Martins: WhatsApp +2348130116100, LinkedIn @Martins Isaac, Twitter @MartinsIsaac10
Ofure: Twitter: @Ofure_e
Theophilus: It's a wrap! Thank you, Ofure, Gbenga and Martins for joining me at the roundtable.
Theophilus Femi Alawonde is a journalist, education enthusiast, PR & communications aficionado, polyglot and writer of other things. A journalism-for-change agent, Theophilus has, in the past three years, charged himself with the task of ensuring changes come about in the society, using various journaliatic media. His three years' stint has seen him win the Independence Hall Award for the Best Pressman twice (2018 and 2019), and the UCJ UI Award for Best News Reporter (2018). He's a student at the Department of Arts and Social Sciences Education, and the Editor-in-Chief of Indy Press Organisation, all at the Univerisity of Ibadan . Reach him via alawondetheophilus17@gmail.com or 08169789450 or @lil_allawonder on Twitter.