The theme for this year's International Women's Day is #ChooseToChallenge, in a bid to draw attention to the deliberateness required to change the status quo. We at Indy Press however believe exceptional women are meant to be celebrated every day. In this interview, our correspondent, Williams Owoeye had a chat with the Miss Morenikeji Adisa, a 300-level student of the department of Biomedical Laboratory Science who has been challenging the status quo regarding what defines a student in the University of Ibadan.
Apart from being a student can you tell us what other things you do?
Morenikeji: Okay, I'm fashion designer. I sell yam – Abuja yam – and I am proud to say that. I love the business. Basically, that's what I do, those two things.
Recently you were involved in the Most Beautiful Girl in Oyo pageantry contest; do you not consider yourself a model too?
Morenikeji: Yeahh, actually, I am a part-time model (laughs). Let me use that word, not that I forgot but I am a part-time model. I am not fully into it. I do pageants, sometimes walkways.
So how have you been able to balance up all these things together with your studies and all?
Morenikeji: Well, balancing… sincerely, it has not been easy but they are all actually related. My model ambition and my fashion designing are a little bit related; I am able to sell out my work via my modelling and my yam business keeps the income flowing. You know, sometimes I need money to do something concerning my fashion designing work and my modelling activities too so my yam business helps keep the income flowing. So plus school too, it is all about the timing: the hours I read, the hours I attend classes and the hours I work, that's all.
What has been your biggest challenge in all these so far?
Morenikeji: Urgh, the challenge there actually is the urge to make money, yeah. Sometimes it can be challenging when you have to attend classes and the same time where you have deliveries to make and then there is customers sitting on my neck; they want to get their clothes; I need to deliver my yam and then I have classes to attend so the challenge is just balancing the time and trying to source for income; you know when I am not sourcing for income I can always cut down on my job and attend classes but most times, I get to  miss class because I want to make my deliveries.
What has been your greatest joy in doing all these?
Morenikeji: My greatest joy in doing these is that, one thing, I am becoming well-known in what I do. And I thank God for one thing, what I do, I try my best to do well. So I am glad when I do my work and it is accepted; the acceptance of my services bring me joy.
Okay, let's go a bit political. You are aware of the recent statement by Sunday Igboho about the secession of Yoruba away from Nigeria; what do you have to say about that?
Morenikeji: I'm going to say no to division, no matter what. We can't live alone by ourselves. We are Yoruba people but still we need other tribes to thrive; I believe so. There are so many things that will get done by other tribes even here in our Yoruba land and personally, I am not in support of that.
The latest thing in school now is the virtual experience and all. So how has it been for you?
Morenikeji: (giggles) well well well. A little bit fun but let me not say stressful, its challenging somehow, how? You spend money on data, it's too much. Then there are network problems. Personally, I don't like the idea. The difference is, when you are in class, you will see your mates, you know, you are able to ask direct questions, you can still ask direct questions in these virtual classes too but there is this vibe you get when you are among your classmates, your friends other than you sitting on your bed. Sometimes I receive lectures lying down – like flexing – meanwhile, I feel like it is going to be a real problem by the time we start preparing for tests and exams. And it is actually cool too, at least I can do my work alongside the class.
Based on that, assuming a thief stopped you in Agbowo and he gave you the option to pick only one thing out of these three things you have on you: unlimited data that UI sent to you, your SIM card or your phone; which would you pick?
Morenikeji: Well, what I am going to pick is my SIM card because I feel I am still going to be able to retrieve at least half of what I lost on my phone. The unlimited data… ahh, the worst thing is to go and buy another one.
Even if the phone was an iPhone 12?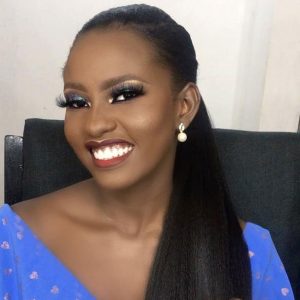 Morenikeji: well, (laughs) I still feel like people access me through my SIM, not my phone. What gave me that phone in the first place can still give me another one; it is only a matter of time. If I have my SIM at that moment, at least I can reach out to people that this is the problem. Once I lose my SIM, I will likely lose my contacts, I feel like the SIM is the most important.
We need to acknowledge that we all went through a year that was very troubling last year, so during that period of lockdown, what were the things that kept you engaged?
Morenikeji: Yeah. Two things kept me engaged or let me say one – fashion designing. When I say fashion designing, I was training people. That period gave me the opportunity to train a lot of people. Sincerely during that period, I trained nothing less than 9 people. You know everyone was basically idle, but I got myself involved in teaching them and right now they are really doing well and I got myself busy with learning new styles that I could not make before.
For this particular question there are no wrong answers, you just arrange these things I call the 5 Ps of life in order of hierarchy: plan, purpose, project, priority and passion.
Morenikeji: To me I feel like what should come first is purpose then you know, I have this intention… okay, after purpose, passion… what is passion? Your desire. Oh, seeing passion now I think passion should come first. You have a passion for something, for example now, I am a fashion designer; I have a passion for it; I love making dresses; I love making people beautiful, yeah; I have that passion. Then what's the purpose? To clothe people, to cover their nakedness, to present them well anywhere they find themselves. So once I have that in mind; I have a passion for fashion designing, that is my purpose, then I come up with a project, yes then plan; how do I want it to go? Then from the plan; I need this; I need that to make this happen, then which one should come first, so like the priority.
What is your parting message to our audience?
Morenikeji : I would like to pass the message to people like me, you know, the ladies, then the young ones just like me it is high time we stopped wasting time; we should rather start taking our time than wasting it. I mean, let's get our hands in doing something; we should stop being dependent. Let's look out for something we can do so we won't be dependent, that person you are depending on also has one or two things they are also looking out for. Even if it is just our phones, we can take our time on it and invest in ourselves.
Thank you for your time Miss Morenike Adisa. It was nice having this chat with you.
Morenikeji: You are welcome.