On this week's Bold and Beautiful, our correspondent James Chibor met with the charming and business-minded Miss Nzekwe Vera, a 300-level student at the Department of Animal Science. She shared her views with us on entrepreneurship, feminism, relationships and secession. Enjoy!
Good evening Miss. Can we meet you?
Vera: Good evening, my name is Nzekwe Vera Ifunanya. A 300-level student of the University of Ibadan. Department of Animal Science, Faculty of Agriculture. I'm a business enthusiast, a writer, a storyteller, a blogger and a face model.
Wow, this really sounds like a lot. Would you consider yourself a jack of all trades?
Vera: Ohh, yes definitely I'll consider myself a jack of all trades. One thing about me is I have an idea about almost everything. I might not have learnt how to make hair or shoes but believe me, I know something about it. So yes, you can call me a Jack of all trades.
Doesn't that by implication make you a master of none?
Vera: Well, I'll say I'm kinda a master of business in a way (laughs). Obviously you can't be a master of all, and like I said earlier I'm a business enthusiast, so I'm focusing on the business angle for now.
OK, interesting. When you say "business enthusiast", do you mean you are an entrepreneur or …?
Vera: Oh yes. I'm an entrepreneur. A proud one at that.
And what exactly is your niche?
Vera: Sales of men's clothing for now. It's a growing business and I still plan on making it big.
Hopefully, that comes to fruition. But what would you pinpoint as challenges facing student entrepreneurs?
Vera: This is a really nice question. For me I think, one challenge is that everyone these days is into business. Since everyone is selling something or has a friend that sells, it becomes harder to get people to patronise you. There's this issue of who-knows-who, sometimes when you're trying to get someone to buy from you they'll tell you a friend of theirs sells something similar and would prefer to buy from them even if it's more expensive.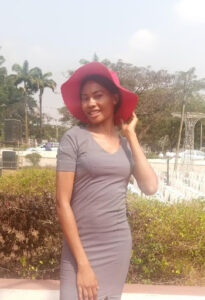 I think everyone can relate to the fact that these days everyone is selling something. But are you saying that fewer students should go into entrepreneurship? Given that that's the direction of the new economy, I mean, entrepreneurship courses are even being incorporated into the curriculum today.
Vera: No, no no…Don't get me wrong. That it's a challenge doesn't mean more students shouldn't go into business. Competition is part of business and if you can't find a way around it then why are you into business? I actually believe every student should be an entrepreneur or have something as a side hustle because it definitely pays. Especially with the way our country is going where it's getting harder to get good jobs, so yeah, entrepreneurship is the way.
Okay, away from business unto other businesses. Being a 300-level student at UI is tasking on its own, now as someone who has her tentacles into so many things, how do you manage to strike a balance?
Vera: Like you said it has not been easy at all. It's been really tasking. But let's just say I've learnt to prioritise. My education is number one so I try to make sure I don't lag behind. I've also learnt to multitask. And I've also learnt not to procrastinate. Although sometimes you are tempted to shift things till later, it only just makes the workload more and doesn't help. So prioritise, multitask and don't procrastinate.
Talking of education; among the sciences in UI, there's this subtle opinion that a lot of courses in the Faculty of Agriculture are what you can call "fall-back" courses and a good number of students there are not book smart… Would you call this a valid opinion and why?
Vera: The thing is, a good number of students in the Faculty of Agriculture and also even in the sciences probably chose a medical course or something  initially and when their marks couldn't meet up, they had to change. This is true. But to say they're not "book smart" is a lie. I mean, we have people excelling in their different departments and you say they're not smart. That's a lie please.
Okay. We're taking notes. So, you mentioned you are a writer. I believe writers are readers. So any favorite author and/or book?
Vera: Ohh, yes, my favorite writer is Chimamanda Ngozi Adichie and trust me I've read all her books. OK, that's asides "Dear Ijeawele" which she describes as a letter. All her books are my favorites.
Chimamanda Adichie… hmm… am I perchance speaking to a feminist?
Vera: Yes you are! I support feminism one hundred percent. Although hmm, some Nigerian women have turned feminism to something else. If you go on social media, some opinions you'll find there are just terrible. Maybe because of bad experiences with men, people that don't understand feminism use it as a cover to express hate. That's why sometimes when you say you're a feminist people have this misconception that you hate men. Which is wrong.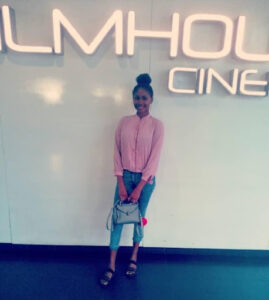 So let's say you are given a platform to correct this misconception. How would you describe or define feminism?
Vera: Basically, just like Chimamanda said "A feminist is someone who believes in the equality of the sexes" and that's what I believe.
Related post: Bold & Beautiful: Gorgeous and Brainy Adebisi Amore
Okay. So, let's delve into politics. Shall we?
Vera: Okay.
Are you a believer in "One Nigeria" or do you think secession would do our country a lot of good?
Vera: Hmm, well deep down I hope for One Nigeria, but with the way things are going I think going our separate ways would do us good. You know everyone is pointing fingers, Igbos are saying the Hausas are the problem, Yorubas are saying it's the Hausas, Hausas are saying it's the Igbos. So at least with this, we'll know what or who exactly is the problem. You know when you're in a relationship that's not working out, you go your separate ways.
It's interesting that you brought up relationships as an analogy. What's your take on being in relationships while in school?
Vera: (laughs) well, I feel if you can handle it, it's fine. It's your life, so it's cool.
Let's round off with a little trivia. I'll give two options, you pick which one you prefer: be invisible or able to read minds?
Vera: Invisible.
Marry and divorce or never marry at all?
Vera: Ahh, never marry at all please.
Be a heartbreaker or the one that always gets your heart broken?
Vera: (laughs) Heartbreaker o.
Classy car or classy house?
Vera: Classy car. I'm a car addict.
OK so kiss, kill and marry: Wizkid, Davido, Burna Boy.
Vera: Marry Wizkid, Kill Burna boy, Kiss Davido.
So kiss, kill, marry again: Lee min Ho, Rege-Jean Page, Jeff Bezos.
Vera: Ahh, this is a wicked question. Kill Lee min ho, kiss Rege-Jean Page, that's my crush by the way and marry Jeff Bezos.
Interesting take, seems you are truly business-minded after all. Mind on the bag.
Vera: (laughs) Sure. Sure.
Would you mind sharing your social media handles? 
Vera: Not at all. On Instagram it's Official_vera.frances, twitter is Vera_Frances_ and for WhatsApp it's 09071639433
Thanks for speaking with us; it's been an amazing time. And good luck securing that bag.
Vera: (laughs) Thanks for having me. It's been a pleasure.