By: Moses Adeosun
Andrew Akinola and Williams Eze, 300-level students at the Department of Department of Dentistry, University of Ibadan, have launched a footwear shop, Drew and Drip. The launch, which started at 6:30 p.m. on Friday, 1 October 2021, at the FSY Complex, Ajibode Junction, saw friends and customers troop in to check out and buy high-quality footwear ranging from slides, to palms, to corporate shoes, to sneakers for all genders.
The Senior Partner, Akinola Andrew, stated that the store started as a result of the vision he had to start a store since his 100 level days and the need to make money, which is becoming increasingly necessary because of the situation of the country which continues to go down the drain. He also stated that the pandemic gave him an opportunity to gather resources to start his business and partner with his friend, and that the business started by importing footwear from outside the country for customers.
Drew and Drip is a high-end all-shoes footwear shop in Ibadan. The store has on display shoes of different brands and sizes – ranging from Puma, to Luis Vuitton, to Nike.
Asked about what the business idea and expansion plan is, Andrew Akinola stated that the business is not going to stop at the sale of footwear, as there are already logistics to expand to the sale of hairs and hair accessories. He further said that there's an interest in agriculture which will come to pass, if there is sufficient cash.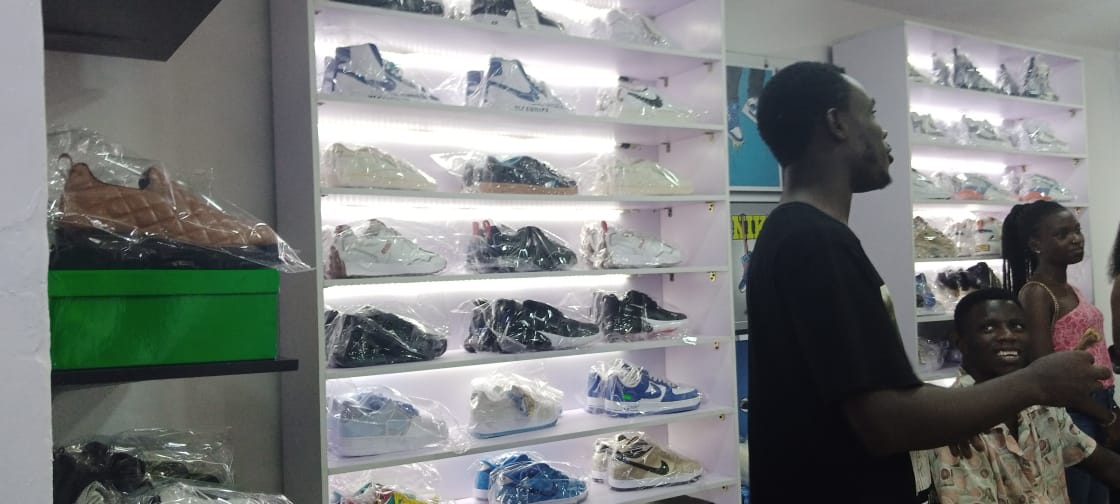 According to Williams Eze, one of the partners, Drew and Drip is here to help Ibadan residents solve the continual search for quality products. This he said in reference to how people turn to Lagos or Abuja when they need quality products. With the launch of Drew and Drip, Ibadan residents do not have to worry about ordering footwear from Lagos or going through the stress of product delivery that's rampant in the Nigerian SME world.
ALSO READ: Two UI Law Students Finish as SCAD Finalists
He said: "The idea behind the store is not just to do any kind of store, but having a finesse when it comes to mentioning stores. That is, bringing the kind of quality and  business stardom Lagos stores are known for to a serene place like Ibadan. We want to give our customers the feeling that we could have Lagos in Ibadan. Something top-notch. We want our customers to come to the store and get the best shoes without having to go on Instagram and battle issues of fake accounts, fake business owners, logistic issues transporting goods from Lagos, and so on. We want to help people get quality things without leaving their comfort zones."
On his own part, Mr Akinola promised all customers quality at competitive prices, as the Drew and Drip company will become a brand name known for quality.
In another interview, a customer who came for the launch applauded the beauty and quality of the footwear on display, while advocating for the provision of all sizes of footwear, especially for the wears currently in stock.
Drew and Drip is offering a 10 – 20% discount to the first customers to patronise the store at the FSY Complex, Ajibode Junction. Customers who prefer home delivery will get a flat rate of N150 to the University of Ibadan and its environs, and N300 to Ojoo, Dugbe, and other areas in Ibadan. The delivery promo will run for two weeks.