–Theophilus Femi Alawonde
The 2021 edition of Hult Prize UI — an annual innovation challenge organised by the Students Entrepreneurship and Innovation Hub (S.E.I.H.) moves to the final stage, where 10 teams will compete for the 3 slots to the Regionals.
The Elevator Pitch saw 50 of the initially registered 70 teams of both undergraduate and postgraduate students at the University of Ibadan pitch their food-related innovative ideas within 10 minutes to an 8-team panel of judges.
The 10 finalists were selected following the Elevator Pitch which held on Saturday, 21 November, 2020 between 10 a.m. and 12 noon on Zoom — a virtual teleconferencing platform.
The judges were Ms. Folakemi Jolaoso of Impact Nutrition Africa, Mr. Taiwo Obasan, CEO of Fundall, Mr. Adedoyin Adeleke, Founder of ISNAD Africa, Ms. Anyiam Grace, Program Officer at UNDP, Dr. Tunde Oyebamiji, CEO of Future Foods Dr. Oyedare Ayobami, Director at Ooni of Ife Global Outreach, Ms. Adejoke Lasisi, Founder of Jokelinks) and Dr. Imodoye Abioro WHO Top 30 Innovator.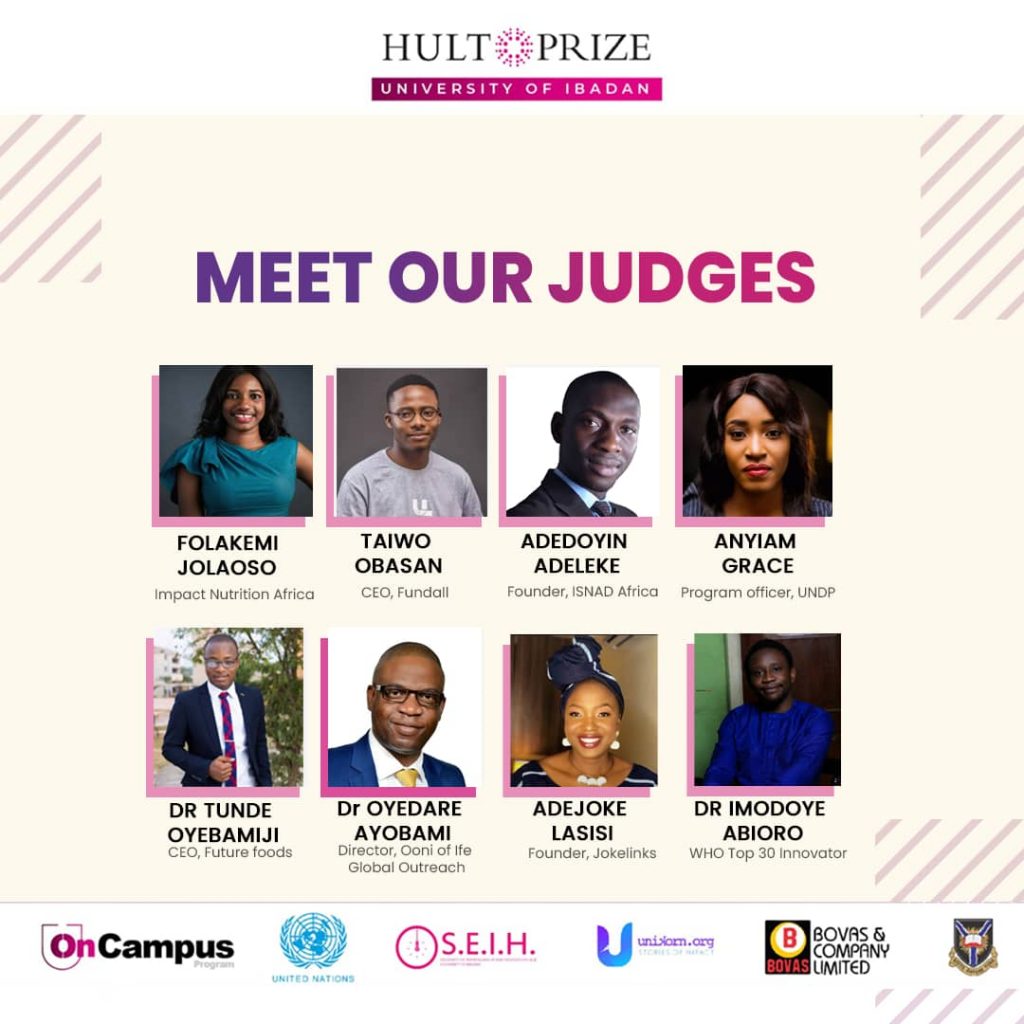 Following the Elevator Pitch, Team Viand, Team Avant Garde, Team Secure Foods, IOTeam, The Legion, The Elites, Team Food Paragon, Team Wealth, Team Viguorich and Team Fourmula edged the other 40 teams to emerge as the 10 finalists.
In giving reasons for the emergence of these 10 teams, the judges had this to say: "Good idea. It also provides real solutions to global healthcrises with 570 billion dollars junk food crisis that can be solved. The idea needs more work and can become wow factors with global interest (Team Fourmula)."
"The team has a good understanding of the venture and where they want to operate within the food supply chain. With the needed support, this venture is likely to succeed (Team Fourmula)."
"It is a brilliant concept and timely addition to some of the existing innovation in the field. Committed team and well informed. (Team The Legion)."
"This is a great idea and will be of great impact (The Elites)."
Come Saturday, 5 December, 2020, the 10 finalists will battle it out at the Grand Finale. Recall that the Hult Prize UI 2021 Campus Director, Ms. Faithwin Gbadamosi, said in an earlier interview that the top 3 teams will not only receive cash prizes, but also qualify to compete at the Regionals.