By: Eriomala John 
If you're reading this, it's been way over twenty-four hours since the Mavins Campus Tour made its stop at the University of Ibadan.
The SUB Field is empty, e-fliers are down and the Mavins Tour Buses have probably even left the University of Nigeria, Nsukka, their next stop on the tour.
More importantly, it's sufficient time to review all that happened and express my thoughts on a few not-so-major issues concerning the event. 
Lead-Up to the Concert
The first trickle of publicity came in the form of a mass respost campaign by Executives of the Students' Union, members of the publicity committee, and campus influencers on the 5th of October. And I say 'trickle' because save for subsequent tweets – sorry – posts on X, the publicity barely made a dent.
This was unlike the push for CKay's Boyfriend on Tour Concert held on the 15th of April this year and invariably contributed to the low turnout at the venue.
However,  by Thursday morning, the mood appeared to pick up. Subsets of UI X were abuzz with comments on the concert and the possibility of it being a Ckay Boyfriend Tour Part 2 (if you know, you know, and if you don't, here's a link).  Event planner, Boxy, even caught up with the soon-to-be performing acts, label DJ, DJ Big N, and the rest of the Mavins crew at the famous restaurant, Amala Skye. (Side note – Schooling in UI and not visiting Amala Skye should earn you a place in the 7th ring of Dante's Hell. I don't make the rules).
The Students' Union official X account and WhatsApp TV put up a video some minutes after 5 PM showing the stage being set up, and by then, the buzz started to pick up. 
At this point, I had secured a ticket with two other journos,  confident in my ability to not be disappointed, and joined hundreds of UItes in the waiting game we have now come to associate with events of this nature. They didn't prove us wrong.
Lights went up sometime towards 7 PM, and sound followed soon after. By 7:30 PM, the venue was set and ready to go, and people started moving in. Delay wasn't denial, I guess. 
"Bring them out oh!" a lady beside me muttered to her friend just as I was walking into the temporarily barricaded venue. One of the opening acts, Laolu, had just finished his performance. The hype man – whose name I unfortunately did not get – brought a few UItes on stage to dance and kept the crowd engaged.
There was also a photo booth for as many that wanted to take pictures. But it wasn't enough.  
We were waiting. 
.
The Concert, Proper
Introducing Bayanni. 8:29 PM.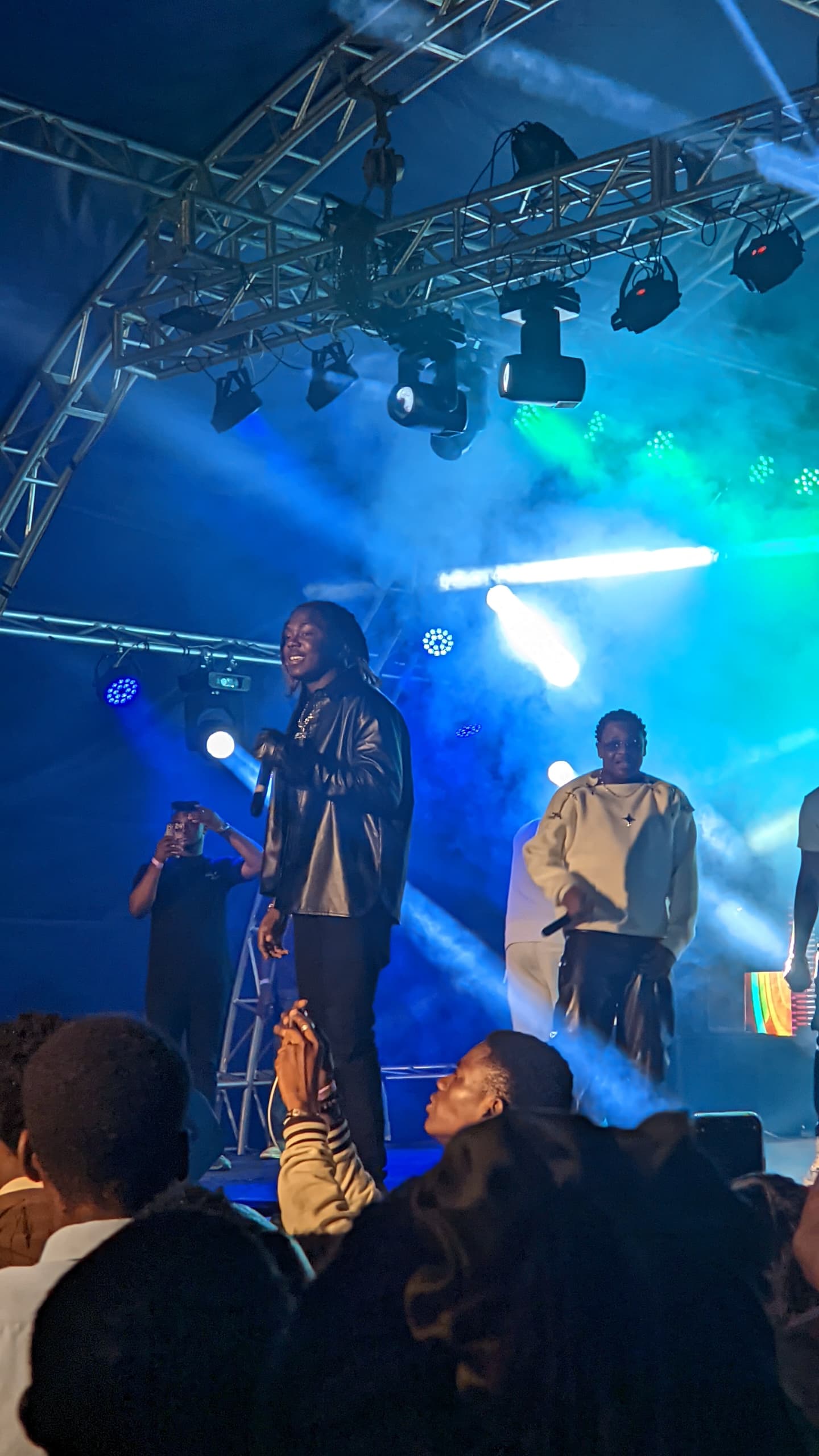 Dressed in an all-black ensemble which included a  leather jacket and biker gloves, Bayanni took to the stage with Body off his August 2022 eponymous EP, Bayanni.
As expected, the crowd went into a frenzy (or at least the section of ladies directly in front of the stage) as they sang along to the single. 
He followed this up with Kala, also off the EP, and his newest single, Low Waist; both of which drew minimal crowd response. Noticing this, he tried to engage with the audience through bants and statements like "UI, una dey dull me oh" and asking what everyone wanted to listen to. As I expected, the answer was unanimous; his sexually-charged smash hit, Ta Ta Ta, which he didn't waste any time performing (also didn't perform completely) before exiting the stage; applause tailing. Bayanni's set lasted 6 minutes. 
Up next, Boy Spyce. 8:37 PM. 
In my live report note for this portion of the concert, I wrote "The crowd erupted."
Literally, that was as accurate as it got to describing the atmosphere when Boy Spyce burst on stage. He immediately went into a rendition of his viral single Nobody and got the crowd even more hyped by making it acapella midway through the song.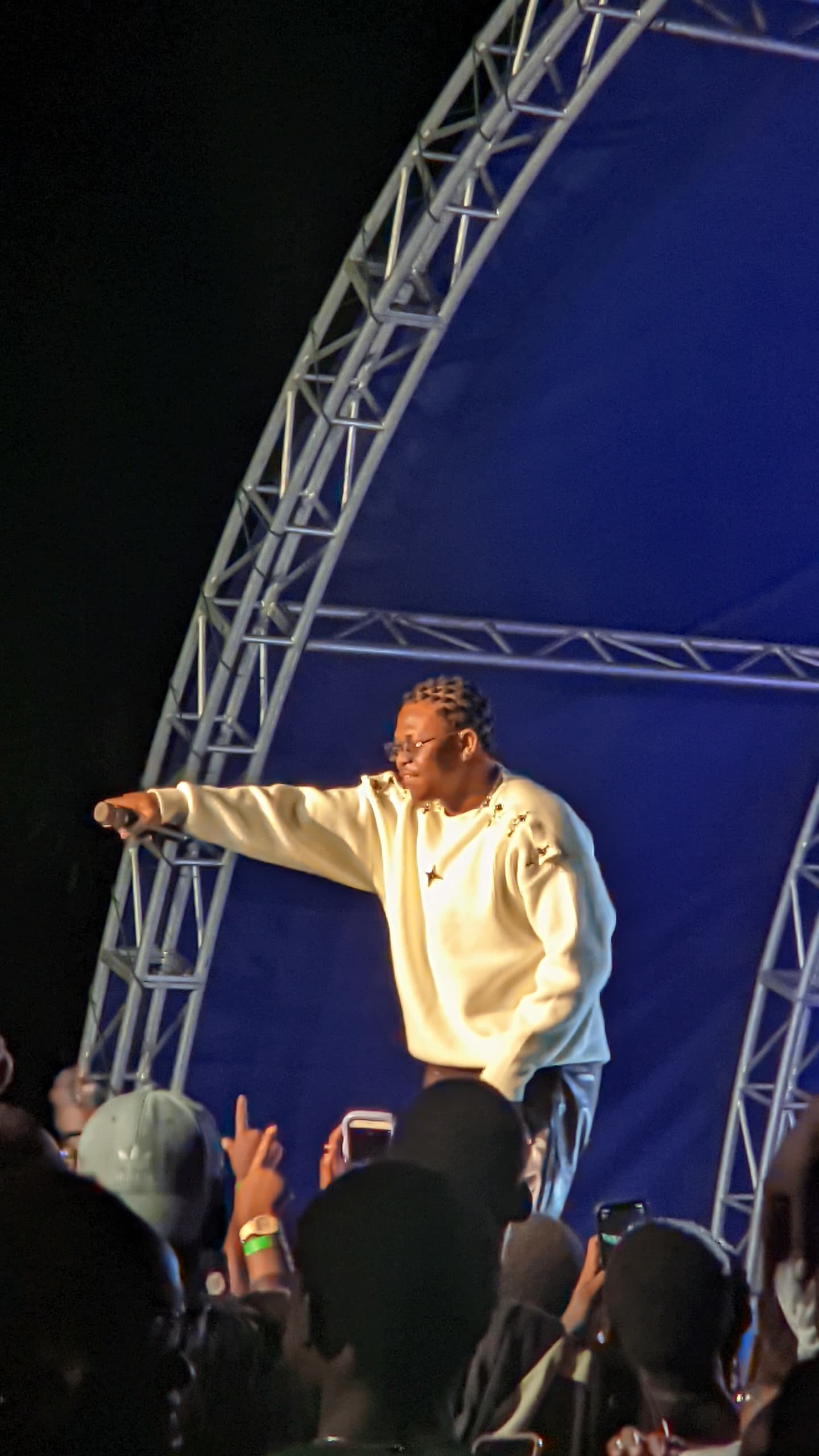 Almost immediately after, the backing track to his January 2023 hit, Folake, came on; sending the crowd into another frenzy. He capitalised on it by calling on any Folake in the crowd to join him on stage. A Folake did and the rest,  you can assume, was beautiful history. 
At this point, I needed a better experience so I had to navigate through bodies for a view closer to the stage. It almost cost me my eardrums, due to the sound, but "hey, it's a once in a blue moon thing, innit?". By the time I found the perfect spot, Boy Spyce had switched to yet another viral hit, Relationship, released May 2023, but crowd engagement had started waning. There were fewer people singing along and even fewer not on their phones. 
I assumed he also picked up on this, as soon enough, the DJ switched the backing track to his 2023 TikTok and radio smash hit, Carry Me Go. This was a high point of the night (Someone attempted to finish off where the speakers stopped by screaming directly in my ear. 0/10 experience) and raised the energy at the venue a notch higher.  Boy Spyce's set lasted 10 minutes. 
8:48 PM. Let there be Magixx. 
Sporting a sleeveless white shirt, white shorts, and loafers – Tyler the Creator-influenced of course – Magixx came on stage with smiles and a look that spelled 'danger'. He interacted with the crowd for a bit before launching into a performance of Motivate Yourself, the outro on his eponymous 2021 EP (Not so fun fact – Every single Mavins signee in the latter aspect of Phase 3 i.e from Rema downward has had a self-titled EP). The first few seconds told me all I needed to know; Magixx had vocals and this would be a quality set.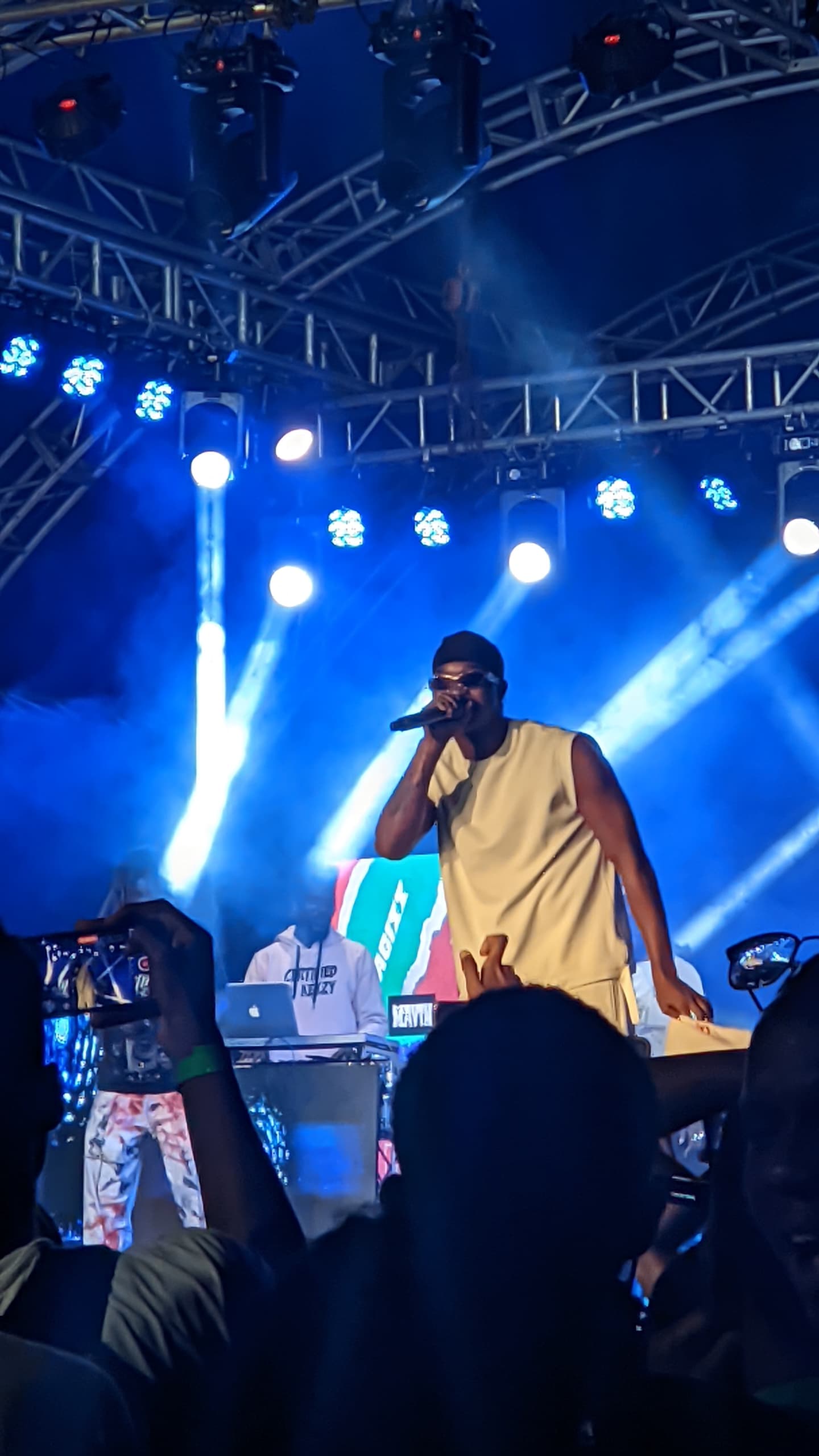 He transitioned to Shaye off 2022's ATOM EP and in a few minutes had the crowd singing along to his every word. The backing track was barely audible at several points in his set to the extent that it felt like a lip-synch.
Then, still wielding spectacular stage presence, he gave renditions of Colors (My Baby) and Maria; belting out riffs all the while still smiling at the audience. 
Magixx ended his set with All Over, also from ATOM, and a short-lived Love Don't Cost A Dime, the latter of which had quite a few persons in the crowd swooning. (Hey, it's R&B. Everyone loves R&B). It lasted twelve minutes; the longest solo set of the night and easily the most captivating. 
9:01 PM. Crayway. 
It was in fact, a Crayon party, as soon as he stepped on stage. Tens of students hurried forward for a view of  'Crayway' as soon as he was ushered on stage by the hypeman. He moved to the front of the stage, took a few steps back, smiled, and gave the signal for the DJ to begin who in turn responded with The One (Chop Life). I could feel the peals in my skull as the first three lines,  "O, AYE, I'M OGA. I'M THE ONE WHO SHUT DOWN THE BAR" played. And combined with the noise from the audience, I had no option but to take up a new spot farther from the stage. 
Crayon's energy was palpable as he went on to perform the Sarz-produced Yo Fam. However, the crowd seemed not to be feeling it. Undeterred, he went a capella for portions of the song and did a little back-and-forth to get the crowd going before transitioning to the next song, Modupe off his Trenches and Triumph album released earlier this year. Modupe didn't move the needle, either.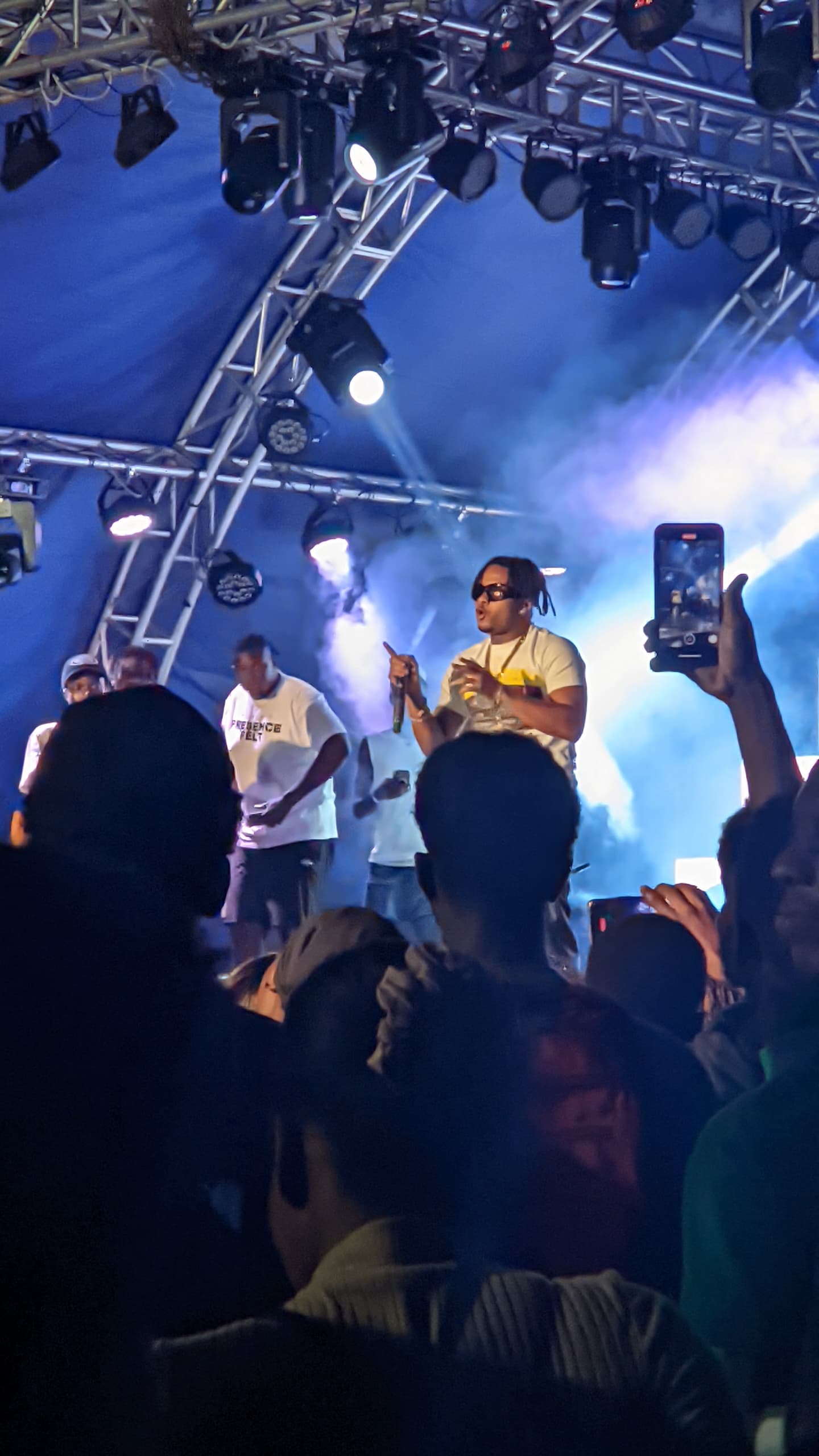 Luckily, it was at this point that the barricades went down and everyone was let into the venue. (I know what you're thinking – "Ticket money go brrrrr"). The now much larger crowd settled in quickly and Crayon moved on with hit single Ijo (Laba Laba). As he sang, a good number executed the song's dance routine in unison, and the tempo appeared to pick up. He capitalized on this with jam-of-the-moment, Ngozi, featuring absentee Mavins act, Ayra Starr, as the closing jam for his solo set. 
The MAVINS Experience. 9:12 PM. 
Two minutes after his set, the previous acts came back on stage to join him. It was time for the final set of the night; the full Mavins experience (or the What We Ordered Vs What We Got experience for some). 
First off, there was some sweet Overloading (Overdose) led by frontman for the night, Crayon, and bolstered by Magixx and Boy Spyce's verses on the May 2022 song which had earlier bagged them a Viewer's Choice Award at this year's Headies Award.
Ladipoe and Ayra Starr's verses were filled in by all four artists who appeared to be having so much fun; much like the rest of the audience. So much fun that when the hypeman told everyone to put their phone lights up for the next song, there was large-scale compliance. 
As the up-tempo beat of WON DA MO came on, the crowd went into an absolute craze (I also might have). Every single portion of the song; from Rema's introduction to that split second in Bayanni's verse before "ati shepe" to Johnny Drille's sombre closer, was sung along with immense fervour. It was like the crowd doubled in size for those four minutes and ended up as the most energetic performance of the night. Some might even say it was the best and while I don't agree, I could see why.  
And Scene. 9:19 PM. 
Thoughts on The Concert (By Attendees) 
After the concert, I decided to hear from a couple of attendees on how they felt about the whole experience. Many refused at first; for reasons that were either lost as they hurriedly walked away or a jumble of "I'm not really comfortable" and "What's the interview for?". However, some UItes were still willing to share their minds on the experience. 
First-year Archeology and Anthropology student, Aderinsola, said "I think it was okay and nice. It was a good one". Partners for the night, Emeka and Ann, who are Psychology and Political Science sophomores, respectively, seemed to agree, with Emeka giving it a 6/10 and Ann, an 8/10, despite claiming that the main stars she had wanted – Ayra Starr and Johnny Drille – didn't show up. 
"Well, it was actually not bad. I got value for my money. If I was to rate it, I'd give it a 70/100" was the comment I got from third-year Religious Studies student, Damilola corroborated by my last interviewees for the night, who also happened to be third-years, Kenneth (Industrial and Production Engineering) and Temi (Linguistics).
Although, when I asked if they had gotten value for their money, the couple gave "Nos", with Kenneth saying "Number one, the concert was expensive and the time duration was too short. Also, the atmosphere was not energetic enough". Fair enough, I guess. 
My Thoughts on The Concert 
I'm of the opinion that the publicity for the concert could have been considerably better. I mean, we're talking about a tour organised by the most powerful record label in the last decade of Nigerian music.
There could have been at least two weeks of non-stop promotion for the concert series by official Mavins accounts on Instagram and Twitter, the performing artists themselves, and their partners and organisers in each of this universities.
Instead, what we got was a half-hearted effort that seemed to say "We really don't care if you show up or not" and "Ticket sales aren't our priority". Even their official partners were culpable; , Chivita, their beverage partner for this leg of the tour, posted on X just two days before while Audiomack another sponsor, didn't even post anything. 
This then begs the question; "What was the tour's purpose?". For a company that could be sold soon, losing money logistics-wise surely isn't the smartest decision; multi-million-dollar valuation notwithstanding.
I can't seem to find an angle to that move. Unless of course, the sole intention was to market the artists, give them tour experience, and develop their performance skills. 
If that was the aim, the UI Concert scored a shaky two out of three. Marketing appears to be relatively successful so far. It was interesting to see students singing along to some of the lesser-known (and streamed) songs like Bayanni's Body.
It was also interesting to see the personal branding face-to-face. All four performers wore different outfits that synced with what I knew them to wear online. Boy Spyce's blonde hair in particular will never not be a standout feature; showing how much work had been done in planting their image in the minds of audiences.
As for tour experience, they were in four different schools across three geo-political zones in less than a week (University of Port-Harcourt on the 7th, University of Calabar on the 8th, UI on the 12th, and University of Nigeria on the 14th). This means dealing with road fatigue, different types of meals, logistics bottlenecks, and all of the attendant issues common to tours. It might explain their stop at Amala Skye on the evening of the show. 
On the downside, the quality of performances on Thursday night left too much to be desired. Bayanni spent almost half of his six-minute set talking and hyping rather than singing. Boy Spyce's voice was shaky up until Relationship. Magixx, for all of his exceptionality, chose to rush the final song of his set – a goddamn international hit – for no reason, and Crayon somehow couldn't harness the energy of his first song for the proceeding two.
In terms of stage use, only Magixx and Crayon appeared willing to recognize the existence of the rest of the stage. A label that thrives on artist development shouldn't house artists with these levels of performance skills. (And no, it's not a matter of years of experience).. But that's Don Jazzy's to worry about. 
It wasn't all negative, though. Boy Spyce showed innovation by bringing a Folake on stage for the performance of Folake. Bayanni was able to wade through the audience's cold reception by making jokes with the crowd.
Their performances of WON DA MO and Overloading (Overdose) showcased a level of synergy that spells only good things going forward (I hope). And you see that star called Magixx? All he needs are a few more hits in this chart-obsessed industry and he's good to go. That man is a vocal powerhouse! 
Back to the concert itself, the stage set-up, lighting, and sound were excellent (SUB being unsuitable for these types of events isn't a new topic so I'll skip that). I have been unable to get the name of the event management company responsible but props to them nonetheless.
I can't exactly comment on the length of the concert as that is dependent on the discography of the performers, and the nature of the show; both of which were not aligned. I mean, one of the performers has a repertoire of records that barely spans fifteen minutes and even the one with an album hasn't had it around long enough for it to have sunk into the consciousness of the majority of the music listeners in Nigeria.
As for the nature of the concert, it was a campus tour and not a fanbase-oriented show so special, longer, set-lists weren't a given. 
Overall, it was more of a learning experience than anything else. I came with questions and expectations and left with even more questions and expectations; most of them concerning the business of concerts in Nigeria. Let's see who comes visiting next. 
P.S: One of your UI artists seems bent on making a mockery of himself and us on X. Please, tell him to listen to what real music sounds like on the original The Black Album by Jay Z.